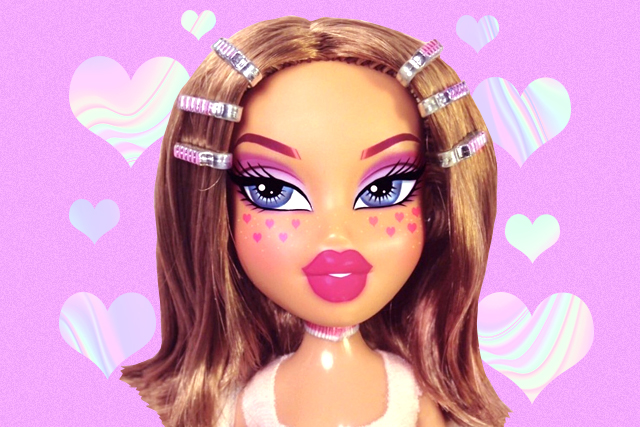 Over the years, we've seen the Internet go crazy for different beauty trends. The first big one to hit 2019 is the Bratz Doll Challenge.
If you live for the noughties, then you'll love this. Launched in 2001, Bratz gave Barbie a run for her money with its distinct look featuring cartoonish large eyes with full lips, and full makeup that gave the classic playdoll a sassy makeover.
With the slogan "The girls with a passion for fashion," Bratz took over that era not just with dolls but a TV series, video games, a live action film, and several other merch. Yes, I still remember watching the Bratz gang Yasmin, Chloe, Jade, and Sasha take on adventures while staying fabulous. #Iconic.
Now, Bratz's influence is again felt more than ever as they have inspired beauty YouTubers and influencers to recreate their makeup looks. Some are effectively able to achieve this with just a "soft drag" impression featuring heavy eyeshadow and eyeliner, fake lashes, intense highlighter and contouring, and of course, intense lip color. The others decided to take it up a notch by extending the makeup onto their cheeks to achieve Bratz' trademark big eyes.
Check out some of our favorite looks below.
Jayviill
https://www.instagram.com/p/BtUxG3SBnGT/
This glittery pink number, complete with matching pastel pink hair is every Bratz girl's dream.
NikkieTutorials
Sis definitely owned this look. Learn how to perfect that rainbow eyeshadow too by watching Nikkie's tutorial.
Tina Halada
This is probably my favorite in this list. The eye shadow is just phenomenal. And man I can't get over the cherry and those freckles.
Marylia Scott
https://www.instagram.com/p/BtPFkYCBibg/
This holographic makeup is everything. And for a Bratz-inspired look, it's surprisingly wearable! I could definitely see my friends wear this on a casual day.
James Charles
James Charles isn't one to miss out on a good makeup challenge. Watch closely how he did the makeup on the cheeks to copy Bratz's saucer eyes. It is uncanny.
Lena Bagrowska
https://www.instagram.com/p/BtOhaXyhWTu/
Lena really owned this look from those brows, to the perfect winged eyeliner, to the outfit.
Abby Sigua
https://www.instagram.com/p/BtUPpRAHqdu/?utm_source=ig_embed
This over-the-top orange and coral makeup theme is a perfect summer look, and Abby's mad eyeliner #skillz is everything.
Tenisha G. Billington
https://www.instagram.com/p/BtO8nygnjlA/
Yep, Bratz can pull off the tough babe look too with the leather jacket, tattoo, and full black lips. Tenisha aced this one completely.
Gloria Beauty
https://www.instagram.com/p/BtABHKJHip5/
Gloria took on the challenge of creating this very detailed Bratz look and won.
Angelika Martyn
https://www.instagram.com/p/BtOFxpSBJ8O/
This just goes to show, neon green is still in, even in the Bratz realm. Those vibrant eyeshadow colors are completely hypnotic.
Ash
https://www.instagram.com/p/BtXepbsFj9Q/
Ash's interpretation of Bratz's avant-garde look stands out. To be able to make the gore theme of the look actually cute and something we want to try too, is def something else.
Art by Marian Hukom
For the latest in culture, fashion, beauty, and celebrities, subscribe to our weekly newsletter here  
Follow Preen on Facebook, Instagram, Twitter, YouTube, and Viber
Related stories:
Get ready for Chinese New Year with limited-edition makeup
The new Pantone color is great for our makeup looks
Feel like a Fantasy Bra model with Elsa Hosk's makeup tricks
Makeup transformations to get your spook on this Halloween