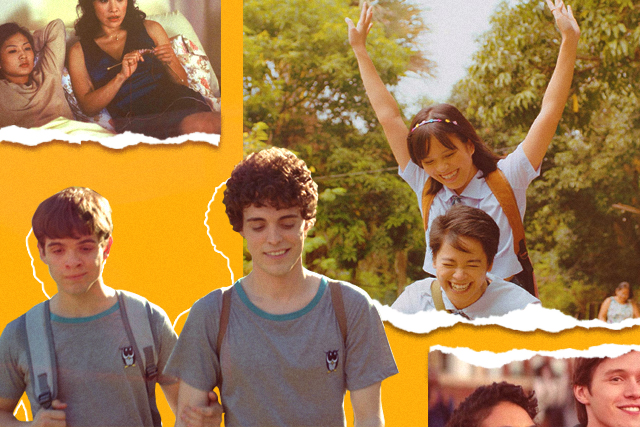 It's Valentine's Day! That means it's time to celebrate all kinds of love. Yes, this includes the LGBT community too. For those planning on staying in and bingeing, there are plenty of romance films out there which focus on LGBT relationships. Blue is the Warmest Color and Call Me By Your Name are just some of my favorites. The two are so beautiful, but ultimately painful to watch. But since today is supposedly a day of celebration, maybe you're in the mood for more lighthearted LGBT romance movies. Don't worry, they exist too. Here are some you can check out.
Billie and Emma
This film by Sam Lee tells the heartwarming story of young love set in the '90s. Billie moved to the province, where she met star student Emma. Though initially determined to keep a low-key profile, meeting Emma coaxed her out of her shell. They soon fall in love but complications arise when Emma discovers she's pregnant.
Imagine Me and You
If you're all for a good old fashioned rom-com, this is the Valentine flick for you. It's basically that, but with lesbian and bisexual protagonists at the center of the story: Rachel and Luce, who ironically first met at Rachel's wedding.
Saving Face
Based on director Alice Wu's experiences, this dramedy tells the story of Chinese-American Wil who reconnects with an old childhood friend. Now professionals, the two enter into a secret relationship. But things get complicated when Wil's single mum suddenly turns up and announces that she's pregnant.
But I'm A Cheerleader
This movie has gained a cult following due to its ingenious and hilarious way of tackling LGBT issues. Orange is the New Black actress Natasha Lyonne plays a cheerleader here, sent to a gay conversion camp. Shenanigans ensue as she and her fellow campers wreaked havoc to the camp. Primarily a satire, its love story is a great focal point of the story as well. Bonus: RuPaul makes a cameo with a goatee and "Straight is Great" T-shirt.
The Way He Looks
The romantic coming-of-age drama banks on the falling-for-your-best-friend trope, but with a twist. It follows Leonardo, a blind high-schooler, as he falls for new student Gabriel. It has the iconic high school romance movie ending that will just make you melt.
Handsome Devil
This funny and poignant film centers around the friendship of two boys attending an Irish boarding school forced to be roomates. Ned is an outsider, while Conor is a talented rugby player who's part of the It-crowd and is secretly dealing with his sexuality. One of the highlights of the film is when the gay English teacher tells Conor that "it gets better." That scene's a definite tear-jerker.
Jeffrey
Jeffrey is a young gay man living in New York during the height of the AIDS epidemic. Because of that, he decides to become celibate. But immediately after, he meets the man of his dreams, whom he finds out is HIV positive. It is soon revealed that more than the disease, he is actually afraid of loving a man who is bound to die. I know it sounds heavy, but trust me, it's filled with lighthearted moments and is a rom-com through and through.
Love, Simon
One of the more popular gay rom-coms is this 2018 film, based off of Becky Albertalli's young adult novel. It follows the story of Simon Spier, a high school senior at a suburban community, who gains a romantic, online pen pal known only to him as Blue. As he is trying to figure out Blue's real identity, things get complicated when one of his classmates threatens to out him. Although it tackles serious themes, it's a teen rom-com at its core. Trust us, its unapologetically cheesy ending is what you need this Valentine's.
Art by Marian Hukom
For the latest in culture, fashion, beauty, and celebrities, subscribe to our weekly newsletter here  
Follow Preen on Facebook, Instagram, Twitter, YouTube, and Viber
Related stories:
7 LGBT films to watch out for this 2019
LGBTQ film Billie and Emma was born from an anti-SOGIE Bill tweet
An open letter to the rise of LGBT+ films
How Love, Simon inspired people to come out