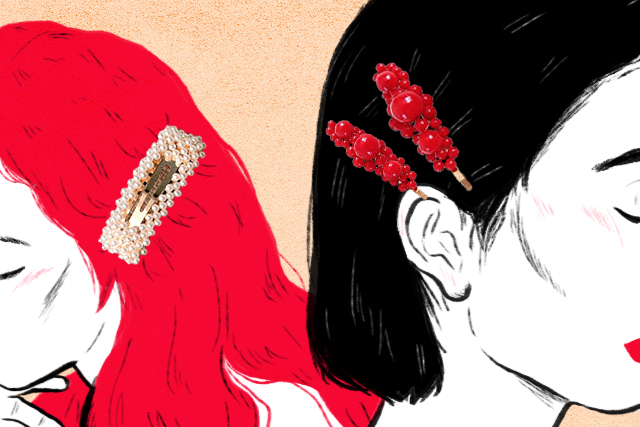 Two years ago we saw the return of barrettes. We also witnessed the way they evolved over time. Now, there's another kind that everyone is obsessed with: oversized barrettes. And they're not playing around with the size either—these are massive. Seriously, some could cover half of your head, and we're not even complaining. I can see these as the lazy girl's dream. Imagine running late for whatever event or work appointment you have and you feel your outfit is incomplete. Grab just one or two of these, stick them in your hair, and you are a walking fashion statement. I've scoured Instagram and found a few local sellers that sell different types of these clips. Please, make me feel better about my purchases and get some for yourself.
L'essentiel
https://www.instagram.com/p/Bs4mNs3BZD-/
Jess Wilson currently got with this trend and got a bunch from this shop. They have a variety of acrylic options in different shapes and colors. But the most interesting are the fuzzy ones. They look like they're made of a teddy coat material. It's available in pink, yellow, white, and black. Pair this with a fuzzy jacket for the full cozy effect. Available online.
Double Oh
Just like beaded bags, oversized barrettes covered with beads are also in style. These are covered in pearl-like rounds and come in a snap version. My personal favorite are the red ones with different-sized beads. And, yes, sometimes wearing just one clip isn't enough.
Bondi Studios
Bondi Studio has a lot of of barrettes to choose from so feel free to mix and match. They have beaded ones in red, green, and yellow. Some of those match the bags they sell too. They also have oversized bobby pins embellished with faux pearls and tortoise shell print in rectangular and pointed shapes.
Luna
https://www.instagram.com/p/Bts2fy6DFxn/
From Luna, grab clips with marble and glitter-like finishes. These are so whimsical and dreamy-looking. They also have options on the bold side that have a translucent-slash-watercolor vibe to them I honestly might get these for myself. For something simple, they also have regular snap clips in different color. Available online.
Penny Pairs
Accessorize a formal look with some clips from Penny Pairs. They have one with rose gold hardware covered in faux pearls. Wear one on each side of your head and go for jewelry with the same tone. They also have patterned clips that match perfectly with some of their earrings. Available online.
Frost
If you want more than just one oversized clip, Frost sells theirs in sets. They are a mix of colored beads, faux pearls, and bobby pins. If you want to be extra, order their custom clips where you can have words or names featured in letter beads. I might also be placing an order for these because I'm a sucker for personalized things. Available on Instagram.
Caviar PH
Caviar has the usual faux pearl barrettes but the one that stands out is the huge gold clip. It is made of alloy and has an electroplated finish. Use this as a statement piece and use it to hold back hair one side of your head. If you want it to be extra fancy, you can order two clips and have it placed in a suede box. Perfect for a gift or just for yourself too. Available online.
Art by Marian Hukom
For the latest in culture, fashion, beauty, and celebrities, subscribe to our weekly newsletter here  
Follow Preen on Facebook, Instagram, Twitter, YouTube, and Viber
Related stories:
This is why I can't wait to have gray hair
Keep your locks in place with these cute hair accessories
Hair bows: From school girl staple to red carpet-worthy
Are barrettes back? An investigation