Animated TV shows are supposed to be entertaining but I think they should have more elements than that. Most are targeted towards children, but that doesn't mean adults can't enjoy them too. And, if they want to cater to all types of audiences, they should think about what they're creating. One animated series that is showing how progressive they can get is The Dragon Prince. Two seasons are already up so you have a lot to catch up on if you haven't already seen it. Continuing from season one, the second season surprised me in more ways than one. Aside from the action and fantasy plot, there are other details that you wouldn't see in other animated shows like the diversity of their characters. Keep reading to find out what I'm talking about.
The youth as voice of reason
In season two, we're introduced to so many new characters, including Queen Aanya of Duren. She is basically a child but she represents her kingdom well. In one episode, Viren gathers the different leaders to try to convince them to band together to take down Xadia. The others agree if the decision is unanimous, Aanya on the other hand does not. She does not make a hasty decision and thinks that the cons outweigh the pros in the situation. She considers her people and how sacrificing their lives is not worth the risk. Viren gets upset and says her choice is that of a child and that an adult should be in charge. However, he doesn't realize that she's is actually the one in the right. In the end, the other leaders follow Aanya's move. Sometimes, the voice of the youth is worth considering.
Lesbian representation
You're probably wondering why Aanya, someone who is so young, is the queen. Well, her parents died in battle, sacrificing their lives fighting off a dragon to save their people. Also, her parents are both women. Yes, a lesbian couple ruled Duren and I am here for it. They only showed some scenes with the queens but it was so exciting. They were strong, smart, and even shared a kiss on screen. I'm sure young lesbian viewers would be happy to see someone like them in the cartoons they watched.
People of color in power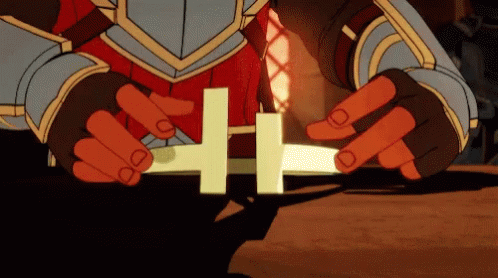 The characters in The Dragon Prince are so diverse and show not only different gender identities, but ethnicities as well. One in particular is King Harrow of Katolis, who is Black. If a cartoon can put someone of color in power, why can't we do this in real life?
Reality of families
The Dragon Prince also shows different types of families. Two of the lead characters are Callum and Ezran, who are step brothers of an interracial couple. Two other siblings, Claudia and Soren, come from a broken family. At a young age, their parents decided to split up and made them choose who to live with. A difficult task but something that actually happens. Unable to make a choice, their mother urged them to stay with their dad as she moved back to her hometown. Not all families are the same or perfect and this series tries to show those other sides. It's honestly just more realistic.
Representation of deaf community
Callum and Ezran have an aunt who is part of the military and she is also deaf. She communicates using American Sign Language and also has an interpreter with her when needed. Polygon interviewed the senior writers to get a better perspective on General Amaya. According to Iain Hendry, they "reached out to deaf and HoH (Hard of Hearing) organizations, which have great online resources that helped us understand the challenged and the way deaf and HoH people approach the world." As for the sign language used, they made sure to consult ASL interpreters to make sure everything was done properly.
Art by Marian Hukom
Photos courtesy of Netflix
For the latest in culture, fashion, beauty, and celebrities, subscribe to our weekly newsletter here  
Follow Preen on Facebook, Instagram, Twitter, YouTube, and Viber
Related stories:
Breaking bisexual stereotypes and the danger of "bi erasure"
"Gender appropriation" is the new way to shame the LGBT community
A rundown of social commentary during NYFW fall 2019
The Grammys had plenty of empowering moments, and we're not over it