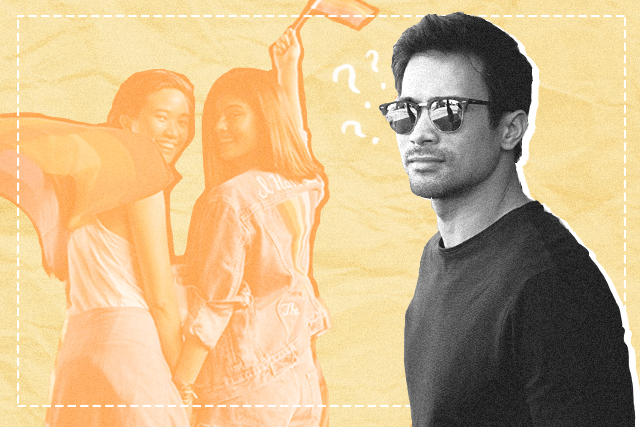 Singer-actor Sam Milby has broken his silence on ex Mari Jasmine's new relationship. The latter recently opened up about being with Baka Bukas Samantha Lee and wrote a hopeful post in light of Pride Month.
"I was very surprised. I didn't expect and there [were] no signs [when we were still together," Sam told reporters during a press conference. "I don't really wanna say too much. I knew a while before… I didn't know she was open for that kind of relationship, so I had no idea."
He didn't say much but from what he knows, this is Mari's first relationship with another woman as well. He also clarified that no third party was involved when they broke up last year and that they're still friends.
To be fair to Sam, he must've not known about Mari's sexual orientation—maybe she was still figuring it out. That's for her to say, not us. But if you're like Sam and you feel like there should be clear signs to someone's orientation and gender preference, we have some friendly reminders.
In simple terms, being bisexual means you're attracted to both men and women. It's also important to remember that a person is still bi regardless of their dating history. Just because they've dated more men in their life and haven't been with women doesn't necessarily mean they're straight. Same with assuming that one is exclusively gay or lesbian.
There's also the problem of "bisexual erasure," or when someone is questioning the legitimacy of bisexuality and invalidating people's experiences. GLAAD provided an example to further explain this:
"For example, two married women might spend time in community spaces dominated by lesbians. Perhaps one of the women is bisexual and objects to the assumption that she is a lesbian (i.e., when others call the two women a 'lesbian couple'). However, every time she mentions this, others insist that she can't really be bisexual or that her orientation doesn't matter (perhaps with the subtext that she shouldn't talk about it) now that she is partnered."
There are stereotypes attached to being bi as well, claiming
We should remember that there's no cookie cutter way to outwardly express one's sexual orientation. A person can be flamboyant in expressing their feelings, another can be introverted. What matters is what they know and feel within themselves. They don't need to prove it to people by showing "clear signs."
The stereotypes and stigma attached to being bi should also be broken. There are those claim that they're either selfish or more promiscuous because they like both genders.
It's okay to be shocked and to not understand what bisexuality is at first. What matters are your efforts to accept and educate yourself in the future. Also, to not impose your beliefs on them just because you disagree. The world's chaotic enough for us to disrespect each other.
Art by Marian Hukom
For the latest in culture, fashion, beauty, and celebrities, subscribe to our weekly newsletter here
Follow Preen on Facebook, Instagram, Twitter, YouTube, and Viber
Related stories:
Mari Jasmine open up on relationship with Baka Bukas director Samantha Lee
Women shouldn't have to hide behind men and their accomplishments
Let's continue to show that #LoveIsAllWeNeed for the SOGIE Bill
I fell in love with my bisexual best friend, now what?
The best way to support the LGBT community? Be a good ally