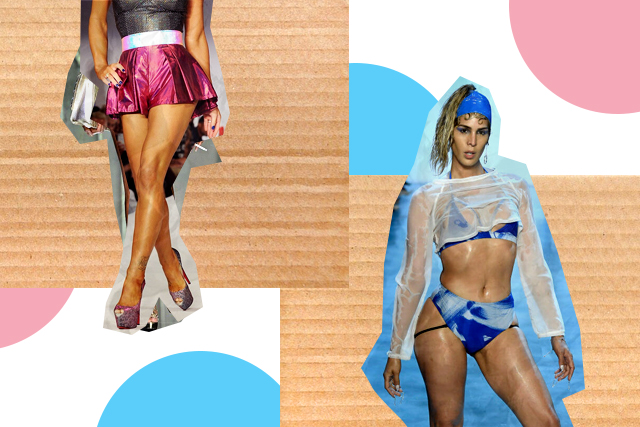 The fashion industry is constantly evolving, and there's a shift now within that world that transcends mere trends or style. With the generation becoming more socially aware, fashion is bound to keep up. At the NYFW for instance, commentary on pressing issues such as diversity, sustainability, even sexual assault, became a dominant part of the show.
But is it enough? And more importantly, is the shift genuine or is it just another trend? Trans activist group Transmissions seems to believe the latter, and that is why they took to the streets during London Fashion Week to advocate for real inclusion in the fashion industry.
"Get us off the moodboards and put us on the covers," their signs read, stressing one of the group's primary missions: to achieve trans representation in the industry that goes beyond mere tokenism.
Speaking with Dazed, the group's founder Lucia Blake called for "more diverse and meaningful representation," asserting that trans people "aren't just trends or controversial gimmicks." She said this means "non-passing trans women fronting editorials," and starring in "perfume ads with stubble and broad shoulders, falling in love in Paris because they deserve to be loved too."
True enough, there are brands like Gypsy Sport, Chromat, Charles Jeffrey, and Art School, which strive to offer an authentic representation of the community, and while SS19 can be considered as fashion's most gender-inclusive season yet, the fact remains that trans only makes up 1.23 percent of total castings. Paper Mag noted, "Only just this season did a trans woman designer, Pierre Davis, show at New York's official fashion week for the first time, with her LA-based line, NO SESSO. Other designers, like Gogo Graham, have had to make space for themselves independently."
Furthermore, the rarity of trans models in fashion, only contributes to them being tokenized. What Transmissions is asking is the opposite—for trans models to be normalized. And that can only be achieved if labels start accepting more and more trans people in the industry. But of course, that can't be attained if we continue to ignore another problem in fashion, which is that it's still clearly biased in trans representation. "The fashion industry decides what bodies are normal and which ones are not," Lucia said. Sadly, this means bodies that fit more neatly into binaries. But like Transmissions wrote on their IG account, "We're sick of being palatable to a normative society."
It's 2019. I think it's high time we stop blindly pushing these norms—like gender binaries—down people's throats, just because it's "tradition." Needless to say, the marginalization of the trans community has gone on for too long. Transmission's message is something that shouldn't be easily dismissed, and we seriously hope the fashion industry is listening.
Art by Marian Hukom
For the latest in culture, fashion, beauty, and celebrities, subscribe to our weekly newsletter here  
Follow Preen on Facebook, Instagram, Twitter, YouTube, and Viber
Related stories:
"Gender appropriation" is the new way to shame the LGBT community
Being accepting of the LGBT community isn't enough—it's time we take action
Dear Victoria's Secret, trans models do belong in your fashion show
Transgender people #WontBeErased and they've changed the world