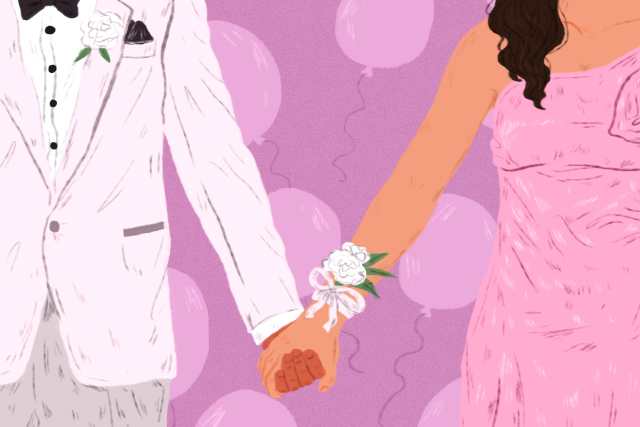 If February wasn't cheesy enough for you, here's a reminder that it's also prom season. Years may have passed since we were in high school but the memories are still there. (It's mostly rushing back because a makeup artist I follow has been posting the looks she's done for students.) I'm 24 now and looking back, our prom was both fun and weird. The latter is mostly pertaining to our "partners."
Let me paint the scene real quick: Back then, the concept of elaborate promposals weren't a thing yet. There were no grand gestures of love just to get that sweet "yes." Come to think of it, the whole "Will you go to prom with me?" question in general wasn't a big deal in our school as far as I could remember—outsiders weren't allowed as well. If you had a significant other from the same or higher batch during prom season, you instantly had a partner. If you didn't, no problem because your barkada was there with you.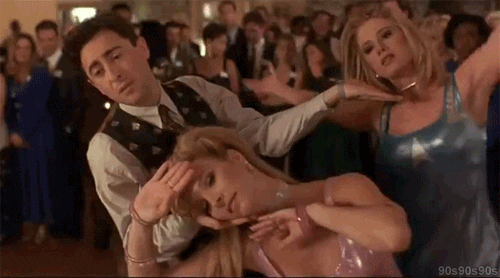 Also, I studied in a strict Catholic school wherein boys and girls could co-exist, but almost weren't allowed to speak to each other in the campus without the threat of a "PDA violation." Oh, we were also segregated from the boys—they were in a different building and it even came to a point that we had different break times so we wouldn't see the other gender at the canteen.
Before I digress even further, let's go back to prom. The idea of not having a partner never fazed 15-year-old me. But when I heard that we would still be paired with a senior, I was like, "Why???" I signed up for prom and not an episode of Blind Date!
Kidding aside, here's what happened: As we enter the school grounds, we'll be walking arm-in-arm with a senior we didn't know. The format was a junior girl and a senior boy; a junior boy and a senior girl. If one class had lesser number of students, there's a chance that someone would have two partners. (My brother, who's in senior high school right now, also experienced this.)
The last part happened to me and my classmate. It was awkward because we had to walk, an official photographer would snap us midway, and we had to sit with this guy we didn't know until the initial program ended. He didn't seem interested in conversing with any of us either. Great.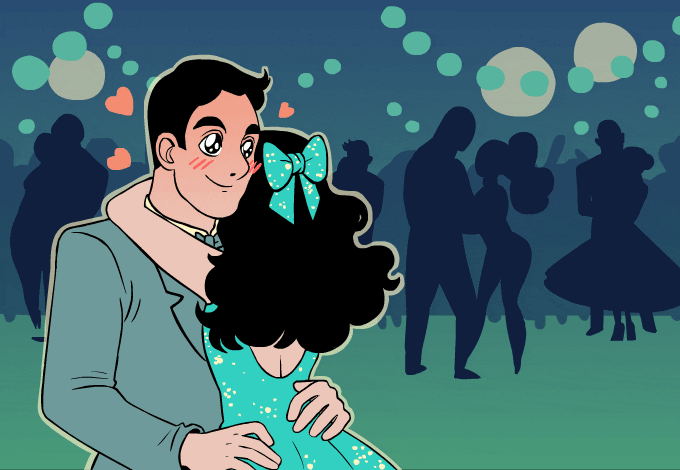 I understand that this is the school's way of organizing the seating arrangements and encouraging students to mingle with others (read: the opposite gender). At the same time, why was it mandatory to pair juniors and seniors who barely knew each other, especially in a school where boys and girls practically didn't interact daily?
I also remember that if someone didn't have a partner, they would be described as pitiful because they would walk alone going to their assigned table. So, while we didn't feel pressured to find a partner before prom, we would still be low-key shamed if no one was paired with us.
Apart from that, the event was memorable for a lot of us. We took photos, danced all night, and a lot of my batchmates became couples after. At least our prom had some semblance of normalcy as the night went on.
Art by Marian Hukom
For the latest in culture, fashion, beauty, and celebrities, subscribe to our weekly newsletter here  
Follow Preen on Facebook, Instagram, Twitter, YouTube, and Viber
Related stories:
Maymay Entrata got asked out like it was prom and we're jealous
Inequality in Catholic school and what it taught me about feminism
I couldn't wait to break school rules once I graduated
Bow blouses are so grade school—here's the grown-up version