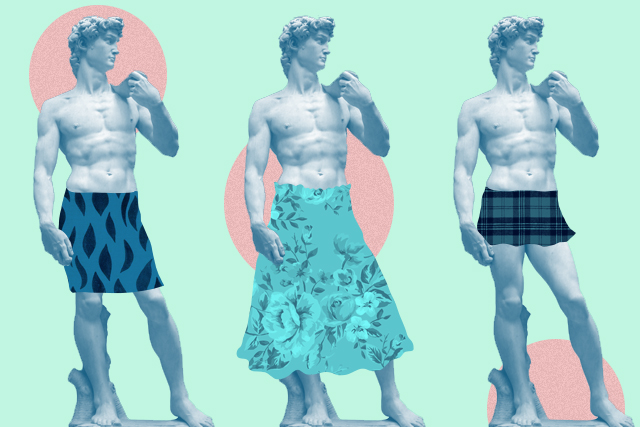 The Oscars red carpet yesterday had several #slay moments. There was Lady Gaga wearing a 128.54 Carat Tiffany & Co. diamond necklace, Glenn Close's gold dress covered in four million beads (wow), and Zoe Kravitz's $24K gold bra at the afterparty (again, wow). But personally, the star of the evening was Billy Porter.
The Pose star shut down the red carpet by wearing a Christian Siriano ball gown which was half-tuxedo, half-skirt. "My goal is to be a walking piece of political art every time I show up. To challenge expectations. What is masculinity? What does that mean? Women show up every day in pants, but the minute a man wears a dress, the seas part," he told Vogue. He also wanted to highlight that men can wear dresses without being called a drag queen because f*ck gender norms, right?
Many also noted how the dress was inspired by Hector Xtravanganza, who is known as the "Grandfather of Ballroom" and passed away on Dec. 31, 2018. Hector was known as a key figure in the LGBTQ+ community.
Though not everyone seemed to be thrilled to see Billy in a dress. One notable reaction was from Piers Morgan, calling it ridiculous. (I swear this man knows how to ruin the fun for everyone.) Likewise, many netizens thought Billy's look was "stupid" and "foolish."
Am I allowed to say this looks absolutely ridiculous?#BillyPorter #Oscars #RedCarpet pic.twitter.com/SmaccqenRY

— Piers Morgan (@piersmorgan) February 24, 2019
https://twitter.com/Thami_Ramaphosa/status/1099886763944890369
No disrespect..but that was stupid as hell.

— ✨️Orlibon✨ (@jonick0) February 25, 2019
https://twitter.com/CARDIDACHAMP/status/1099850781031874560
Okay, everyone has their own opinion on certain looks. But if the intent on criticizing Billy's gown is based on emasculation, then let us give you a refresher of men wearing skirts throughout history. Because we're telling you right now that they definitely did not wear the pants since time began.
Ancient times
You may have seen photos of Western male ancestors who are wearing skirt-like fabrics, robes, and togas. In fact, Bustle noted that the latter denoted class and status in Greek and Roman civilizations. New York Art also noted in their review of the Metropolitan Museum of Art's 2003 exhibit, "Bravehearts: Men in Skirts," that Romans considered trousers as barbaric because "they concealed a man's legs considered shapely pillars of strength and virility."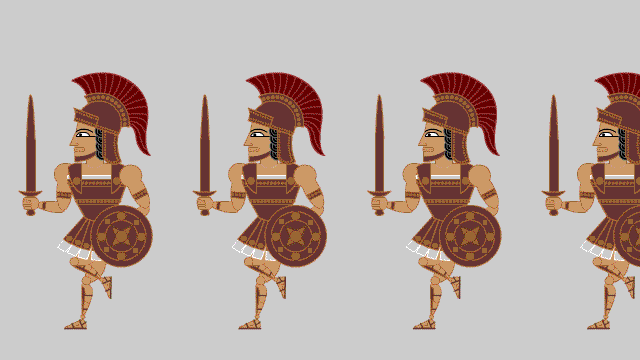 Aztecs wore long, woven clothing and the men often "confined themselves to a loincloth." Some depictions showed that it looked like a skirt.
Moving to the eastern part of the hemisphere, our Asian ancestors would be seen wearing similar garments. Think: the Japanese kimono and samurais who are required to wear a traditional dress whenever they're in public.
So imagine soldiers (as well as those in other civilizations) going to war in these breezy pieces. Trousers were only worn as a necessity because it was easier to ride a horse in them and it kept men warm during colder climates.
14th to 19th century
Victoria and Albert Museum noted that men's skirts became shorter and tighter-fitting during the 14th and 15th centuries. Many men even wore hosiery to go with their bottoms, perhaps pairing them with heels too.
The 16th century also saw the rise of the Scottish kilt, which is a plaid wool skirt that's become a recognizable garment among men in Scotland. These ranged from ones worn during the day and to battle.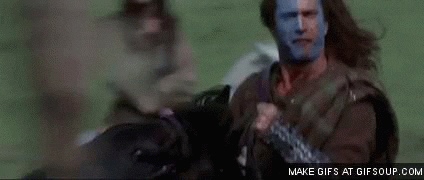 By the 19th century, trousers were slowly being incorporated in men's wardrobes, but they still opted for long gowns and full-skirted coats. In Europe, children of all genders were dressed in skirts. But it was only acceptable until boys reach a certain age and then they switched to trousers. Bustle noted that this was due to the "shifting perspectives on what made a "man"—which led to skirts becoming less and less acceptable for young male children."
20th to 21st century
VAM said that designers tried to reintroduce the skirt as gender-neutral. During this time, it's considered as an exclusively feminine piece. Likewise, only gay men were seen wearing it "as a sign of their alternative lifestyle." Though there are still tropical countries and other Asian countries where it's acceptable for adult men to wear skirts.
Today, it may seem groundbreaking to see a man in a skirt that's not a kilt. Designer Rick Owens once showcased a collection that featured "dresses for men"—not because he wanted to start a movement, but to ingrain the notion that it's normal to wear them. There are also men—regardless of their sexual orientation—who've worn them in public, but it's still not considered a norm. To the point that GQ emphasized how 2019 will be a year of men in skirts because it is considered "taboo" in this era.
Personally, I think Billy's right. Men should be given the option to wear a dress or a skirt because they want to, not because it's a trend to do so. We need to stop the notion that it's emasculating to see a man in what's deemed to be exclusively female attire.
Art by Marian Hukom
For the latest in culture, fashion, beauty, and celebrities, subscribe to our weekly newsletter here  
Follow Preen on Facebook, Instagram, Twitter, YouTube, and Viber
Related stories:
Billy Porter's ball gown defies gender norms at the Oscars
Why men loved wearing heels just as much as women
We're obsessed with Ezra Miller's gender-bending editorial shoot
Androgynous fashion is breaking every gender norm at MFF