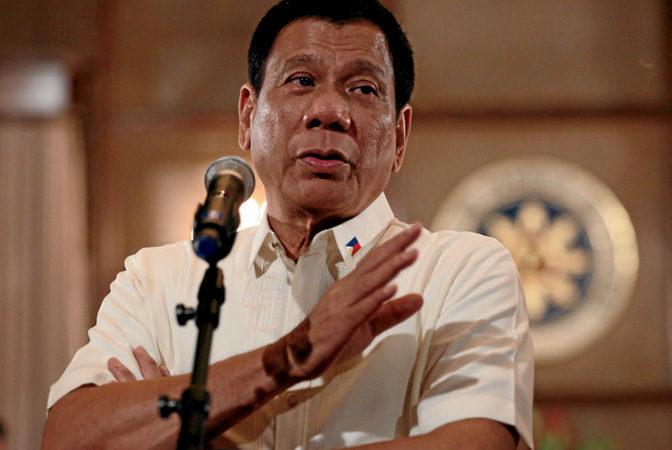 Pres. Rodrigo Duterte called out women for stripping him of his freedom of speech. This happened during the awarding for Outstanding Women in Law Enforcement and National Security of the Philippines (OWLENSP) yesterday. How inappropriate can he get? 
 "You know, you women, you deprived me of my freedom of expression. Hindi ko sinasabi sa inyo 'yan. (I don't say this to you anymore.) But you criticize every sentence or word I say. But that is my freedom to express myself. Even if I am just a president, do not take me away from the crowd of being a Filipino citizen," he said
"Kaya kayong mga gaga kayo, wag kayo mag-ano. (So you crazy women, don't even bother.) It's the freedom of expression," he continued. 
https://www.facebook.com/CNNPhilippines/videos/2117517178284457/
We agree that you are a Filipino citizen just like the rest of us, but being the president of the country puts you on a pedestal. You have the power to influence the people with your words and actions, and yet you pass off derogatory comments towards women as freedom of speech. What does that say about you as a man?
In the past, you have encouraged rape, shooting women's vagina in combat, and would kiss without consent. That's straight up misogynistic! 
The next time you decide to call out women for being too critical of your actions, maybe you should be mindful of what you are doing. During this awarding, you should've honored women for the work they've done for the country—not address us as "p*ta" or "gaga" during a public speech. 
So no, Mr. President, we won't stop calling you misogynistic as long as you talk and walk the way you do. 
Photo courtesy of Joan Bondoc for Inquirer 
For the latest in culture, fashion, beauty, and celebrities, subscribe to our weekly newsletter here  
Follow Preen on Facebook, Instagram, Twitter, YouTube, and Viber
Related stories:
It's 2019 and Pres. Duterte is still getting away with misogynistic statements
Duterte calls for women empowerment, but he is far from being a feminist
Don't give Pres. Duterte a free pass for his "shoot in the vagina"joke
Atty. Harry Roque admits Duterte does inappropriate things and still defends them