Our president, Rodrigo Duterte, isn't exactly known for being a role model of women's rights. So it was kinda surprising to see the Palace release a message on International Women's Day which vows to create an "enabling environment" for women empowerment.
"This important occasion reminds us all to pave the way for an enabling environment for women to be empowered and to make sure that the Magna Carta for Women is properly implemented at all levels of practices, gaps, and challenges in pursuing gender and development in local government units all over the country," Duterte said in the statement.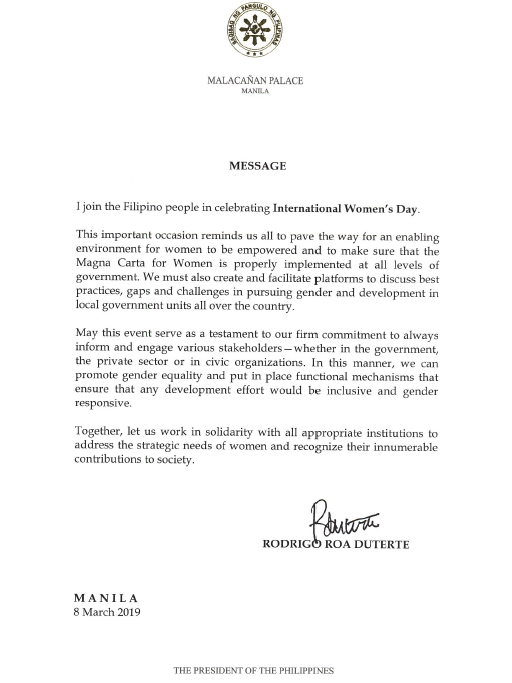 The Magna Carta for Women (RA 9710) "ensures equal rights and opportunities for men and women." Its provisions include emphasis on women's rights; allowing the recruitment of training of women in any job position; giving more women the chance to enlist in the military, and giving them special leave privileges.
It's a law that we need to level the playing field and to stop discrimination of women. It's great that Duterte has openly declared that he will sign and, hopefully, implement it. However, it's still pretty hard to believe that he's turned a new leaf and suddenly became a feminist.
Sure, some citizens and government officials claim Duterte has done a lot through pro-women policies—I mean, he is a supporter of the RH Law and signed the Expanded Maternity Leave Bill into law. But—a huge BUT—his support of women seems to be only on paper based on how he's acted or what he's said in the past.
READ MORE: Working moms' maternity leaves are now finally extended to 105 days
Before becoming president in 2016, Duterte has boasted about his womanizing, kissed women without their consent, and made a rape joke while talking about Australian missionary Jaqueline Hamill, who was killed in a 1989 hostage crisis. He also called his daughter, Sara Duterte-Carpio, a "drama queen" after alleging that she was raped when she was younger.
Not much seems to have changed in the last few years. Duterte joked that Davao's rising rape cases was because it has many beautiful women. He also told soldiers to shoot female NPAs in the vagina, and publicly shamed Sen. Leila De Lima. He still kisses women so he could appear macho, and even admitted to molesting their maid when he was younger.
READ MORE: Unpacking Pres. Duterte's rape joke: Why it reeks of more than just misogyny
Some of the officials under the Duterte administration aren't different from the head of the state. Presidential spokesperson Salvador Panelo has defended most of his boss' jokes and stories—even Atty. Harry Roque admitted in doing so before—and even disrespected a female reporter with his "f*ck my clothes" remark. SAP Bong Go, who's running for senator, can't help but use Kris Aquino as a punchline. We're also looking at the men who've pushed for the viewing and publicizing of De Lima's alleged sex tape, which is illegal.
We're all for Duterte's support for women's rights and empowerment, but he needs to practice what he preaches. If he continues being disrespectful to women, regardless if it's in jest or not, then it'll just look like he said his message for the sake of celebrating Women's Month. Empowerment and offering safe spaces for us shouldn't start and end this month. This promise should've started the moment he decided to become president of the Philippines.
Photo courtesy of Presidential Communications via Philippine Canadian Inquirer
For the latest in culture, fashion, beauty, and celebrities, subscribe to our weekly newsletter here  
Follow Preen on Facebook, Instagram, Twitter, YouTube, and Viber
Related stories:
Duterte's rape jokes speaks volumes of who we are as a nation
It's 2019 and Pres. Duterte is still getting away with misogynistic statements
Kris Aquino is done with Bong Go and Phillip Salvador's insensitive jokes
Atty. Harry Roque admits Duterte does inappropriate things and still defends them