We're literally days away from the final season of Game of Thrones, and you best believe that the theories are coming in hot. Season 8 may only have six episodes, but we're betting the drama is just as intense as the previous. Most especially now that the White Walkers are about to take over Westeros. (Hopefully not.)
What's keeping fans on their toes is who will survive and, more importantly, who will sit on the Iron Throne at the end. It's gotten so intense that there are betting pages popping up.
Here at Preen.ph, we have our eyes on the strong ladies of GOT—Queen Cersei Lannister, Daenerys Targaryen, and the Stark sisters, Sansa and Arya. Like their male counterparts and companions in the show, they are frontrunners for the throne. The only question is: Are they fit to ultimately rule all seven kingdoms of Westeros?
READ MORE: Game of Thrones fans theorize battle between Sansa and Daenerys
Let's start with Cersei Lannister.
Why she deserves it
Cersei is currently the protector and the queen of the Seven Kingdoms. She was married to King Robert Baratheon, who was killed in season 1, and had three children (born from incest with her twin brother, Jaime). Two of her sons, Joffrey and Tommen, briefly became kings. However, they were killed and died from suicide, respectively.
Meanwhile, Cersei's daughter, Myrcella, was sent to the kingdom of Dorne to be married off. She was later poisoned at the end of season 5.
Westeros rules state that women aren't allowed to rule until the royal family's male lineage goes extinct. So, this left Cersei to sit on the Iron Throne. She is considered one of the strongest and most fearsome leaders, which can be an advantage for her. She has the power and the people to follow her every whim—that includes killing off her rivals to protect what is rightfully hers by marriage.
Cersei is one woman who has always wanted recognition for her potential since she was a young girl. YouTuber ComicbookGirl19 once theorized that Cersei's tough character comes from seeing the men in her life be successful. Her father, Tywin, was the Lord of Casterly Rock and led an army; her twin brother, Jaime, became a Kingsguard.
Cersei? She was married off to Robert Baratheon so the Lannister family could have more power. Not to mention the fact an oracle told her that all her children would die, and a younger woman would eclipse her success. If we were her, we'd work on being strong to protect the people close to us and our kingdom, and not be afraid to burn an entire royal family that's threatening our throne, too.
Why she shouldn't sit on the throne
Cersei is not exactly loved by her constituents. She was looked down on when the public found out about her incestuous relationship with her twin brother. In season 5, she was arrested and imprisoned by the High Sparrow, a religious leader, for her sins. She even did a walk of shame through King's Landing where she was stripped naked and became a human trash target.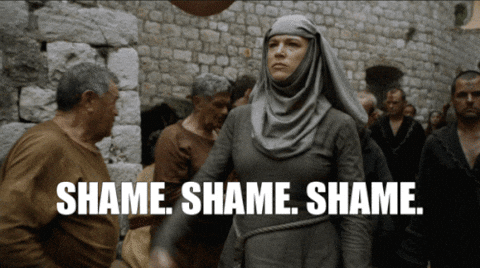 And, again, Cersei can kill off any person she deems a threat to her throne—even her young son's wife, Margaery Tyrell. She went as far as hunting down her late husband's bastard children—and there were a lot. It's no secret she clearly played dirty to get her claim, especially since her children aren't even King Robert's in the first place.
Right now, Cersei's enemies include Daenerys Targaryen and Jon Snow—two people who actually have legitimate claims to the Iron Throne because of their relationship with Aerys Targaryen, the king Robert usurped. (ICYMI: Daeny is Jon's aunt, and they're boning. Let that sink in.) So we won't be surprised if Cersei will try to kill them off in season 8. 
READ MORE: WATCH: Game of Thrones S8 teaser has a dark foreshadowing
***
What do you think? Let us know your thoughts on social media!
Art by Marian Hukom
For the latest in culture, fashion, beauty, and celebrities, subscribe to our weekly newsletter here 
Follow Preen on Facebook, Instagram, Twitter, YouTube, and Viber
Related stories:
Game of Thrones fans theorize battle between Sansa and Daenerys
Game of Thrones S8 theories that won't make you sit still
Ranking the Game of Thrones houses after the season 7 finale
Why Sansa Stark had every right to speak up against Jon Snow