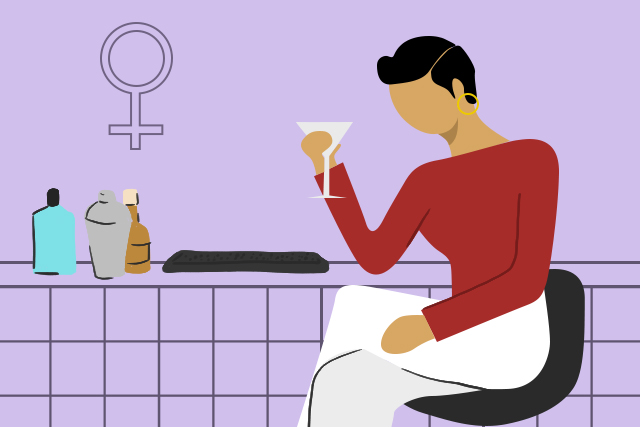 Here at Preen, we're fully aware that adult life doesn't always go as smoothly (and look as beautiful) as curated Instagram feeds. We all face challenges amidst all the good things. Meet Mikka Wee, a former food editor-turned-working gal in Singapore, who's about to share all the ups and downs that come with adulting and living. Welcome to Bless This Mess!
I was given the pleasure of attending an all-female thought leadership forum last week. The topic was about women in the cocktail industry. It was a thought-provoking conversation spearheaded by four of Asia's most talented women who pursued their craft for cocktail concocting and bartending.
It was such a delight to see all these women champion the female spirit in a male-dominated industry. Wonderful advice was given about owning up to your role and not allowing your gender to define you, as well as experiences with regard to overcoming challenges in the industry.
When it was time for the open forum, there was a lot of insight from the audience about women who simply want to drink alone and not be bothered, and women who would like to hang out with their girlfriends at a bar in peace. From my experience, Singapore is indeed a safe country to go out and go drinking. By all means, stay until the wee hours of the evening, and you'll be guaranteed a safe trip home. However, I have heard stories from friends about incidents involving groping and various physical violations done to women customers by other male customers.
READ MORE: Being drunk isn't an excuse for harassment
During the open forum, one of the women shared her story about the night before. They were partying at a popular bar in Singapore, and everyone was having a pretty good time. Women were enjoying themselves, and this lady in particular happened to step up on the platform and started dancing. Moments later, a man shouted at her, waving some bills in his hand. "With company like this, there's no doubt this bar will earn millions in a month," he joked. The lady, offended by the statement, stepped down and sarcastically fired back, "Well if you've got the money, then I'll show you what I got."
Even though she made her point and stood her ground, she was no doubt offended by the remark—I mean, who wouldn't?
And while it is promising to hear that many bars are taking actionable steps to train their staff and assure women that they are "safe" within the confinements of the establishment, there really are situations that cannot be controlled, and as they say, damage control only happens when the damage has already been done. Bars can only do so much to prevent troublemakers, but what cannot be taken back is the offense done to another.
If I was groped in a 5-star hotel bar, it doesn't matter if the staff is trained to do damage control. The groping has already been done; the real education should be on the customer's side, which sadly, is unavoidable. Lines blur when it comes to issues such as this one—the violation has happened. And I am not saying that only women are victims of this, because men are, too.
READ MORE: Why are men like Terry Crews still expected to be tough in the face of sexual assault?
Deeper into the conversation, word about a bar being built exclusively for women surfaced; its mission would be to serve as a "safe space" where women can enjoy their drinks solo flight or with girlfriends without having to feel the need to be extra vigilant. Men would be allowed, too, as long as they were special guests of the female customer. As a woman, I thought this was a good idea to have on paper—the idea of a "safe space" always sounds attractive to me. However, it sounded like another wall being built.
There are a lot of gentlemen's clubs where women aren't allowed inside. Is this a response to that? And by excluding men, doesn't it go against this whole issue of gender inclusivity that we are rallying for? It's an interesting concept, but it has left me feeling more perturbed than enlightened.
If you were wondering how the forum ended—it was only due to a lack of time. However, something very important was said, and that was the importance of speaking up. There are still a lot of women who are afraid to say anything if they happen to be violated in such a social space, and my hope is that we continue to help encourage women to not be afraid and to speak out when they sense something uncomfortable. There is really no way to properly conclude this peace, but I would love to know and hear your thoughts about it. I believe this is a conversation to be had and an important topic to be talked about.
Disclaimer: The views expressed here are solely those of the author in her private capacity and do not in any way represent the views of Preen.ph, or any other entity of the Inquirer Group of Companies.
Art by Tricia Guevara
For the latest in culture, fashion, beauty, and celebrities, subscribe to our weekly newsletter here  
Follow Preen on Facebook, Instagram, Twitter, YouTube, and Viber
Related stories:
The Safe Spaces Bill was passed in Congress
Finally, an anti-catcalling ordinance was passed in Manila
How do I deal with catcalling?
A response to the viral video of the woman slapped by her harasser