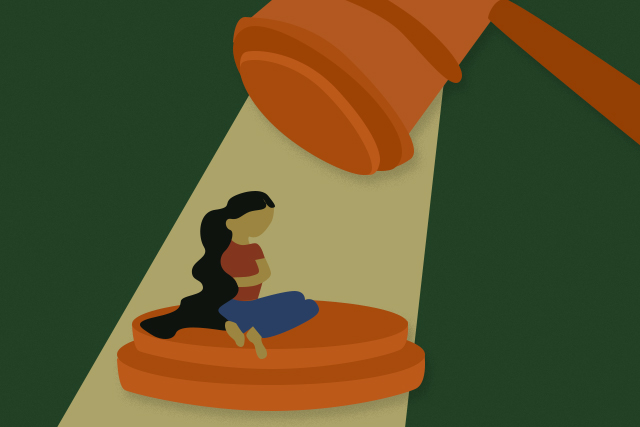 Trigger warning: rape, sexual assault
Our justice system is still deeply flawed. And despite several movements for social progress, it's clear we still have a long way to go. In the #MeToo era, this is particularly true. 
Case in point: In 2018, a Family Division judge from New Jersey who handled a case for aggravated sexual assault is under fire for giving the accused rapist a lenient sentence because he "comes from a good family who put him in an excellent school."
Official reports state that, the teen, identified as G.M.C., "filmed himself penetrating Mary from behind on his cell phone, displaying her bare torso, and her head hanging down" and even sent the video to his friends." In his text message to friends, he reportedly wrote, "When your first time having sex was rape." Despite these charges, Monmouth County Superior Court judge James Troiano denied the prosecutors' motion to try the 16-year-old as an adult. 
According to the New York Times, Troiano cited in his decision that G.M.C. is an Eagle Scout, and he worried about the "the devastating effect" the charges would have on G.M.C.'s life.  "He is clearly a candidate for not just college but probably for a good college," Troiano said. 
Moreover, he still attempted to rule out the act as rape by trying to distinguish it from sexual assault. HelloGiggles wrote, "His reasoning was that rape 'generally' involves perpetrators who attack at 'gunpoint' or use weapons to threaten their victims." As if that weren't enough, he also reportedly said the victim "should have been told that pressing charges would destroy the accused's life."
But fortunately, Troiano did not have the last word. A local appeals court appealed the judge's decision, and effectively overturned it. "That the juvenile came from a good family and had good test scores we assume would not condemn the juveniles who do not come from good families and do not have good test scores from withstanding waiver application," the court wrote in its ruling. In turn, G.M.C. is set to be tried as an adult.
"These comments by the judge really amplify the cultural and systemic barriers survivors are up against," said Patricia Teffenhart, the executive director of the New Jersey Coalition Against Sexual Assault. "These types of comments are everything survivors fear when reporting a sexual assault."
This news is infuriating. We all know this type of case happens at a regular, and it's really heartbreaking. NJ.com cites another Superior Court judge, Marcia Silva, who also denied a motion to waive a 16-year-old to adult court on raping allegations against a 12-year-old, stating that even if the girl's claim was true, "the offense is not an especially heinous or cruel offense beyond the elements of the crimes that the waiver statute intends to target." 
Of course, we can't not mention the high-profile case of Brock Turner. The ex-Stanford student athlete is the epitome of white male privilege, as he even tried to appeal his already lenient sentence by claiming "outercourse." Fortunately, the judges did not fall for his BS. Still, the fact that he got off with a light sentence in the first place is really telling of our society's messed up views. It's so f*cked up how people still side over perpetrators just because of their high social status, while victims are further blamed and made to feel guilty. 
This Troiano case is basically why powerful people like Jeffrey Epstein, R. Kelly, Trump, and even Pres. Duterte continue to do perverted, malicious acts. They're obviously confident their stature allows them a free pass to do whatever the f*ck they want, no matter how wrong. People cover up for them. 
But as is evident, their time is almost up. #MeToo continues to rally as long as misogyny and male privilege exists.
Art by Tricia Guevara
For the latest in culture, fashion, beauty, and celebrities, subscribe to our weekly newsletter here  
Follow Preen on Facebook, Instagram, Twitter, YouTube, and Viber
Related stories:
R. Kelly thought he can get away by throwing tantrums, but predators should be held accountable
Billionaire Jeffrey Epstein charged with sex trafficking again
Donald Trump dismisses new rape accusation as "fiction"
It's 2019 and Pres. Duterte is still getting away with misogynistic statements