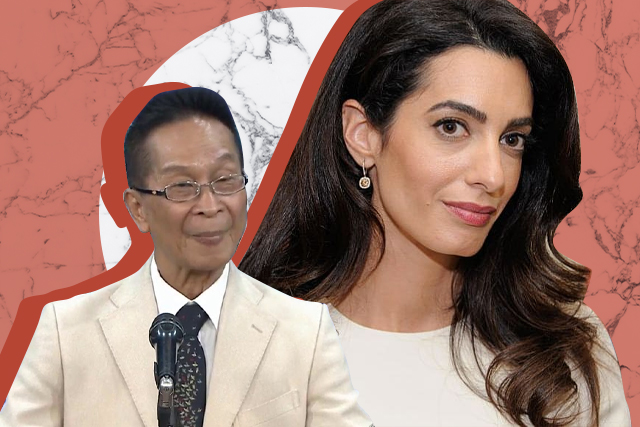 When it was announced human rights lawyer Amal Clooney would be representing Maria Ressa, many felt hopeful she'd get justice for the many charges against her. But it seems no one is more "excited" about this than presidential spokesperson Salvador Panelo.
According to London-based law firm Doughty Street Chambers, Amal and Caoilfhionn Gallagher will be leading the international legal team representing Maria. But Panelo, who is also Pres. Rodrigo Duterte's chief legal counsel, didn't seem fazed by the news.
"Palagay naghahanap lang sila ng katapat ko," (I feel like they're just looking for my match) he said, noting that Maria wouldn't stand a chance in a debate. "E kailangan may abogado din siya, maganda na, sexy pa." (Of course, she would need a lawyer [and she got one] who is pretty and sexy, too.) Panelo later said Amal was "misinformed" about the case and that he's willing to "educate" her when they meet.
READ MORE: Maria Ressa's latest supporter: Amal Clooney
Okay, two things: First, Panelo didn't have to degrade these two women's compentencies to boost his own ego. Maria is seeking justice after being arrested multiple times to try and silence her just because she's one of Duterte's critics. Just because she has got international lawyers on her side does not mean she's incapable of debate.
Amal has been a lawyer for 18 years and has practiced in international in The Hague, she doesn't need to be "educated." This then brings us to our second point: Panelo focused on her physical attributes. Excuse me, Amal is more than just "pretty" and "sexy."
The mindset that a woman's worth is measured by their looks, not their achievements is a sexist one. Take for instance Hillary Clinton during the 2008 US presidential race. The media would constantly report on her hairstyles and what she wore instead of her actual platforms and past deeds.
As The Conversation pointed out, you wouldn't see anyone say this about men. But when a woman takes the helm—be it in politics or any high-profile case, the focus is always on how they style this and that, plus the fact they don't look feminine enough.
This mindset is also not acceptable when you're heavily criticizing someone's actions. When Mocha Uson re-emerged when the Duterte administration started, many pointed to her past as a performer clad in skimpy clothing. This was followed by insults and slut-shaming comments. Again, while Mocha's behavior is questionable, you don't use someone's looks to degrade them.
READ MORE: Criticize Mocha Uson all you want but don't slut-shame her
What's troubling is this isn't limited to grown women. A Girlguiding study in 2017 found that 55 percent of UK girls aged seven to 21 felt they couldn't speak freely because of their gender. Another 57 percent said this stereotyping affected their what they wore in school. These girls also believed that science and maths, and having "strong" attributes were more for boys.
Additionally, author Natasha Devon reacted to the study in a The Guardian op-ed, saying that this gender stereotyping pressures girls into looking and acting a certain way. It also reinforces the notion that they are more valued based on their physical attributes, not their talents in certain activities or subjects. "Even the most enlightened people are usually surprised when they begin noticing how often they unconsciously reinforce the notion that a woman's worth is nothing more than the sum of her parts. This is something that can be replicated on social media," she wrote.
It also doesn't help that we live in a society that sees women as inferior, hence, problems like the gender pay gap and the unfair treatment of female employees. It's why many women have resorted to downplaying their accomplishments, including housewives who have willingly chosen to stay at home and take care of their families.
So, no, Mr. Panelo. You will not insinuate that Maria and Amal are stupid, nor will you minimize Amal's successes by merely focusing on her looks. They are both successful women in their own rights, and they will not be intimidated even when you try to look down on them.
Art by Tricia Guevara
For the latest in culture, fashion, beauty, and celebrities, subscribe to our weekly newsletter here  
Follow Preen on Facebook, Instagram, Twitter, YouTube, and Viber
Related stories:
Maria Ressa's latest supporter: Amal Clooney
To all the women who refuse to be intimidated
Panelo says Duterte's rape "jokes" are merely meant "to make people laugh"
Pack or f*ck, we're still not laughing, Salvador Panelo