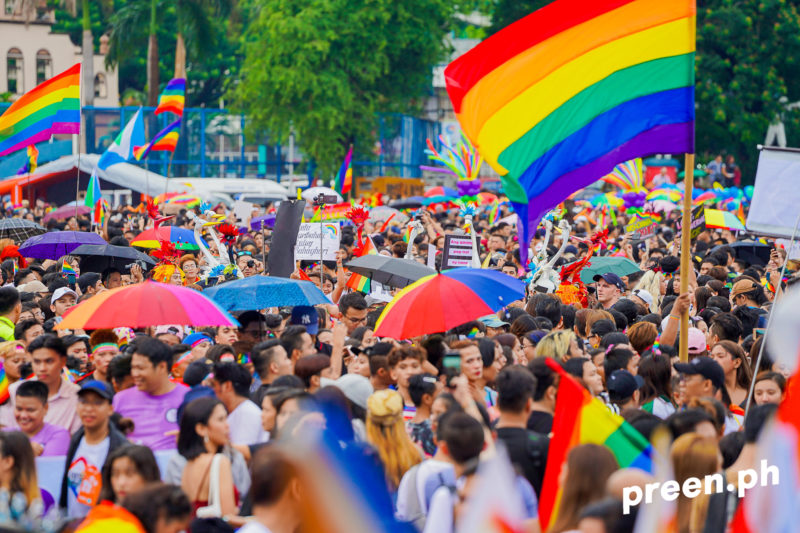 Despite claims of our country's progressiveness when it comes to the LGBTQ+ community, it's clear we still have a long way to go. Discrimination is still felt. And basic rights, such as civil union, are yet to be enjoyed by our queer brothers and sisters. This is why it's extremely important for the community and allies to get together and show their solidarity during the recent Pride March.
In line with this, Hinge Inquirer, the mother company of Preen.ph, Scout, NoliSoli.ph, Multisport.ph, and F&B Report, decided to join the annual event, to show their firm support for the LGBTQ+ community. 
To prepare for the big day, the Hinge team worked together to ensure a memorable Pride experience for everyone involved. Tricia Guevara, Preen.ph junior designer and one of the heads of the project, shared that the most challenging part of the process was deciding on the main message to focus on. "There's so much to be said and done about Pride and LGBTQ+ rights, it was a little difficult narrowing it down to a single thing," she said. 
With #ResistTogether as this year's theme, the team agreed on highlighting the activist movement of the community. Hinge pushed the idea of creating an arc in the shape of lips, and accompanying placards displaying terms such as "Makibeki," "Push," and "Lavarn." Renz Mart Reyes, Scout junior designer, and project co-lead, explained, "The concept behind the design is like an homage to the Stonewall uprising. To celebrate the colorful language na nanggaling o nag-originate sa LGBTQ community ng Philippines."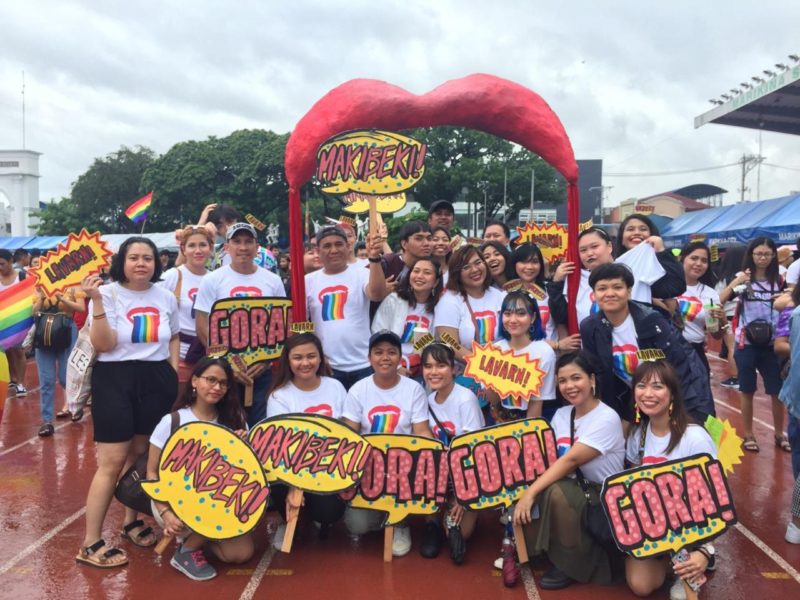 After days of laboring to make this concept happen, the day of Pride finally arrived, and Hinge was among the staggering 70,000 attendees at Marikina Sports Center; with the lip arc and Beki lingo placards at the ready, despite the hard rain. "Being together as one on such an important day made all those struggles worth it. We resisted together, we were one with everyone there," Cae Belciña, marketing assistant and project co-head, said.
"It's important for us as members of the media to join Pride and resist with the community because publications have the power to wield influence over the majority," Renz said. 
"We play a huge part in educating the public about pressing issues such as LGBTQ+ rights. I think it's also our duty to see and experience Pride firsthand, especially now that we want to highlight that Pride is much more than a huge party, it's a protest," Tricia added.
Indeed, joining Pride was a great experience. Not only did we have fun while celebrating with our queer brothers and sisters, but we were also able to hear different voices from the community. It's safe to say this won't be Hinge's last Pride. 
See you next year?
Featured photo by Javier Lobregat
For the latest in culture, fashion, beauty, and celebrities, subscribe to our weekly newsletter here  
Follow Preen on Facebook, Instagram, Twitter, YouTube, and Viber
Related stories:
Pride is a protest: The advocacies we saw at the march
Faces of Pride: Effy Elmubarak reminds us of the place of intersectionality in Pride
A first-timers' guide to Pride
Sen. Risa Hontiveros is giving out "mom-hugs" at the Pride March