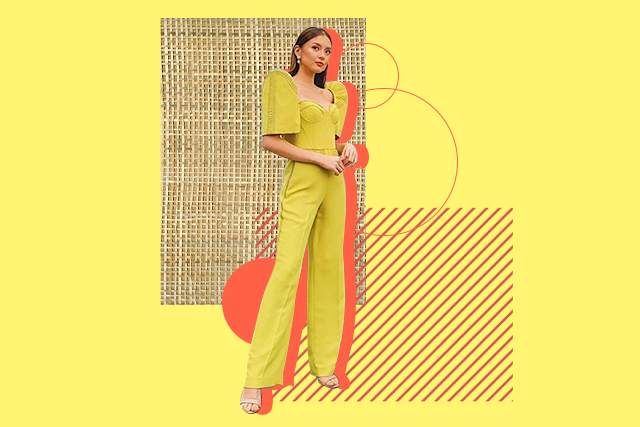 Living and growing up as a Filipina, we are all familiar with the traditional Maria Clara gowns— or what we call Filipiniana. With its various styles: the baro't saya, traje de mestiza, and the terno, we all know these dresses for its butterfly sleeves or "Angel Wings", colorful palettes, a collarless affair or what is called a camisa, and its translucent fabrics made of pineapple fibers called piña and jusi. 
Filipinianas have been a part of our lives, but never on the daily. In fact, most of us associate the traditional ensemble with school affairs, Buwan ng Wika celebrations, fiestas, and other local festivities. I remember always having to borrow one from my cousin whenever we were required to wear one in school. 
However, as the modern-day and age opens its history books once again, Filipino designers are drawing plenty of inspiration from the traditional vestments, and giving these designs a modern twist. Surely we can't sport the classic baro't saya in a casual trip to the mall, but the contemporary interpretations that local designers are giving these Filipinianas are making them most wearable for everyday looks. 
Here are Filipinianas with modern-day twists:
Marco Pilipino Kapayapaan Terno Top
Kapayapaan is Marco Pilipinos' first modern terno top design, adorned with covered buttons that are purposefully placed as back detail. It can definitely work for casual affairs or walks in the park, and would best be paired with skinny jeans or pants, to accentuate the traditional butterfly sleeves. Available on Instagram. 
Vinta Terno Jumpsuit
Dinner out with friends? This terno jumpsuit is built to move. Featuring a deep V cut neckline, a front zip, and palazzo cut pants—this suit even has two pockets. With a good pair of heels and a long neck charm to complete the look, your night out with friends is good to go. Available online.
Niña Corpuz Handwoven Terno Top
Whether it be a nice picnic or a movie date with the family, this colorful handwoven top designed by Niña Corpuz can take you anywhere. With a pair of skinny jeans or even a soft pencil skirt, this simple terno design can go from formal to casual at any time. Available on Instagram. 
Milka Quin Corset Jumpsuit
Whether its a fancy dinner party or an awards ceremony, this corset jumpsuit by Milka Quin in chartreuse is exquisitely elegant and a terno classic. The generous butterfly-shaped sleeves won't give you a hard time choosing the right accessories—simple pearls and charms will do. Available online.
Kaayo PH Hand-Beaded Terno Dress
Designed by Maureen Disini, this hand-beaded T'boli affair can be perfect for special occasions, or even a sweet date night. Apart from the eye-catching and classic butterfly-shaped sleeves, the patterns all over the dress are stunning and would look fantastic with a pair of nude heels, with your hair in an updo. Available on Instagram. 
Filip + Inna Balat Terno Vest
A Filipiniana blazer? Yes, please! The bell sleeves sure are a far cry from your normal office blazers, but this Balat terno vest from Filip + Inna can be used anywhere, even for work. Partnered with a pair of slacks and a nice top, this will definitely turn heads when you walk by. Available online. 
Art by Tricia Guevara
For the latest in culture, fashion, beauty, and celebrities, subscribe to our weekly newsletter here  
Follow Preen on Facebook, Instagram, Twitter, YouTube, and Viber
Related stories:
SONA 2019 fashion: From modern barongs to statement accessories
Handbag Edits: We're filling up this manika bag with items that celebrate great women
Meet the Filipino Designers Who Presented at Milan Fashion Week
Here are Filipino footwear brands to add to your rotation
Sustainable beauty? These local eco-friendly shops make it possible