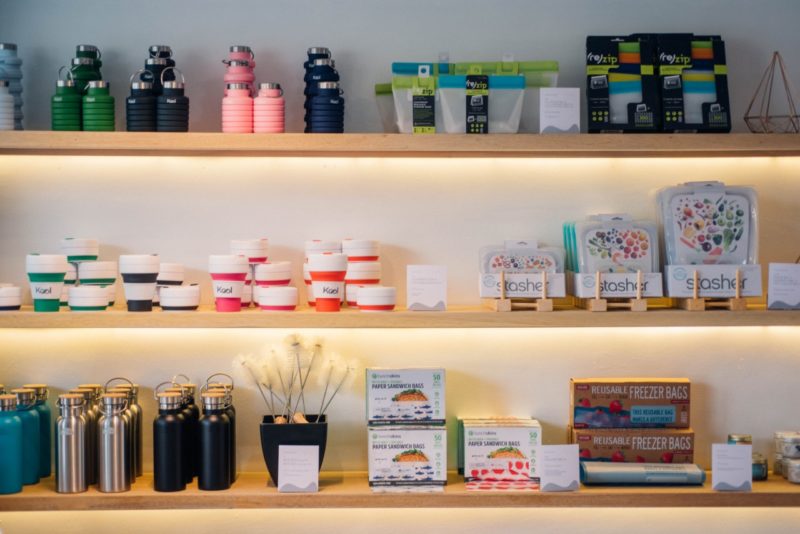 Here at Preen.ph, we're all for personal care. There is absolutely nothing wrong with women or men who are all about beauty trends and products. But also, the reality is, the beauty industry is among the biggest contributors to environmental degradation.   
According to Flora and Cesta, the chemical components in products are a cause for worry because "They don't break down and instead accumulate in our ecosystems." 
Moreover, packaging contributes a lot to landfill and ocean waste. "The bottles that hold shampoos, moisturizers and other skincare products must be created in a way that means they are not degraded by the products that they have been designed to hold. This means that they are also not easily degradable or recyclable after use, leading to the plastic we hear about that pollutes our seas and causing harm to wildlife," the site notes.
So is there a way for us to continue with our lifestyle but at the same minimize its effects on the environment? Absolutely! The trick is to be mindful of our buys. If you want to switch to a more sustainable lifestyle, here are some local shops you can check out:
ECHOstore
"ECHOstore, by its very name, cares for the Environment, helps the Community, promotes Health and works with Organizations," their site explains. The sustainable lifestyle store was established in 2008 by three women who "wanted to help small producers, craftsmen and artisans get to markets they have never served," their site says. 
The concept store grew from a shop in Serendra BGC to franchises and eventually established ECHOfarm, the primary source for ECHOmarket's vegetables and fruits used at the ECHOcafe and sold at ECHOstore.
Aside from stationery and supplies, home essentials, they also sell personal care and spa products, as well as other brands such as Pili Beauty and Ilog Maria.
ECHOstore currently has seven stores. Know more about its locations and schedules here.
Paraluman
https://www.instagram.com/p/BvJP3fulWGx/
Starting out with just local, handmade water-conserving shampoo and conditioner bars, Paraluman now offers a variety of products such as tooth powders, wooden combs and toothbrushes, and reusable cotton rounds.
Aside from that, they also have reusable straws and cutlery sets, and even pencils containing plantable seeds!
Their mission is to "inspire Filipinos to reduce our waste, be mindful of what we leave behind, and be thankful for what we already have." Their products are sourced from different parts of the Philippines. They support small business owners, and especially PWDs, senior citizens, single parents, and local farmers and local artisans. Some of the proceeds of their products go to local charities. 
Paraluman currently has four stores. Know more about its locations and schedules here.
Kahilom
Kahilom carries an assortment of items to help consumers live a sustainable lifestyle—ranging from scrunchies made from scrapped fabrics, sturdy and sustainable bags, upcycled clothes, and all-natural crafts.
They also carry handmade personal care products by advocate Daniela Calumba. You'll have plenty to choose from her wide range of soap and shampoo bar products. She also creates lip balms, facial oil serum, deodorant cream, detox masks, and even beeswax wraps.
Kahilom is open daily 11am-8pm at Hub: Make Lab, First United Building, 413 Escolta Street, Binondo, Manila.
Ritual
This small general store and cacao/coffee joint may be more known for their organic food and drinks products, but they offer a lot more than that. They have green cleaning products for the home, as well as bath and body products. This includes balms and salves, essential and massage oils, dental hygiene products, facial mist, exfoliants, and smelling salts.
Ritual is open Tuesday to Saturday from 11am- 8pm at the second floor of the Languages Internationale Building, 926 Arnaiz Avenue, Makati. 
Loop.
The retail store of Sip PH, Loop. houses 29 local and international sustainable brands, including Meow Meow Tweet (organic and vegan deo sticks), and Ecobar (solid shampoo and conditioner.)
According to Nolisoli.ph, "Loop. is in alliance with a company that specializes in composting and waste management. In line with this, Loop. accepts the box or wrap of the products from customers and they'll be in charge of returning them to the brand or disposing them properly—in an attempt to indeed close the loop."
Oh, and the shop also carries sustainably made jewelry and accessories from brands like Anthill Fabric Gallery and Sepa. Even Eco-friendly condoms by Sustain
Loop. is open daily from 9am- 6 p.m. at Unit 30, 68 Don A. Roces Ave., Quezon City. 
Munti
https://www.instagram.com/p/B0DdVq5hrsZ/
Though Munti's flagship products are their plant-based eats, namely vegan pizzas, bagoong, sisig, tapa, and more, they also sell sustainable products such as straws, toothbrushes, cotton rounds, mesh sponges, soap, and feminine hygiene products.
For now, Munti is a home-based online store. You can reach them through their page.
Photo by JP Talapian for Nolisoli.ph
For the latest in culture, fashion, beauty, and celebrities, subscribe to our weekly newsletter here  
Follow Preen on Facebook, Instagram, Twitter, YouTube, and Viber
Related stories:
Cotton tote bags aren't sustainable: How to deal with it
Sustainable beauty? Here's how three working women pull it off
4 sustainable ways to detox every morning
3 easy tips for a sustainable food supply in the city