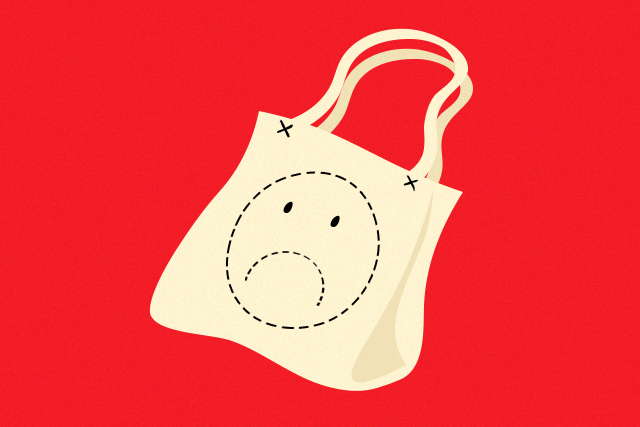 Tote bags, or popularly known as "eco bags," have been around since we were all encouraged to lessen our plastic consumption. These are usually made from non-woven polypropylene, polyester, and cotton.
In all fairness, these bags are reusable and sturdy enough to carry our groceries, among other things. However, studies say they're not as biodegradable as we hoped—further proof we can't have nice things.
Denmark's ministry of environment and food published a 2018 life-cycle assessment on various shopping bags. It found that classic plastic ones (surprisingly) have the least environmental impact. However, it's still horrible in terms of litter since it doesn't break down easily and bring problems to marine life.
READ MORE: 5 things you still do daily that harm the sea
In fact, organic cotton and conventional cotton have the highest environmental impact. The Denmark study noted that organic cotton is worse, especially in terms of the footprint it leaves which includes growing the plant, manufacturing, and transportation. It also needs 30 percent more resources to make.
Basically, both materials essentially aren't safe for the environment. What do we do now?
Some tips before you panic
This isn't the time for you to stop using all your tote bags and start looking for other alternatives. You can still bring them everywhere and use them to shop—even your plastic and paper bags. Just follow these tips to make the most of them while lessening your environmental footprint.
1. Reuse the bags to death—we're not even exaggerating. Business Insider cited that it's the most sustainable way before you recycle plastic and cotton totes.
2. In relation to the previous point, you shouldn't buy more. Just keep using the ones you have at home.
READ MORE: Make shopping a breeze with these tote bags
3. Once you deem a bag "unusable" for everyday use, Quartz suggested to use them for garbage disposable. This applies to plastic, paper, and cotton tote bags. You can also be creative in reusing them
4. If you're giving up plastic for good and you want more tote bags, go for secondhand items. Not only are you giving these pieces "a second chance," it will also lessen the factory production and the footprint it'll leave in the environment. (Tip: Check ukay-ukay stores.)
Hope these help!
Art by Marian Hukom
For the latest in culture, fashion, beauty, and celebrities, subscribe to our weekly newsletter here  
Follow Preen on Facebook, Instagram, Twitter, YouTube, and Viber
Related stories:
Make shopping a breeze with these tote bags
Which tote bag best suits your long and busy days?
7 everyday items that we can use to lessen our environmental footprint
Here's your next water bottle—this isn't plastic or stainless steel