For those of you who watched the movie Aladdin a couple of months back, it is not a spoiler to say that this year's Jasmine has most definitely sprung out of the regular Disney Princess mold.
In Aladdin, the hit Broadway Musical, currently on-stage at Marina Bay Sands' Sands Theater, Jasmine is no different. Headstrong, vocal and single-minded about no longer bowing to rules of men, this is a princess we hope our daughters admire. Played by Shubshri Kandiah, her lovely voice and chemistry with Graeme Isaako who plays Aladdin, certainly did not need a genie to bring magic to the stage.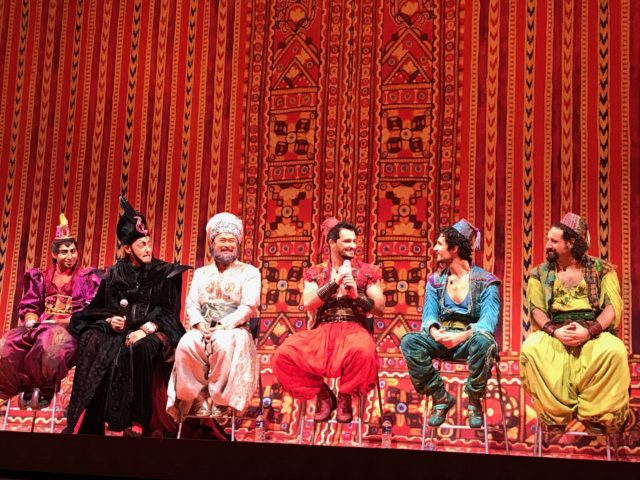 While the movie and even the animation which debuted back in 1992, brought us sing-along hits such as "A Whole New World," originally sung by the Philippines' Lea Salonga, "Friend Like Me," and "Prince Ali," the Broadway musical has a few songs specific for the stage such as "Proud of Your Boy" sung with so much emotion by Aladdin, "These Palace Walls" sung by Jasmine and her attendants and "Babkak, Omar, Aladdin, Kassim" joyfully sung and energetically danced by Aladdin and his three sidekicks who replace his movie and animation monkey, Abu. Take particular notice of Kassim played by Rob Mallet who is quite easy on the eyes!
Another difference from the movie is that Jafar's evil parrot has been replaced with an equally evil, Iago played by Doron Chester. All actors in this production hailing from Australia and New Zealand, though sporting American accents while on stage.
Having mentioned most of the characters in the movie, animation, and musical, we save the best for last: Gareth Jacobs who, of course, played the Genie and literally stole the show. While his jokes and actions may be attributed to the wonderfully-written script or the director's (in this case, associate director Scott Taylor) instructions, Gareth's dancing—in the performance "Friend Like Me" which lasted for more than eight and a half minutes of non-stop singing and dancing) and wit when cracking straight-faced jokes earned him and the whole cast a roaring standing ovation at curtain call on the Opening Night filled with Singapore's top celebrities. This Genie is seriously even better than Robin Williams and Will Smith because he does the singing, dancing, and comedy, right before our eyes!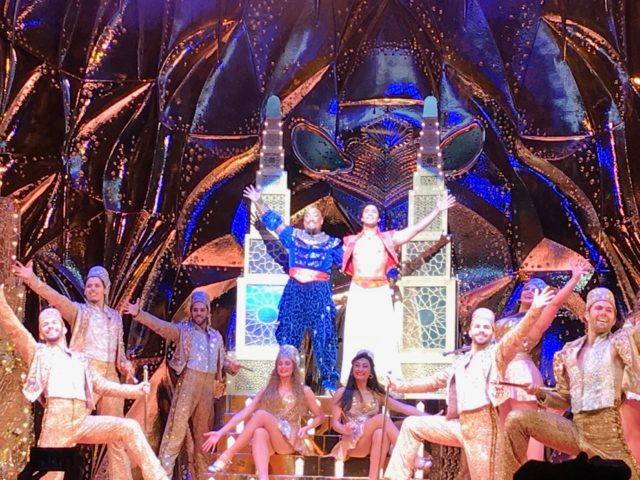 Aside from the superb singing and flawless dancing, the ornate costumes, magical sets, and ease of costume changes (I swear, I just blinked my eye and the Genie was wearing another outfit!) seem totally natural when Scott Taylor mentioned that it takes 30 full containers and quite a number of production staff to get this show on-stage. The set design for The Cave of Wonders is jaw-dropping while we will certainly be remiss in our review if we fail to mention that the flying carpet scene where Aladdin and Jasmine sing "A Whole New World" was done so fantastically well that if there is one scene aside from the genie's singing and dancing marathon "Friend Like Me" that you will fly to Singapore to see, it is this one. Our hearts literally melted and the audience felt like they were right there in Agrabah watching the full moon and the magic carpet fly with these two lovebirds on it.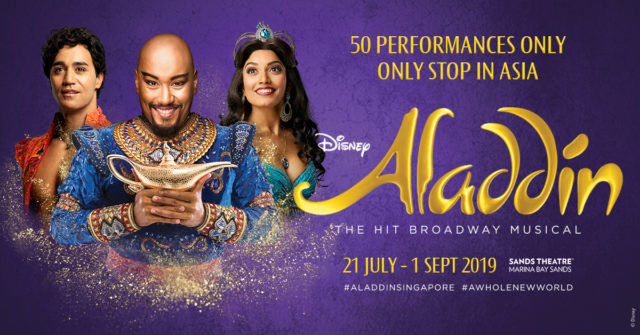 Aladdin is a beautifully staged, wonderfully sang and acted, fantastically designed musical you can't miss. Bring the kids or go with friends. Shows run in Singapore (the only stop in Asia!) from now till Sept. 1st at the Sands Theater at Marina Bay Sands. Book your tickets here.
Art by Tricia Guevara
For the latest in culture, fashion, beauty, and celebrities, subscribe to our weekly newsletter here  
Follow Preen on Facebook, Instagram, Twitter, YouTube, and Viber
Related stories:
The true star of Aladdin is princess Jasmine
The Internet unpacks the Aladdin full trailer
Sorry '90s kids, but The Lion King remake lost the Disney magic
Liu Yifei is the Mulan we always wanted