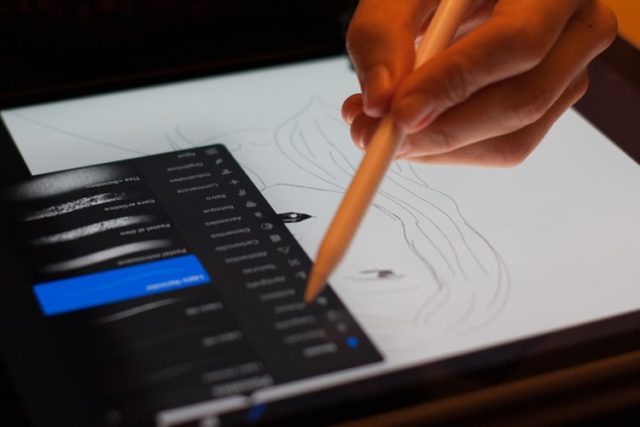 Imagine: You're scrolling through social media and you chance upon a video of someone's drawing process. You watch it carefully and suddenly, the sight of precise lines and beautiful color shading keeps your mind at ease.
Just like ASMR videos, the sound of a pen or marker on paper can trigger a tingly sensation that's also relaxing. If the video has no sound though, you can still get into the flow of someone drawing or painting on-camera because focusing on it can bring you to a near-meditative state.
Very Well Mind noted that in art therapy, following a "flow" can help reduce stress. One way to achieve this is by drawing repetitive patterns like mandalas, or coloring them in.
If you're looking for art accounts to follow to help calm your mind and also make your feed a little prettier, check out the accounts below:
Anastasia Tasou
Anastasia is a doodle and typography artist who often commissions tattoo designs for her followers. If you follow her on Instagram, you'll sometimes see her post drawing videos on her Stories or feed. She also recently revived her YouTube account where she shows subscribers how she draws, as well as stationery hauls.
Julia Razumova
https://www.instagram.com/p/BzZMnKVAoTt/
Julia is known for her animated sketches of women that have almost-realistic features. She usually shows her followers the process of how she creates details in eyes, hair strokes, and even how to add freckles. Recently, she's been doing food sketches, which makes us both relaxed and hungry.
Heikala
Process of Mono No Aware album cover✨✍️ pic.twitter.com/qpJUHMCR96

— Heikala (@heikala_art) July 29, 2019
I discovered Heikala when she posted "Process of Cozy," where she showed her delicate ink and watercolor skills. If you look at her Twitter Media, she has several drawing videos paired with chill background music. Their artwork reminds us of Studio Ghibli films, especially with the colors and the whimsical characters they incorporate.
Marika Boniuk
https://www.instagram.com/p/B01KGAeBTTG/
Marika is also known for her realistic-looking animated illustrations. Her Instagram portfolio is filled with portraits of various women—White, Black, Muslim, you name it. One of my favorite videos from her are her timelapse lip drawings because you get to see how she smooths out lines and adds shadows and highlights. Ugh, so good!
Annette Labedzki
https://www.instagram.com/p/B0OVy6aB9ah/
Annette technically doesn't draw on camera, but she does satisfying paint-mixing videos. So, in case you want to know what certain colors look like combined, or if you want to know how to create the perfect terracotta shade (video above), you should check her account out. The spatula sounds will also give you serious ASMR.
Photo courtesy of Pexels
For the latest in culture, fashion, beauty, and celebrities, subscribe to our weekly newsletter here  
Follow Preen on Facebook, Instagram, Twitter, YouTube, and Viber
Related stories:
ASMR: What is it and do you have it?
We feel inspired by these women with tattoos
Are adult coloring books as relaxing as people say they are?
Artists I discovered through #QueerArtPH