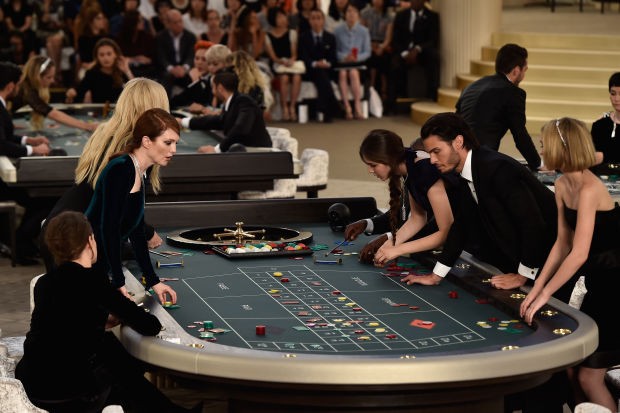 Celebrity A-listers didn't get to take the front row at the Chanel Couture show for fall/winter 2015. Instead, Kristen Stewart, Julianne Moore, and Rita Ora, among others, took their seats by a roulette table.
Karl Lagerfeld, creative director and designer of Chanel, always raises the stakes when it comes to staging the brand's shows. Last season, he gathered the models for the still-resounding feminist rally. Prior to that, he turned the runway to a supermarket, a brasserie, and an art gallery—which were almost all fully functional, by the way.
For this fall's couture show, the Grand Palais was turned into a busy casino unlike any other. Kristen Stewart opened the show in a black, tweed suit and went straight to playing. Karl's other aforementioned celebrity friends slash muses, joined by celebrity offsprings Lily-Rose Depp and Gabriel-Kane Day Lewis, also tried their luck at a game of roulette. Right smack in the middle of the runway were the card tables, and surrounding the perimeter were slot machines.
Models then came out all sporting the same severe, dark bob and black pair of curved heel mules. As for the clothes, they're suitable for moneymaking business: skirt suits, boxy blazers, and voluminous coats. Kendall Jenner closed the show in an off-white, double-breasted satin pantsuit and shawl behind her.
Every year, Karl chooses a "bride" to do the final walk for his couture show, which he believes is the star of the season. Last year was both Cara Delevingne and Kendall. Now, it's just her. [Fashionista]