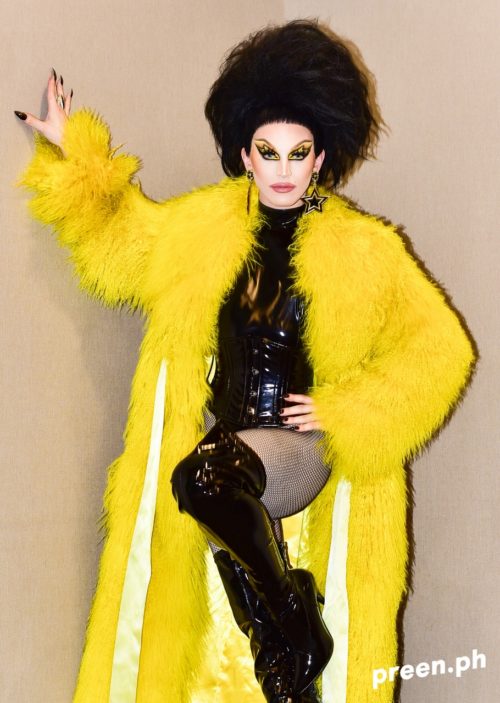 Aquaria is one of those queens you just knew would win "RuPaul's Drag Race" the moment she entered the workroom. She is known for being a fashion queen who pushed boundaries—from wearing a luchador swimsuit to portraying a oil-slicked mermaid crying teal tears. She even made a bib and diaper stylish.
True enough, Aquaria did win the 10th season of "Drag Race." So far, she is the youngest queen to ever win the show.
At only 23 years old, Aquaria has already toured the world with her fellow queens and has made a name for herself in the fashion world, from the NYFW runway to "Vogue" to the Met Gala to becoming the first drag queen ambassador of The SM Store. And it's all thanks for her unique approach on drag.
"I think it's really special being a young winner because there's so much I can do with my life," Aquaria tells us at a press con before her first meet and greet in SM Megamall. "When you have reached such a milestone in your life, the world has so much opportunity [to offer you] and I'm grateful for that."
But Aquaria isn't a newbie to this art form. In fact, she has a "Drag Race" alum as her drag mom:  season four winner Sharon Needles.
In previous interviews, Sharon would talk about how a teenage Aquaria caught her attention because she created a social media fanpage dedicated to her when the cast of season four was announced. In an "i-D" video, Sharon recounted how she promised to "remember you as my number one fan and I'll always keep an eye on you."
In terms of style, Aquaria and Sharon are polar opposites since the latter is known for her Gothic and shock factor looks that may include fake blood from time to time. But Aquaria learned something more important from her drag mom: celebrating her individuality and combining unconventional elements.
"For a performance, [Sharon] will do a Britney Spears song and pair it with some funny elements that relates to the song, but completely out of left field," Aquaria says. "I think she always tried to shock or do something kind of witty or campy, but in her own Gothic sense."
Aquaria picked up on this contrast and started creating looks with "themes or ideas that don't always go together, but would work." So it's also no surprise that she chose a print-on-print look from "Drag Race" to define her overall drag style.
"One of my most popular looks [on the show] was the cheetah on cheetah on ocelot print I wore [on the 'Double Trouble' challenge.] That look has definitely resonated with a lot of people, and it's so many ideas combine into one, but somehow, it was harmonious," she says.
Don't sleep on Aquaria because, just like Sharon Needles, she may have more surprises hiding up her sleeves.
Photo by JP Talapian
For the latest in culture, fashion, beauty, and celebrities, subscribe to our weekly newsletter here  
Follow Preen on Facebook, Instagram, Twitter, YouTube, and Viber
Related stories:
Aquaria makes herstory as The SM Store's first drag queen ambassador
These queens are the fashion monarchs of "Drag Race." Or maybe of the human race.
From the stage to vlogs: The drag queens you should subscribe to
Makeup artist Min Ortiz believes drag is for everyone