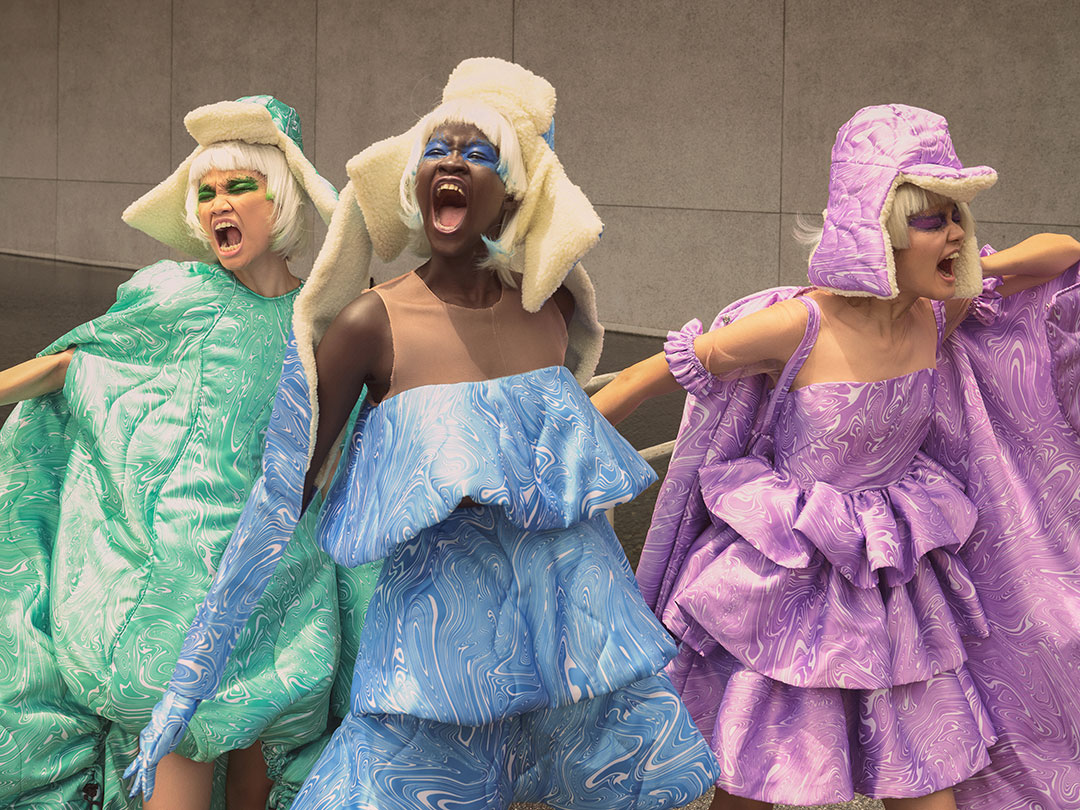 The graduating class of the Fashion Design and Merchandising program of the De La Salle College of Saint Benilde (CSB) showcased their collection on the runway, focusing on diversity, inclusivity, and sustainability.
The world of fashion is ever-evolving, but it has never been as brave, bold, and advocacy-driven as it is today. Gen Z and millennials are slowly transforming the concept of luxury designer brands into a more durable and sustainable industry that is diverse and inclusive. It is no longer a battle of extravagance and opulence, but a stand for a cause, a message, and a form of expression. 
In part two of our "Sinulid" 2019 fashion editorial, Preen.ph chats with the remaining five of the top 10 designers of the senior batch fashion show. In fact,  the stories that are being told through their collections seemed to diversely, inclusively, and sustainably speak for itself, especially with the various inspirations and advocacies they have. 
Cleo Rodriguez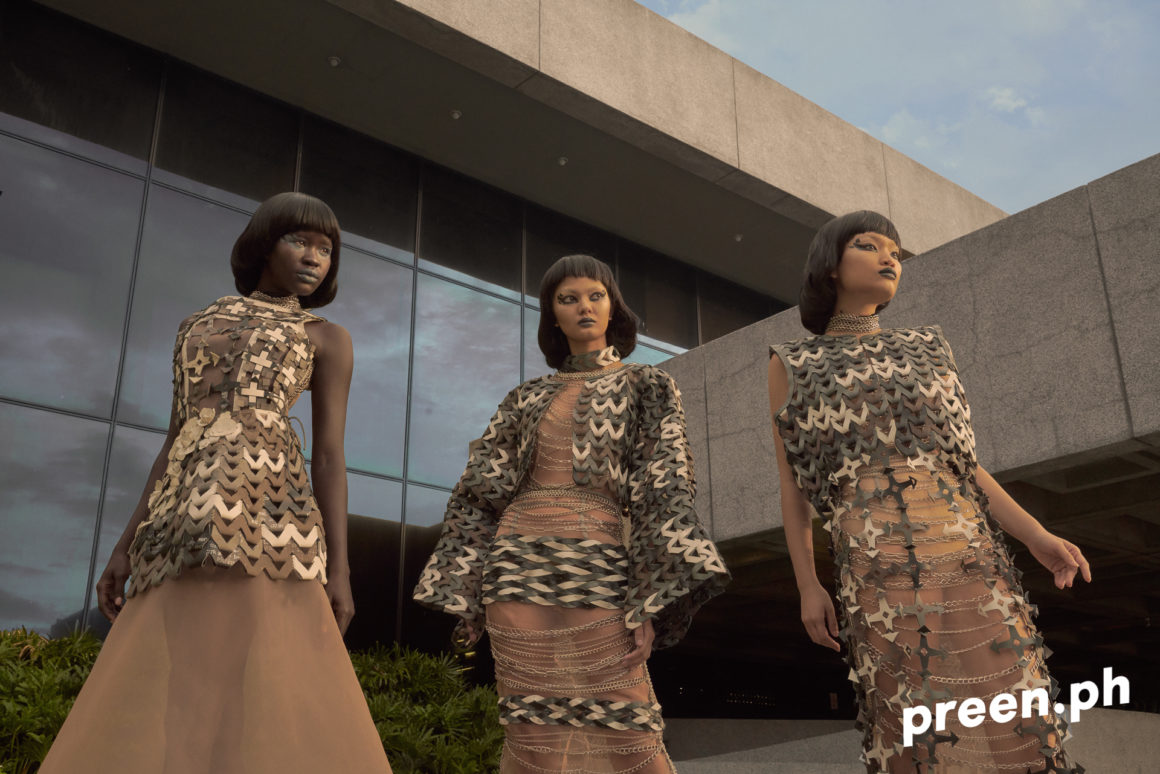 Cleo Rodriguez' edgy collection comes from her different portrayals of emotions and moods. This is why she incorporates various patterns and materials to her designs, weaving an assortment of fabrics together, and also tying her looks with chain strands. 
On how she used diverse emotions in her pieces
"Honestly, nung una hindi ko siya inisip (Honestly, I didn't think of it at first). More of ano muna yung gusto kong gamitin na theme (It was more of what theme I wanted to use). Then after I brainstormed everything, dun ko na naisip yung (that's when I thought of) diversity of emotions. I incorporated different moods and feelings that would come together. When it comes to Filipino designs kasi, it's mostly following the trends. Pero most locals pinaghahalo nila yung meaning of styling and fashion—a hybrid of a lot of things (But most locals really blend the meaning of styling and fashion). Which is what I did."
On pacing herself when conceptualizing her designs
"Everything is inspired by something. But there are times when nothing comes, so I pause muna lahat. I often question myself kung tama ba 'tong ginagawa ko, then maghanap muna ng ibang inspiration like other pieces of art." 
Darlenne Rivera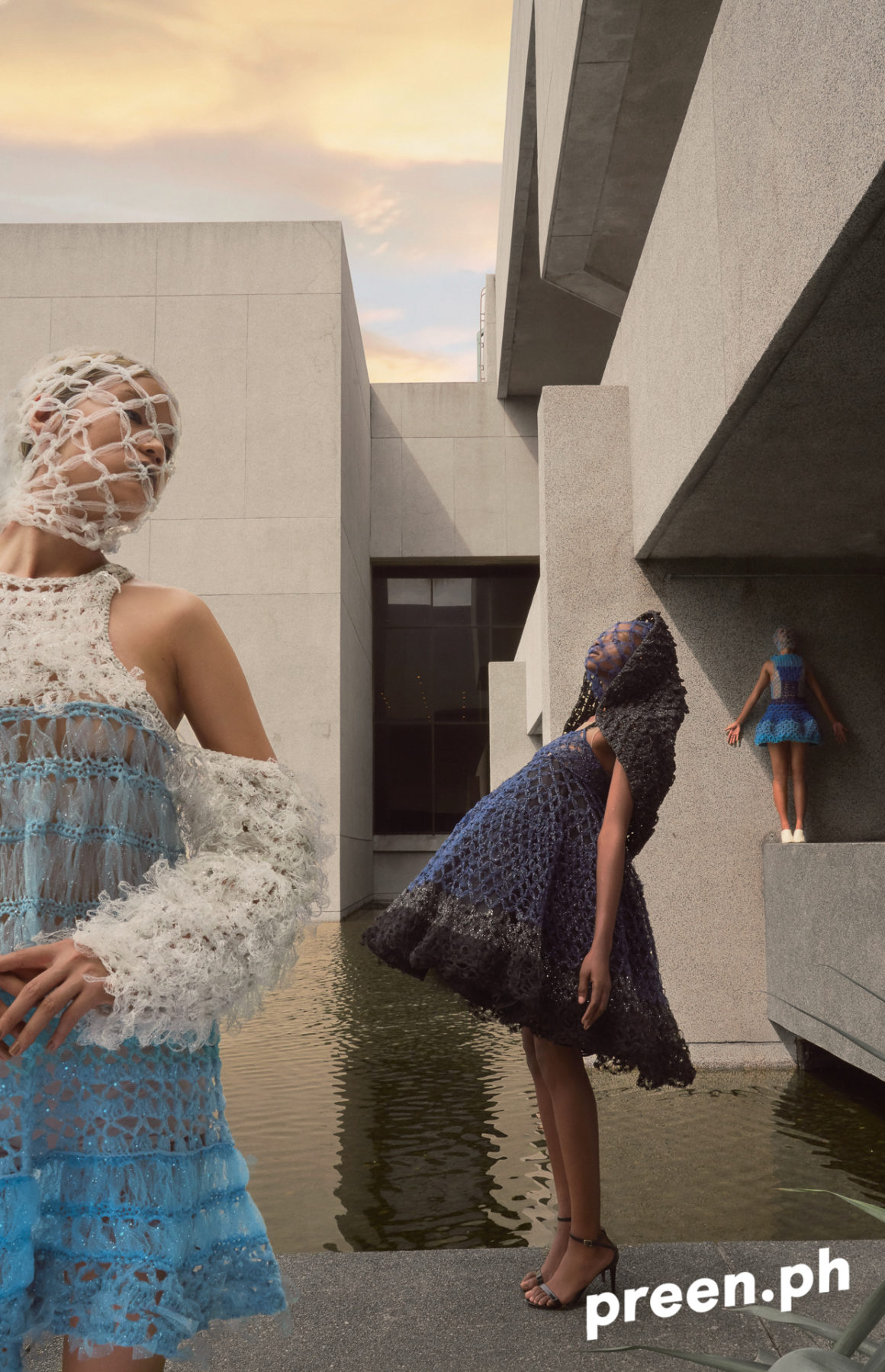 Darlenne Rivera still thinks that Filipino fashion is conservative, but is now becoming very adventurous, where designers are finally stepping out of their comfort zones—which is precisely what she did. Her collection is composed of fully crocheted garments that can be worn by anyone. 
On how she utilized fabric scraps 
"The process for me really started with the fabric. It's sustainable because I used fabric scraps. I cut them into strips, spun them, and crocheted them all together. And with the design, kahit sino naman pwede mag suot ng garments ko (anyone can wear my garments), and it will fit because it expands sa body because of the crochet."
On putting herself into her work
"I believe that with whatever you design, kailangan nandun pa rin yung sarili mo (Your true self still has to be there). Even if you follow trends, kita pa rin nila na ikaw yun. True dapat sa sarili (Even if you follow trends, they still see that it's you. You have to be true to yourself). The audience and customers will also see how relatable your pieces are. For me kasi it's couture and wearable avant garde. And in the international scene, it's more eye-catching to them how different, unique, and may sariling identity (having your own identity). I believe that's my edge."
Via Sto. Tomas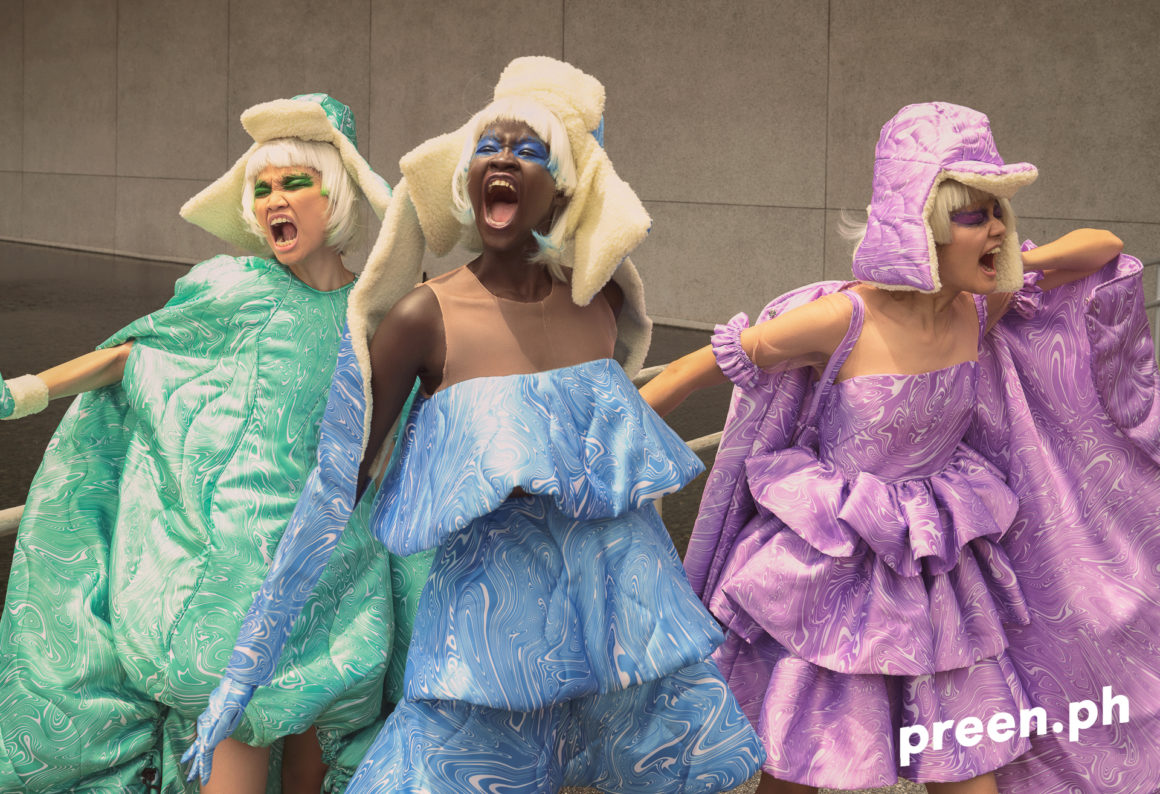 Three different concepts were incorporated in Via Sto. Tomas' collection. Philippine tourist spots, winter wear, and an avant-garde style. She believes in utilizing what the Philippines has, the beauty of the country, and transforming these into unprecedented concepts through various manipulations of fabric and garments. 
On incorporating Philippine tourist spots in her designs
"Siguro (Maybe) for me, it's about telling the story. When I first constructed my collection, I asked myself: 'Bakit pa ako lalayo kung pwede naman sa Pilipinas?' (Why will I look further if I have the Philippines?) So I started with silhouettes of tourist spots. For me, parang nawawala na yung emphasis on our tourism (For me, it seems as if there is no more emphasis on our tourism). So this is me helping the country in a way, to advertise the Philippines. I always go back to our mood board which is a photo of the Mayon Volcano. So pag name-mental block ako, tinitingnan ko lang yun. Ang dami kasing details sa gilid (So when I get mental blocked, I just look at that photo. There are a lot of details on the sides). Sometimes it's all in the details."
On how she plans to be recognized internationally
"Mine is more on winter, the Philippines, and avant-garde. Very different concepts. I started with painting but it didn't work, so I moved to designing a new fabric that looks pearlized. Then I incorporated puffiness and added some fur for the winter vibe, because it's a fashion piece that we don't really see in the country. With the foam inside, it makes the clothes really big. Filipino designers get recognized internationally kasi iniisip nila yung (because they think of the) uniqueness and story within the design. I would focus on what's behind the garment and strive to be different, because the market really wants to know the meaning behind things, and of course, something unique."
Therese Melliza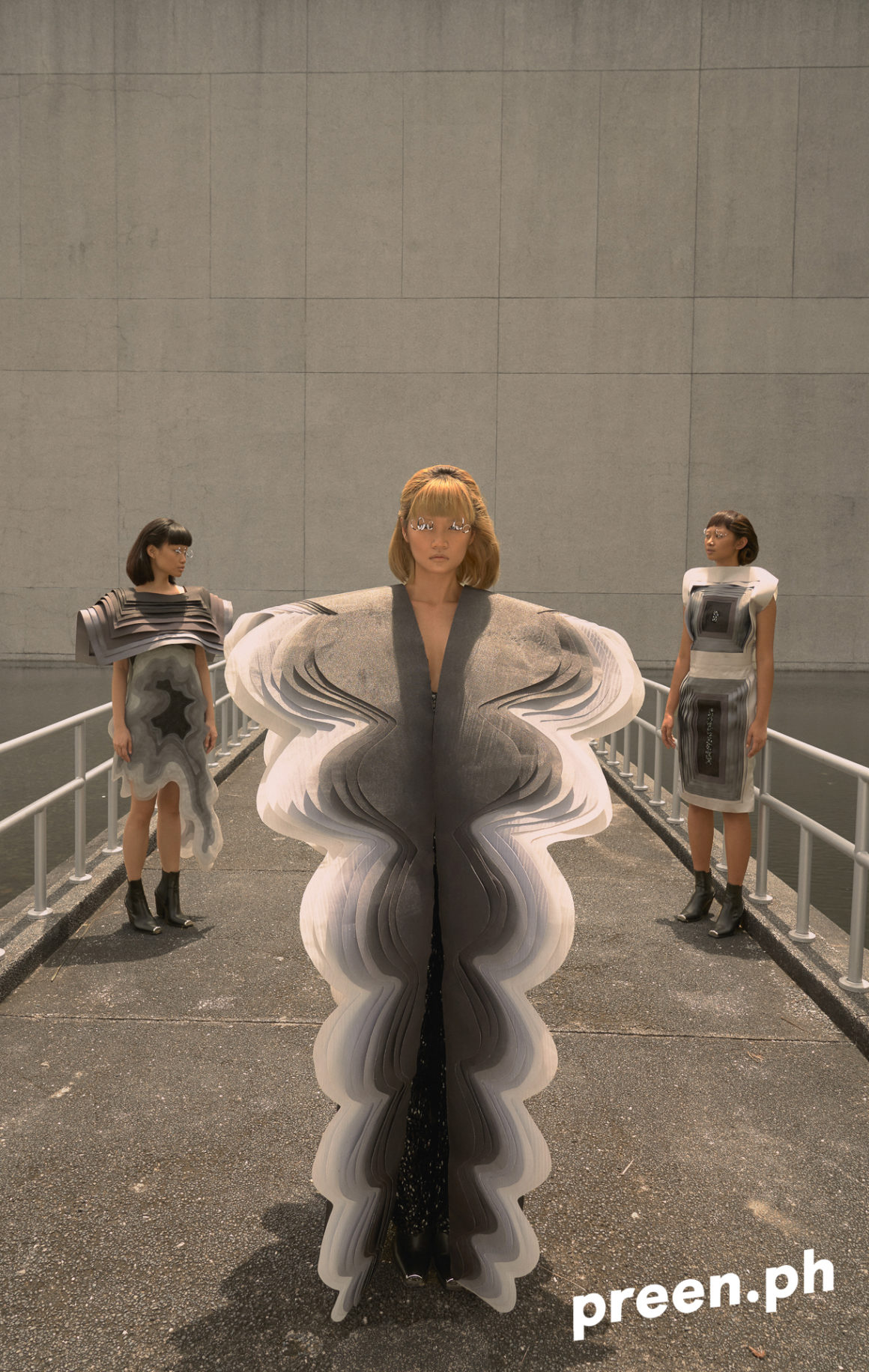 Inclusive and relatable was Therese Meliza's goal when she came up with her collection. She wants for whoever wears her garments to feel confident about themselves, and to relate to the message she wishes to come across through her designs—that women can express themselves whenever they want. 
In reconciling diversity and inclusivity into her own creative ideas
"I learned not to limit myself with what I  know. I wanted to create something different, out of the norm, and something that people haven't seen before. This is important as a designer because you have to create designs that people haven't worn yet. I focused on different shapes and from there I made use of gradient effects to make it more interesting. I also wanted to redefine the stereotypical 'femininity' because the usual feminine clothes are A-line skirts and floral dresses. In contrast, my collection is all dark and gradient pieces, which are not unusual for a 'feminine' look. My inspiration is more on the women of today and how they open up and show more of themselves. The stereotypes of being a woman before are being soft-spoken, demure, so right now, as women's roles progress in society, we are becoming stronger and open."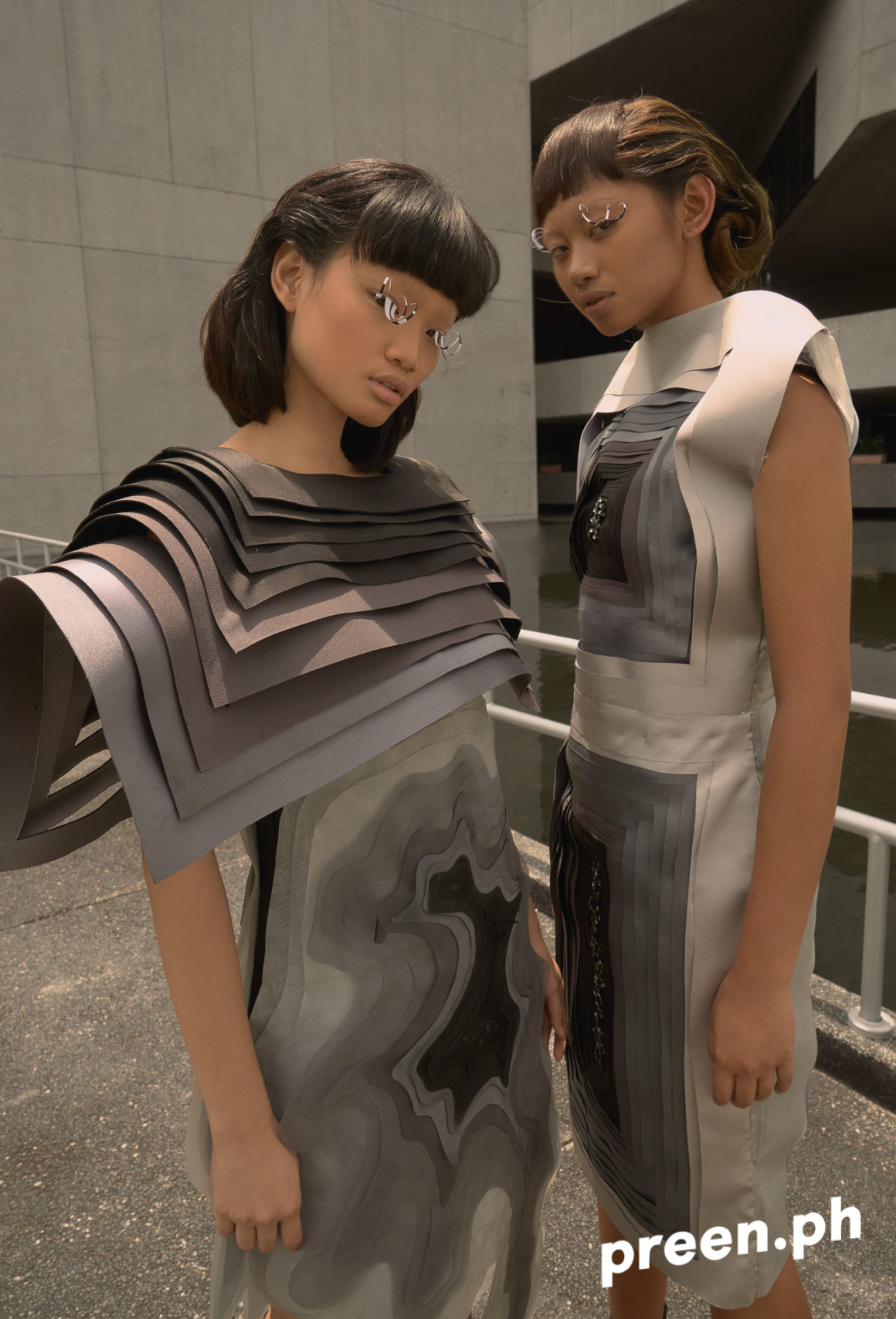 On what she stands for
"I stand for women in general. We should be able to wear what we want—short skirts, revealing clothes—without thinking that other people will judge us. This is the usual Filipino culture. It's one of the things I hate. When people are not open to fashion and expression of others. It is a way of expression. I just want women to gain their self-confidence and be proud to embrace their femininity."
Angeli Abelo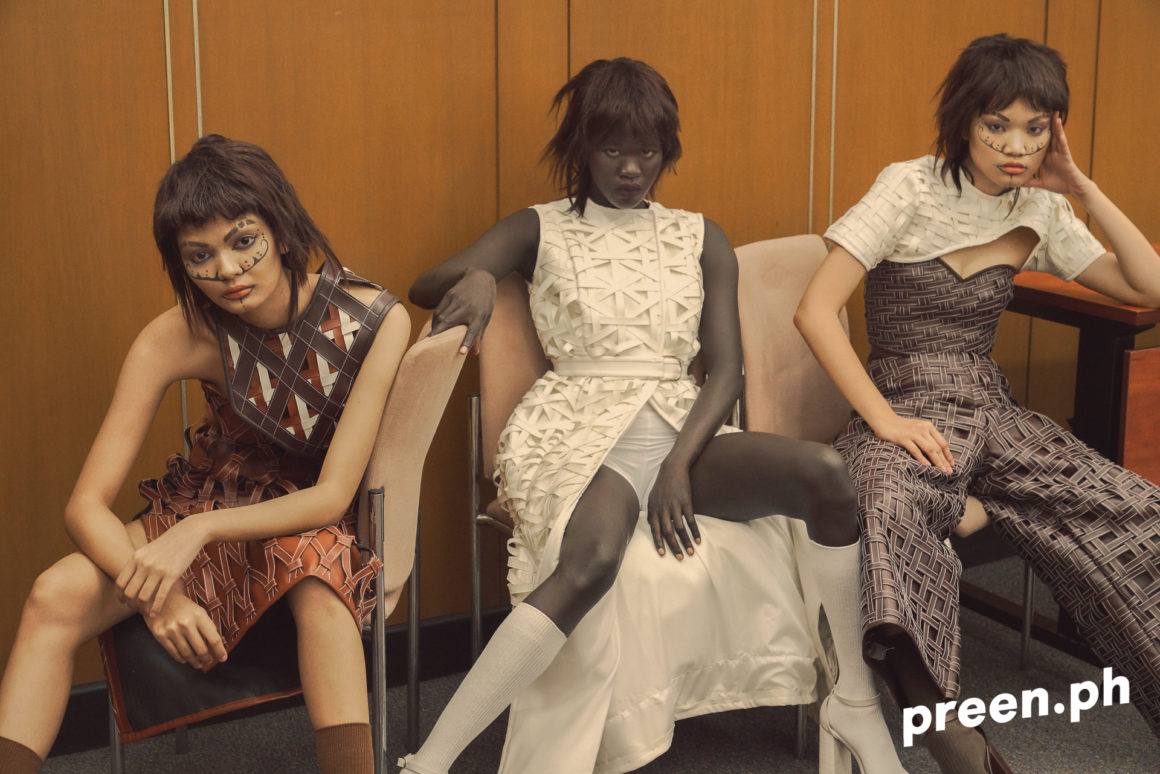 Angeli Abelo made use of leatherette, cut it into strips, and weaved her pieces together, making use of as much fabric from her yardage as she could. She focused on keeping her silhouettes androgynous, and describes her style as "edgy" and "sophisticated."
On how she sees Philippine fashion today
"I think Filipinos are keen on detail. We appreciate detail-oriented pieces and things that have meaning. Especially now sa society natin, mas appreciate natin na hindi lang physical attributes ang importante (Especially now in our society, we appreciate how it isn't all about the physical attributes). With us Filipinos kasi, hugot culture is also in, and it's really how fashion relates to different kinds of people. Yung story nung garments (The story of the garments)."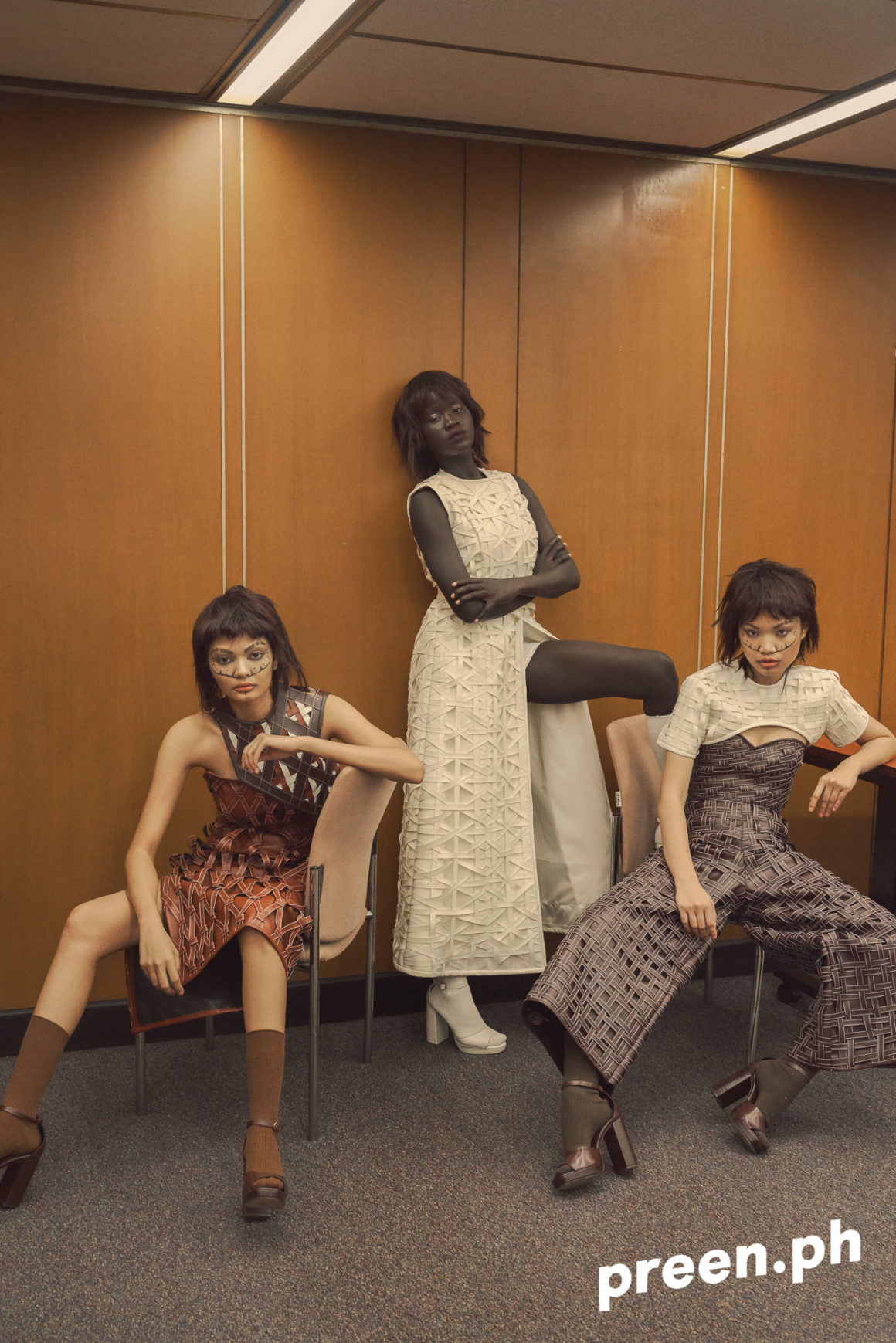 On where she draws inspiration
"It's really hard to become unique in this industry because fashion tends to repeat itself. But I guess we are unique in our own way and it transcends in my designs, my own personal stories, and experiences. And I think that would capture the attention of the international market. Local designers are very innovative and unconventional. We are proving that fashion is wearable art. 
My collection is inspired by crossroads, people coming and going. So I like people watching. The fact that mahilig ako mag observe ng surroundings, dun ko nakukuha yung inspirations for my pieces (The fact that I love to observe my surroundings, that's where I get inspirations for my pieces)."
Photos by BJ Pascual
Styling by Andre Chang
Makeup by Omar Ermita and Myrene Santos of MAC Cosmetics
Hair by Mark Familara and Mong Amado of Artists & Co.
Creative direction by Andre Chang
Special thanks to the Philippine International Convention Center and wigs from Lynelle's
For the latest in culture, fashion, beauty, and celebrities, subscribe to our weekly newsletter here  
Follow Preen on Facebook, Instagram, Twitter, YouTube, and Viber
Related stories:
The future of Philippine fashion: These young designers share the stories behind their 'Sinulid' collections
Sinulid 2019 gives us a glimpse of the future of Philippine fashion
Wake up, fashion industry. Sustainablity is the new name of game
Albert Andrada on his holiday collection and presenting at NYFW
These local designers are bringing Philippine fashion to Tokyo