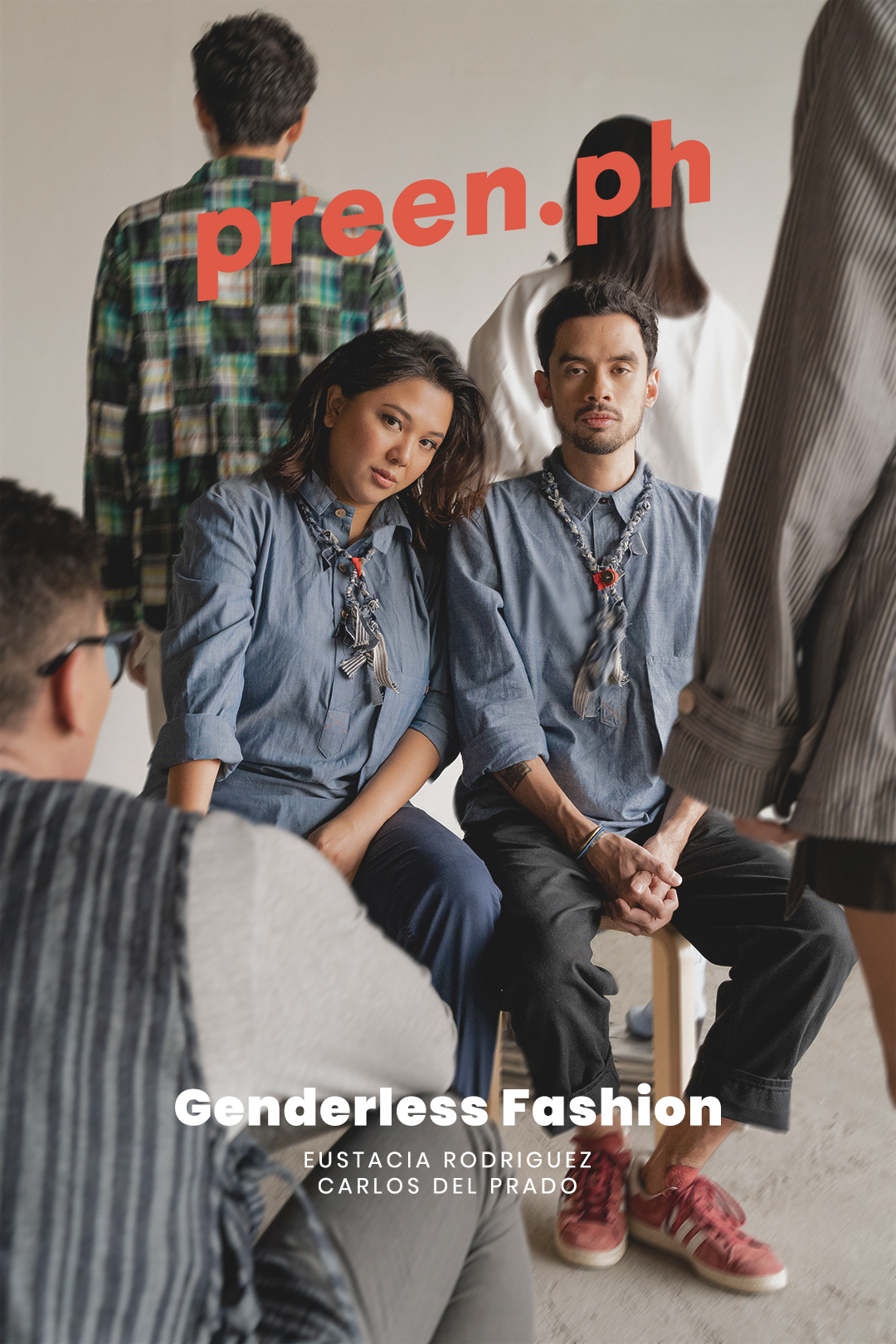 It all started by sending each other Instagram posts of their favorite clothing brands and a pair of pants. Eustacia "Stacy" Rodriguez and Carlos del Prado's eco-conscious unisex clothing line "EC" is based on easy dressing, gender-neutral style, imbued with both their personalities, and of course, their relationship. The brand's name also embodies the comfortable aesthetic of their collections: "EC" does not only stand for their names Eustacia and Carlos, but is also a play on the word "easy." 
Being friends for almost two years and a couple for six months now, Stacy and Carlos would just send each other pictures of clothes they like, and admitted that it worsened when they got together. Fashion has always been their common denominator, and it's what led to the creation of their brand.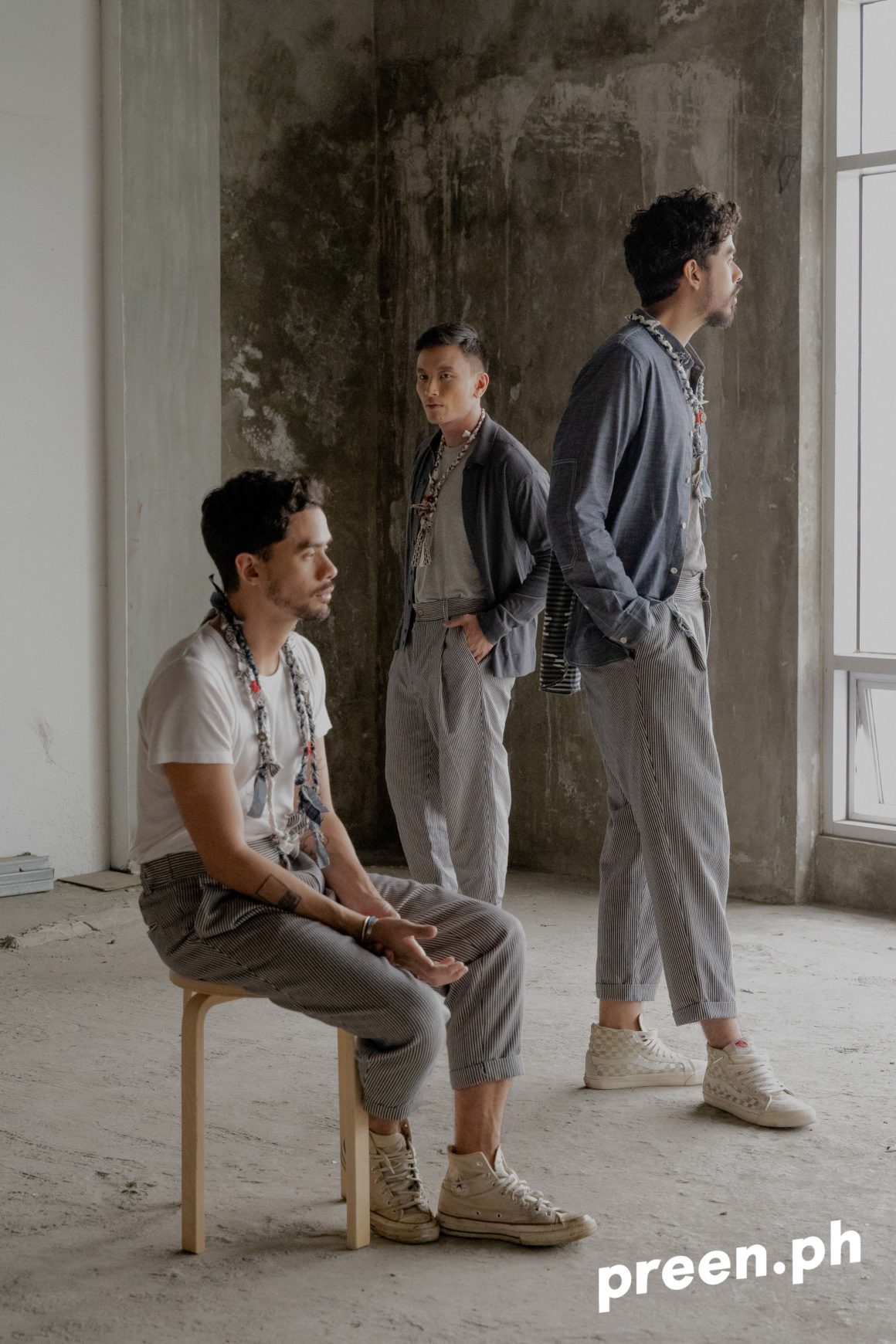 "I had a pair of pants," Carlos shared with Preen.ph, "and she said: 'Why don't we try making something based on that?'"
The travel pants is the original piece in their clothing line, which eventually spurred more ideas and clothing pieces. "We figured if we have that [the pants], we're probably gonna have to make a couple of other things and then we just kinda figured it out from there," Carlos explained. 
Many of their concepts came from things they liked in the market. Stacy shared that there were certain garments that they would be fond of, which they would then change through adding different elements like buttons and pockets, and make it their own. They collect concepts from different styles that they already wear on the daily, and are inspired by other elements they encounter everyday especially when they travel and meet new people. 
"We really want to make a popover like one he usually wears," Stacy said, sharing how their travels also bring out new ideas, "then I traveled and saw this technique with a pocket and we realized, okay let's do one in that. It's really a full collaboration because I don't even remember at this point who thought of doing a popover and who thought of doing this. But it's always a conversation. Each piece is a conversation between the two of us."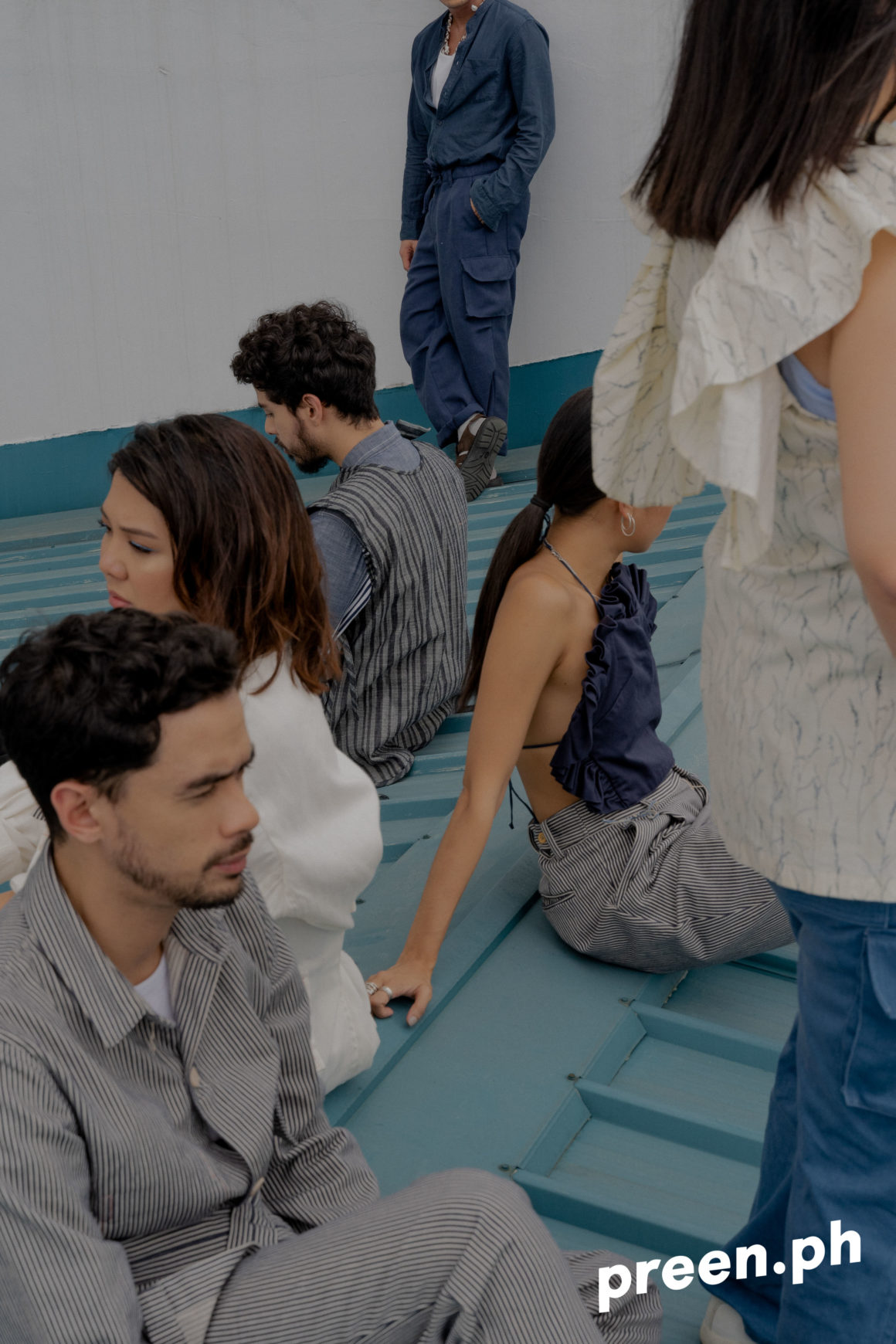 When it comes to design and materials for their clothes, Stacy and Carlos use the local katsa, and style the garments based on concepts that they are inspired by from different stores. But before this, they would use fabric that they've already acquired over the years and make something out of their old possessions. This lead to their first popup store where they sold one-of-a-kind pieces that went through a pre-order system. 
"We wanna keep the brand personal in that way, that's why for now we wanna keep it at pop-up so that we can get to know our clientele," Stacy said. "The reason why we started with six things [designs] is we wanted to start humbly. We wanted to put it out there and really see what the market's like. So now I think it's time to start looking at the bigger picture, right? Really making things more official." 
The pre-order system in their first popup is something that the two still want to continue in the future. It allows them to manage their resources well and keep track of how much fabric they're actually buying.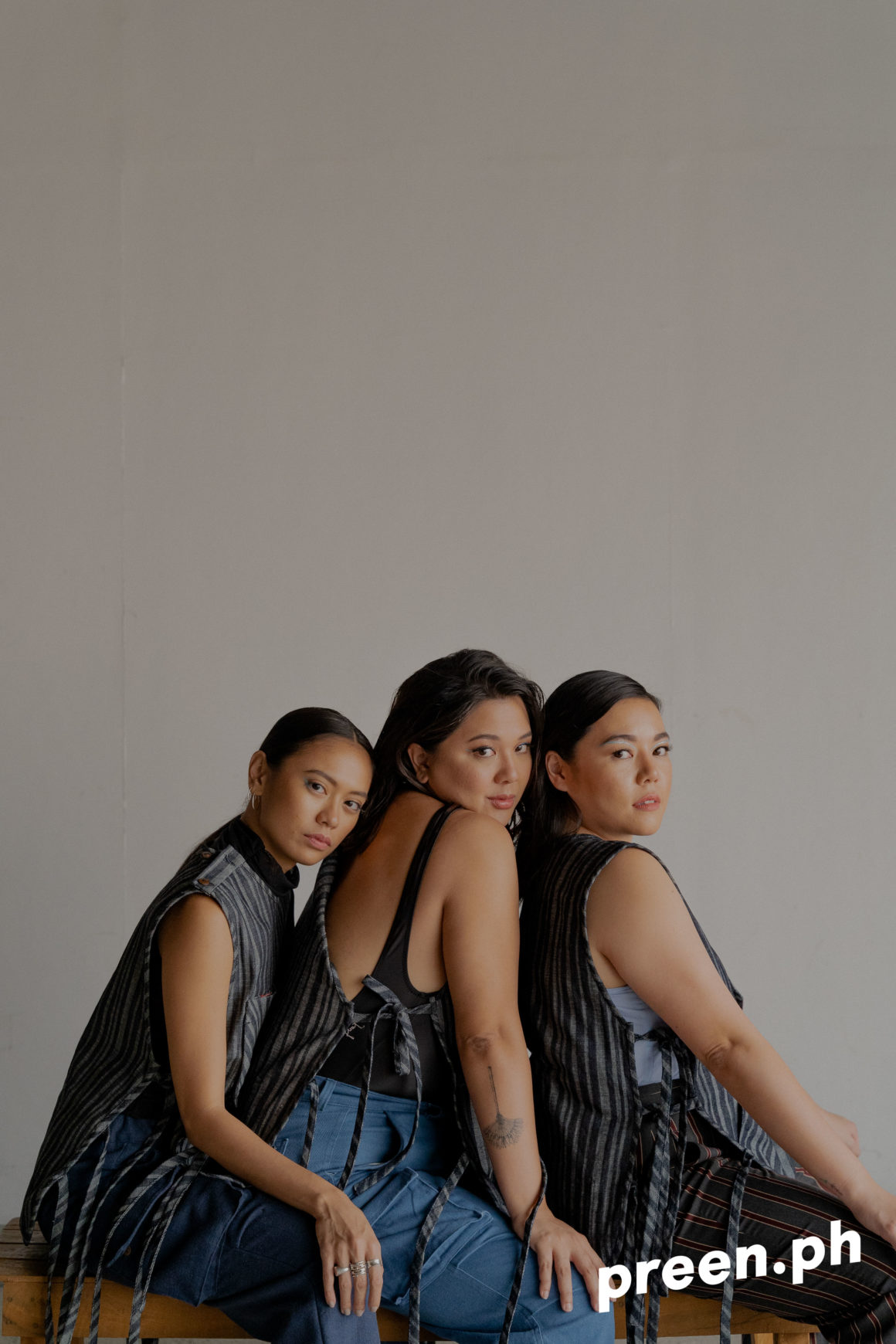 "We really wanted to push that [pre-order system], not only because we wanted to keep our side of things more manageable, but also because we didn't wanna waste clothes. We don't wanna be left with a huge amount of leftover resources," Stacy said. This process comes with their own eco-conscious measures and efforts of veering away from fast fashion. For the couple, fast fashion has crossed ethical boundaries where instant purchasing is at play. With "EC," they're finding a way to help reverse the effects of these unethical practices, hoping that people would be more mindful and understanding of the way they want to move things slowly with their brand.
With this kind of idea, one would label and think of "EC" as a sustainable brand, especially with their responsible use of materials. However, Stacy and Carlos explain that sustainability is, for now, still a goal. "Sustainability has one too many requirements in order for you to actually call yourself sustainable," Carlos said.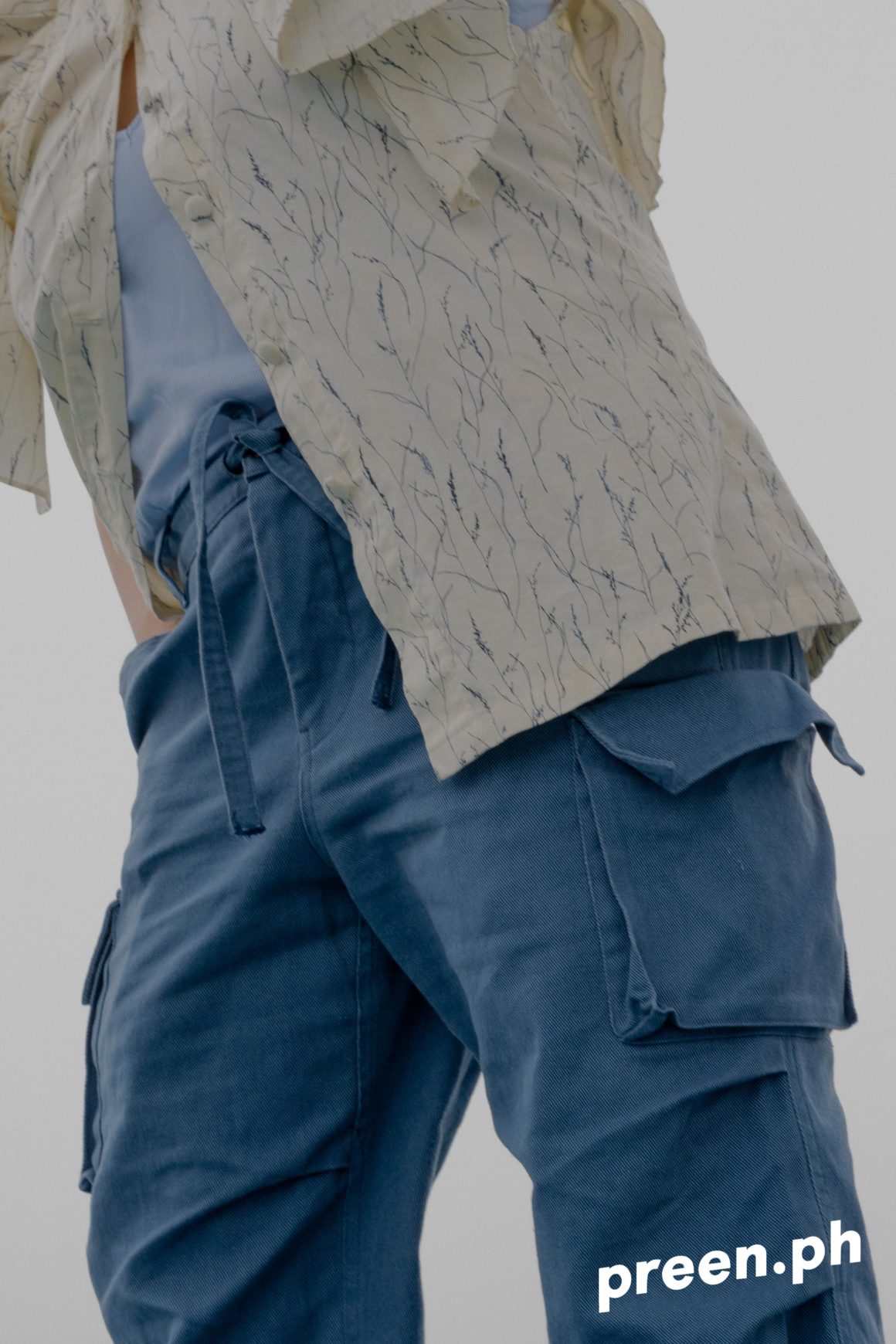 Stacy adds that being an eco-conscious brand is their first step towards their goal of being sustainable, "I don't think we're comfortable jumping into that yet, just because we're also fans of other sustainable practices and we know that we're not quite there yet," she explains. "That would be a great goal. But going back to being a conscious brand, I feel like that should be a requirement in fashion now—we waste so many things and we go through so many. People need to be more mindful about what they buy and how they buy."
Wearability and durability are things that they value, especially for Carlos who "wears his stuff to the ground." These alone will make consumers more aware of purchasing practices, and have a more mindful process of selecting clothes that they buy. 
When it comes to the gender-neutral aesthetic of their collection, the couple had the cutest reason: "We wanted to make clothes that we can both wear [Laughs]," Stacy explained, and added that they wanted to set a good example of breaking boundaries in fashion. The two are very fond of the idea of men and women sharing their clothes, which is also a big part of their relationship that they brought into the their designs. 
Their relationship plays a big role in the brand's overall vision, execution, and personality. And for Stacy and Carlos, the lines between their personal and work relationship are not something that troubles them as much as most people think. 
"The running joke is we haven't killed each other yet," the two shared with a laugh, "It's been easy to work with each other. The lines have been blurred, but it's nice."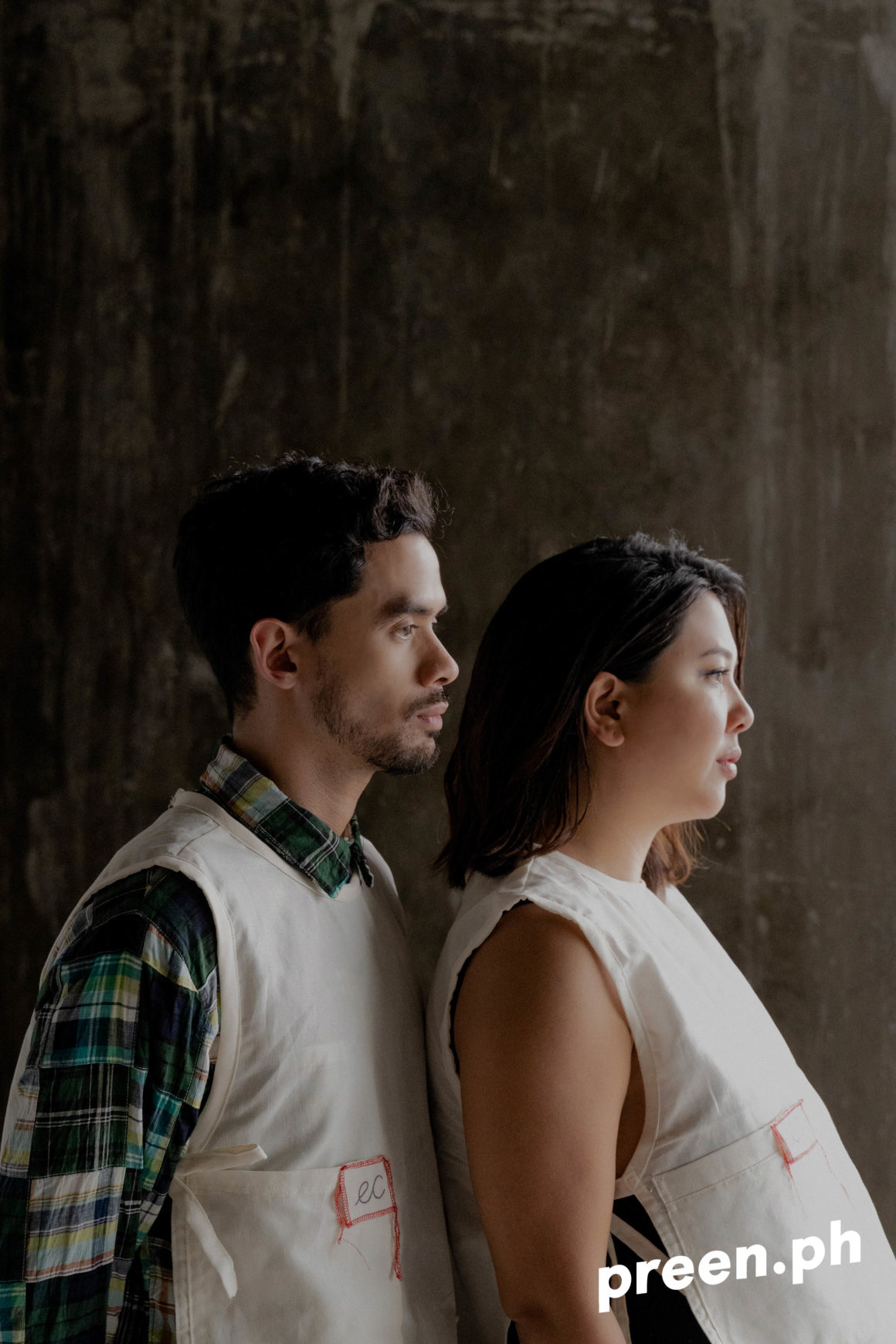 So from pocketed travel jackets and pants to striped denim bibs procured in the last few months, there is still so much in store for "EC" and the story of Stacy and Carlos—both of whom  are hoping that their market would be patient enough to wait for what they have in store. Because they have plans, a lot of plans. And these plans take time, particularly because they refuse to conform to haphazard mechanisms. It's all about respecting the process and keeping the conversation between them, everything, and everyone they're surrounded with. 
With the right amount of time and attention that these two are dedicating to "EC," the future of this local and eco-conscious brand is vivid and promising, just like the love, care, and commitment they have for each other. It is a lovechild—not only of Stacy and Carlos—but also of a collective process that includes communal ideas, beliefs, and experiences.
"EC" definitely sets an example for slow fashion in the market, and will hopefully be one of the many mindful brands to emerge in the future. 
Photos by Renzo Navarro
Styling by Eustacia Rodriguez
Makeup by Bettina Lim and Chie Gonzales of Koh Gen Do
Hair by Dorothy Mamalio and Cats del Rosario
Creative direction by Tricia Guevara
Produced by Tisha Ramirez 
Assisted by Sofia Santelices and Karla Yaya
For the latest in culture, fashion, beauty, and celebrities, subscribe to our weekly newsletter here  
Follow Preen on Facebook, Instagram, Twitter, YouTube, and Viber
Related stories:
Meet the young designer who debuted a modern Filipiniana line at London Fashion Week
Filipino designer Patty Ang wants a lasting and powerful global impression for her brand
The future of Philippine fashion: These young designers share the stories behind their 'Sinulid' collections
The future of Philippine fashion: It's a sustainable, diverse, and inclusive world for 'Sinulid's' top 10
Important ethical fashion documentaries for the shopaholic