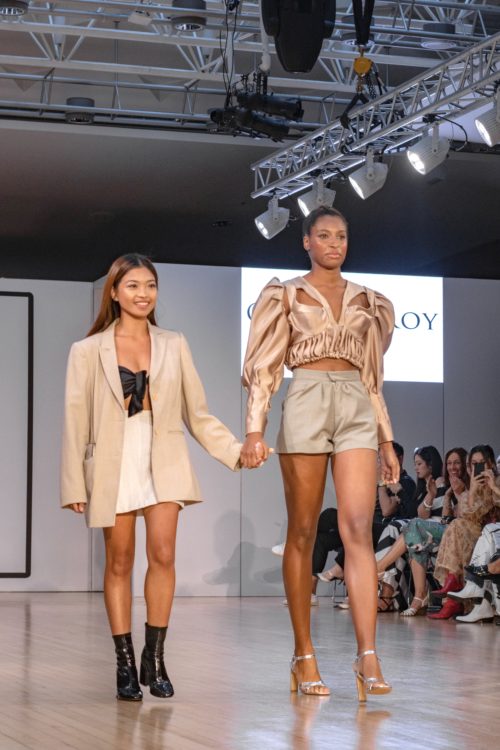 British-Filipino designer Cabrini Roy only had two months to prepare for her London Fashion Week (LFW) debut. She says she had to design, make the patterns, cut fabric, and put everything together in that tight timeframe. But she pulled through and showcased her spring/summer '20 line, "Wardrobe ng Modern Maria Clara" on the second day of fashion week.
Cabrini is a fairly new designer in the industry. But four months into starting her own brand, she was already featured in a British "Vogue" spread. If you're not yet familiar with her creations, she's known for modern minimalist designs and silhouettes ranging from crop tops and bralettes, to oversized pants and jackets. You might've also seen Nadine Lustre wear her denim coords during Cinco de Mayhem last May.
Other celebrities who've worn her pieces are Loisa Andalio, Kyline Alcantara, and Julie Ann San Jose.
For LFW, Cabrini went for a neutral color palette for "Wardrobe ng Modern Maria Clara." According to a press release, she utilized organza and silk to create "the perfect representation of a warm summer's evening all then contrasted with sharp tailoring."
Now that the LFW high has died down, we got to chat with Cabrini about her fashion week debut, her design inspirations, and her plans for the future.
How would you describe your design style?
I would describe my design style as minimal but contrasting it with bold silhouettes. I hope to empower each woman through my pieces with the emphasis on setting your own trends with no boundaries on the countless ways to style each piece.
What inspires your creations?
I get inspired by a lot of things, but mostly by my cross British/Filipino culture and I also my old childhood photos. I've always wanted my clothes to be a representation and reflection of my life, my identity, and my style.
What's the story and creative process behind your LFW collection?
My collection blends my love for a selection of pinnacle fashion references including power dressing, soft silhouettes, and my culture. Taking inspiration from my Filipino heritage with the idea of a modern Filipiniana and Maria Clara with a combined twist of soft tailoring and a feminine touch. I created a settling in my imagination of a modern Maria Clara living and working in the city wearing chic, trendy and eye-catching clothes, but still keeping the silhouette of a traditional Filipiniana in her wardrobe. At the heart of my collection is a core understanding of a color palette to complement any skin colour and body types. Soft hues are mimicked through the use of organza and silk creating the perfect representation of a warm summers evening—all them contrasted with sharp tailoring. This collection is the perfect representation of my own cross culture.
How was the reception to your LFW debut? Has your clientele slowly started to grow?
Showing at LFW was amazing and it has definitely opened more doors for me and my brand. Since then, I have been asked by different production organizations to showcase my next collection with them at LFW, and I have also been asked to take part in Britain's Top Designer in February.
In the past, local celebrities like Nadine Lustre have worn your pieces. Do you have any dream celebrities or personalities that you want to see in your clothing?
I would love to see Zendaya, Jhene Aiko, Ariana Grande, Kendall Jenner, Hailey Bieber, and Bella Hadid [wear my pieces.] I love each of their styles.
 Aside from showcasing at LFW, what has been your biggest success so far as a designer?
One of my biggest successes so far as a designer is being handpicked by British "Vogue" to be part of their designer profile campaign. I was featured in the October issue, as well as "Vogue" Retail. This, for me, was a big deal as I was already recognized by "Vogue" only four months into starting my brand.
What are your future plans and do you plan on showcasing your creations in local fashion shows or open a showroom/store in the Philippines?
My future plan is to continue growing my brand, as well as showing my collections at London Fashion Week. I also hope to showcase my creations at local fashion shows and also open up a studio in the Philippines, as well as here in the UK.
Photos by Joanna Mitroi
For the latest in culture, fashion, beauty, and celebrities, subscribe to our weekly newsletter here  
Follow Preen on Facebook, Instagram, Twitter, YouTube, and Viber
Related stories:
Three looks you can achieve yourself from London Fashion Week
What John Herrera was thinking right before his London Fashion Week show
How Loisa Andalio mixes glam pieces with chill athleisure
Wear history today with these modern-day Filipinianas