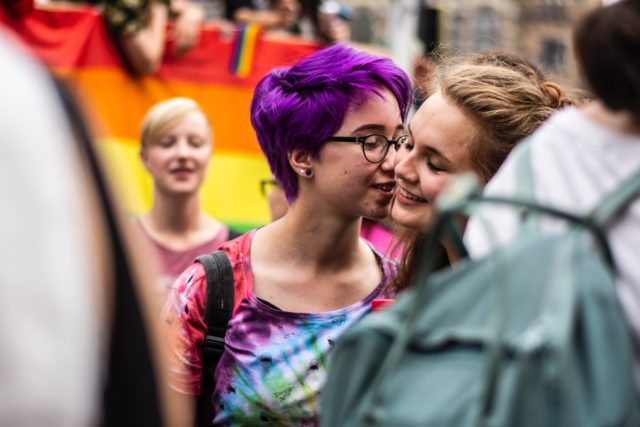 Most dating apps are only designed for straight, cisgender, White, and non-disabled people. And for apps that are designed for LGBTQ+, many queer people only find profiles with discriminatory languages. There are not enough features that guarantee their safety and privacy.  It just shows that in the eyes of many LGBTQ+ people, big dating apps are neglecting them. Despite the efforts of Tinder, another dating app, to be more gender-inclusive, trans users still report getting banned. "Dating apps aren't even capable of properly accommodating non-binary genders, let alone capturing all the nuance and negotiation that goes into trans attraction/sex/relationships," reports South China Morning Post.
But what's the good news here? New dating apps have developed, and they are becoming more inclusive to reflect people's needs. Here are the best queer dating apps, depending on what you're looking for:
Our top pick for the best app for lesbians and queer women is Her. One reviewer on the iOs App Store even described it as "the only decent dating app." Other than that, you can also get involved in LGBTQ+ events and catch up with news. It was named as Datchh back in 2013, then renamed as Her in 2015 to "appear more welcoming to trans and non-binary people."
Available on App Store and Google Play Store. 
Scruff
This app was described as "perfect for casual chats with queer men." It's also open for all LGBTQ+ community, even people of color. Recently, Scruff also took a stance against racism by making its "ethnicity" field optional. Available on App Store and Google Play Store. 
Bumble 
Bumble is not only an app for searching for a partner, but an app to find new friends. The app was originally founded as a "feminist" alternative to Tinder, designed to put women in the position of power, according to its founder Whitney Wolfe. Available on App Store and Google Play Store.
LGBTQutie
Launched only in 2018, this app was created because the co-founders saw that most dating apps are only designed for heterosexual relationships, or if they are LGBTQ+ inclusive, they focus on gay men or lesbian women. So they tried to be more inclusive, according to Teen Vogue. The app also provides LGBTQ news and blogs that focus on mental health in relationships. Available on App Store and Google Play Store.
Chappy 
As stated on their website, Chappy is "Bumble's gay dating app." Chappy also hosted a series of events for Pride Month 2018 to get its name out in the queer community. Plus, the app restricts messaging to matches only, since they want to limit unsolicited nudes that are very common on dating apps. Available on App Store and Google Play Store.