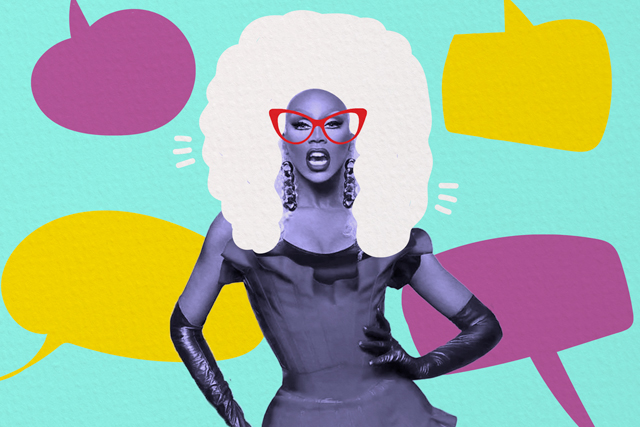 When we said that "RuPaul's Drag Race" season 12 would be tainted because of Sherry Pie's sexual misconduct, we didn't expect other controversies to pop up.
As of writing, the show's only on its fourth episode and VH1 has decided to post a disclaimer before every episode that Sherry Pie has been disqualified. However, fans have brought up other issues within the show, as well as host RuPaul's shady fracking business.
Long story short: This doesn't seem to be a good year for "Drag Race" so far. But at least a lot of the queens are slaying in the competition.
That said, here are some of the issues fans have with the show and its host:
Calling queens different names
This started when judges said they didn't like Heidi N Closet's name because it was hard to say. (It's really not?) Sure, RuPaul just calls her Heidi, but what irked many fans was the fact he expressed that he will never call her Heidi N Closet. The host has also resorted to calling Heidi "Heidi Ho" just because.
Drag queen Venus Envy also brought up how RuPaul would often call Rock M. Sakura "Rockem," not realizing that the "M" is supposed to be a middle name. Some fans didn't seem bothered by this, noting how Rock's name was inspired by rockem sockem robots. But as Venus explained, "That's the pun in her name, but it's not her name itself. That's like calling me Penis Envy."
Does RuPaul know her name is Rock and not Rockem? Like the M is a middle initial? She's just out here changing everyone's name for no reason.

— VENUS ENVY (@VenusEnvyDrag) March 21, 2020
The makeup critiques
When it came to critiques about drag makeup, both Dahlia Sin and Crystal Methyd were hit the hardest.
In episode two, Dahlia was told her makeup was "too soft." This garnered a reaction from her drag mom, season nine alum Aja, who called the judges' critique "bullsh*t." "Not everybody wants to be a painted b*tch or a clown. Let the b*tch be blended and soft. It's a stupid critique cause if it were anything else it would have been 'too much,'" said Aja in a tweet.
I have to say that the makeup critique was bullshit! Not everybody wants to be a painted bitch or a clown. Let the bitch be blended and soft. It's a stupid critique cause if it were anything else it would have been "too much" 😔

— AJA OSHUN 🌞🧡🦋🍯👑 (@ajaoxum) March 7, 2020
Dahlia echoed this sentiment in her VH1 drag makeup tutorial, emphasizing that her style is to look as femme as possible. Was she throwing shade at the judges? Maybe.
For Crystal, the judges basically said her makeup was "too much" in episodes two and three. Aja also facepalmed at the critique since, emphasizing that it was Crystal's drag style. Fans also pointed out that the judges didn't have a problem with Trixie Mattel and Kim Chi's exaggerated makeup looks in the past, yet they're giving Crystal a hard time with her makeup.
https://twitter.com/im_Wyll/status/1238675758958157830
Ru's fracking business
If you don't know what fracking is, it's a controversial method of extracting oil and gas from shale and rock formations found underground. This consequently damages surrounding areas and poses multiple threats to water supplies.
In an interview with NPR's "Fresh Air," RuPaul talked about his 60,000-acre ranch in Wyoming. Host Terry Gross asked if RuPaul had a farm on the property, which the drag queen clarified that he's using to "lease the mineral rights to oil companies and you sell water to oil companies, and then you lease the grazing rights to different ranchers." Gross moved on to another question, completely disregarding the fact that RuPaul admitted to fracking.
But netizens were able to pick up on the admission and blasted the "Drag Race" host on social media. Environmental news site Earther also calculated RuPaul has 35 active oil and gas wells on 10,000 acres of his Wyoming property.
HOLD UP. (Non-COVID content) @RuPaul was just on @NPRFreshAir and shared that he & his partner own 60,000 acres in Wyoming & they "lease mineral rights … and sell water to oil companies" and Terry Gross did not follow up with one question about the fact that RuPaul is FRACKING pic.twitter.com/KJanHgi0xI

— Rory Solomon (he/him) (@rorys) March 15, 2020
CDC: NO LARGE GATHERINGS!!

GOOD PEOPLE: Stay home!

BAD PEOPLE: I'll do what I want!

RUPAUL: I've been fracking!

— Slade (@Slade) March 16, 2020
As of writing, RuPaul still hasn't addressed these concerns. For some fans, the fracking controversy is an addition to their list of why they dislike RuPaul, which also includes his transphobic comments towards trans drag queens.
Art by Dana Calvo
Follow Preen on Facebook, Instagram, Twitter, YouTube, and Viber
Related stories:
Thoughts on watching Sherry Pie in 'RuPaul's Drag Race' S12E2
Trend alert: Standout outfits from 'RuPaul's Drag Race' S12E1
There's now a college course inspired by 'RuPaul's Drag Race'
'RuPaul's Drag Race' producers weren't comfortable with this period dress