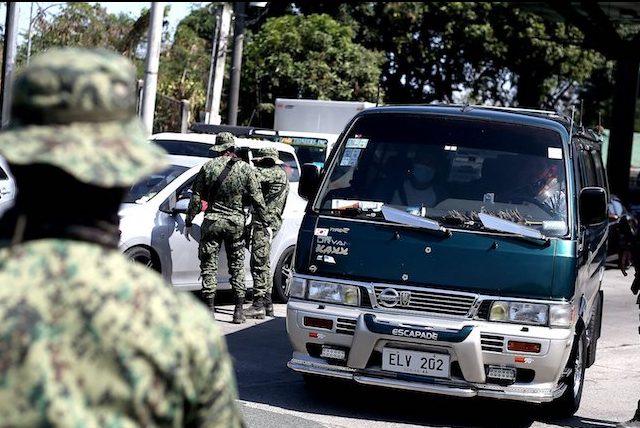 We trust the authorities to protect us and enforce the law, especially during the enhanced community quarantine. But when a checkpoint officer crosses a line and gives you his number, what will you do?
This is what happened to Twitter user @_erlamaee, who shared that upon passing a checkpoint outside of their subdivision to buy medicine for her mother, an officer asked to see her quarantine pass and ID. After checking, the netizen was told "may pasalubong daw na laman" or "there's a gift inside" her driver's license.
Attached in her tweet is a photo of her driver's license with the officer's number on a piece of paper.
REposting to cover my deets. Dumaan ako ng checkpoint para bumili ng gamot ng nanay ko, so binigay ko lisensya + quarantine pass ko, pagkabalik saakin nung sundalo, may pasalubong daw na laman.

salamat sa lahat ng tumulong sa akin, akala ko wala akong magagawa. pic.twitter.com/m8tIi0QaiC

— erla mae (@_erlamaee) March 23, 2020
The netizen's story reached personalities like YouTuber Gigi Esguerra and actress Bela Padilla. When the latter reposted the @_erlamaee's tweet, the Philippine National Police's (PNP) official Twitter account responded.
Thank you for calling our attention. How can we help you Ms. @_erlamaee, you can DM us for further details.

— PNP Tweets (@PNPhotline) March 23, 2020
The Armed Forces of the Philippines (AFP) also said they'll look into the incident and identify the checkpoint officer who committed the misconduct.
Can you DM us po yung Date, Time, and location po nung incident, thank you po

— Armed Forces of the Philippines (@TeamAFP) March 23, 2020
When the Metro Manila-wide community quarantine started last Mar. 15, multiple checkpoints were set up to screen those who are traveling from outside the metro in hopes of curbing the spread of the virus. Two days later, Pres. Rodrigo Duterte enforced a Luzon-wide enhanced community quarantine, which also made checkpoints stricter as it required many citizens to stay at home.
As of writing, LGUs have provided quarantine passes to households to ensure that only one person would be allowed to leave the house to get necessities like food and medication.
Duterte assigned the PNP and AFP to enforce the law during this almost one-month long community quarantine. There were concerns raised about the military presence during a public health crisis and how it might feel like fear-mongering. But, as citizens, we still expect them to keep us safe and not abuse their power until the end of the community quarantine.
That said, what happened to @_erlamaee is unacceptable. Not only is it creepy, the checkpoint officer also used his authority to try and take advantage of an unsuspecting citizen. So far, this is the only case that we know of. If there are more incidents like this, how can we trust the PNP and AFP officers assigned to our nearby checkpoints?
Photo courtesy of Inquirer.net
Follow Preen on Facebook, Instagram, Twitter, YouTube, and Viber
Related stories:
What to do at home during the enhanced community quarantine
PNP-HPG's reasons for deploying policewomen is the most sexist thing we've heard
PSA: Hold the government accountable for COVID-19 response
Here's how not to conduct a COVID-19 briefing