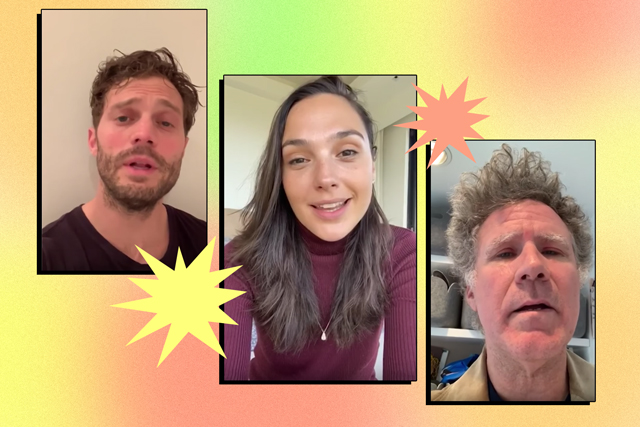 I really wish I could unsee the viral "Imagine" cover video courtesy of Gal Gadot and the rest of her celebrity pals. The compilation⁠—starring the likes of Kristen Wiig, Natalie Portman, Zoë Kravitz and Will Ferrell⁠—got roasted big time on social media. After getting backlash for the pet project, the "Wonder Woman" star did a little distancing from social media. No more well-intentioned clips from the comfort of her swanky Tel Aviv apartment. Its radio silence on her Instagram. It looks like the "eat the rich" comments spooked the actress who flew on a Netflix chartered jet to stay safe from the coronavirus for a movie promotion back in January. But you have to give the stars credit—they were able to unite the internet…in checking their privilege for them and creating parodies. 
It's a red flag for me when a millionaire says "These past few days got me feeling a bit philosophical." You have to be on the lookout for the Kanye Wests or Elon Musks of the world. So when Gadot started the video with those words, I knew I was in for a bumpy ride. The bare minimum and hollow message of goodwill in their rendition of John Lennon's "Imagine" wasn't going to cut it for the marginalized and underprivileged who are hit the hardest during the COVID-19 pandemic. And okay, maybe the video wouldn't have been clowned so bad if they served vocals. Sadly, it was tone-deaf in every way.
As my queen Britney Spears once sang in a 2008 classic bop, "There's only two types of people in the world: the ones that entertain, and the ones that observe." As a self-confessed observer with no TikTok account to my name, I don't have my own entry for the Imagine trolling battle royale. All I can offer is this list of some of the best contenders. 
John Mayer singing the wrong song
One of the most unexpected entries is from John Mayer. He "divulges" that he was asked to take part in the video, saying, "I totally misunderstood the assignment, I thought they wanted me to sing 'Imagine' by Ariana Grande." Cut to a version of the video with him inserted crooning the lyrics of the Grande song. I don't stan but I gave it a like.
"I totally misunderstood the assignment, I thought they wanted me to sing Imagine by Ariana Grande" pic.twitter.com/DMaLELuXrj

— Chicks in the Office (@ChicksInTheOff) March 21, 2020
"Party in the U.S.A." from the Try Guys 
The Try Guys and their YouTuber friends made their own version of singing badly to a well-loved song. They swapped "Imagine" for the Miley Cyrus karaoke staple "Party in the U.S.A."  But this time, they're missing those notes and bringing the cringe to invite others to donate to Global Giving's Coronavirus Relief Fund as well. Eugene Lee Yang never disappoints.
Imagine…

We donated to @GlobalGiving's Coronavirus Relief Fund and invite you to do the same: https://t.co/MUUXpf8Dde #DonatePartyInTheUSA pic.twitter.com/CYyAXXNcNQ

— The Try Guys (@tryguys) March 19, 2020
"All Star" created by jacksfilms
Another YouTuber who had an entry was jacksfilms. He captioned his Annoying Orange-esque video with "Celebrities save the day!" What better song to use for trolling celebrities video than Smash Mouth's "All Star." Backdropped by a song playing on themes like the precarious nature of popularity and foolishness in positivity as a response to everything, it's like the antithesis to the original video.
Celebrities save the day!! pic.twitter.com/xRG76z5q8H

— jacksfilms (@jacksfilms) March 19, 2020
Josh Wolf's "Imagine" parody song
Of course comedians are not going to miss this opportunity to poke fun at Hollywood elite. Josh Wolf and his other funny friends wrote alternative lyrics and sang it in the same tune. The song opened with the lyrics, "Imagine there's no keto, you have to eat mostly carbs. I bought up all the Purell, just to wash my car." The dedication for the video was a jab. "I know there's a lot of very wealthy people out there, you know, going without their amenities and this is for them," says Josh before singing.
IMAGINE PARODY- we're all in this together. @realjeffreyross @chelcielynnn @KingBach @MaryLynnRajskub @AveryFunny @sarahcolonna @JonRyan9 @ryansickler @JoshAdamMeyers @jeremiahstandup @realjoeyfatone @JadeCattaPreta @JessimaePeluso @sinbadbad @BrittanyFurlan @adamraycomedy pic.twitter.com/KZROo7b8ay

— Josh Wolf (@joshwolfcomedy) March 21, 2020
"Imagine" sung in different keys
Twitter user tomosgjames is one of many who noticed how the celebrities in the original video were singing in different keys. To emphasize the key jumps, they copied their tone and added a piano accompaniment. This will get you wondering what exactly they were trying to accomplish with those adlibs at the end. We're not feeling it. 
the celebrities were right

Imagine sounds WAY BETTER in 10 different keys pic.twitter.com/c3BhgAPPEQ

— tom ??????? (@tomosgjames) March 20, 2020
In the mind of the celebrities with jackshepbaby
Not only did we get a plethora of parodies, we also got some juicy reactions. A prime example is jackshepbaby's take on what those actors were thinking before posting the video. "I really think this video is going to bring peace back to the world. I mean, people are losing their jobs and their homes," he says in a fake video call.
celebrities filming their "imagine" segment to send to gal gadot pic.twitter.com/VpC2jeDIYj

— jack r. sheppard (@jackshepbaby) March 19, 2020
A local spinoff with "Heal The World"
There's also a local spinoff of this trend. The butt of the joke was the "Heal The World" cover of celebrities for ABS-CBN's Pantawid ng Pag-ibig concert. Personally, I'm giving this a pass since it's part of a fundraising effort. But netizens like Yanna are not too happy with it. At least the vocals were solid…for the most part. 
people are literally dying and this is the only thing y'all do ??? clowns. https://t.co/XjjEbGHelt pic.twitter.com/a2Cw0zD3Ie

— yanna (@yannaasalazar) March 23, 2020
While it's true that you can't please everybody these days, here's a word of advice for the wealthy toxic positivity fanatics: With great privilege comes great responsibility.
Art by Tricia Guevara
Follow Preen on Facebook, Instagram, Twitter, YouTube, and Viber
Related Stories:
Coronavirus viral videos that should have been left on draft
Today on tone-deaf COVID-19 takes: Vanessa Hudgens
A primer on toxic positivity and why you should avoid it
It costs nothing to check your privilege during the COVID-19 crisis