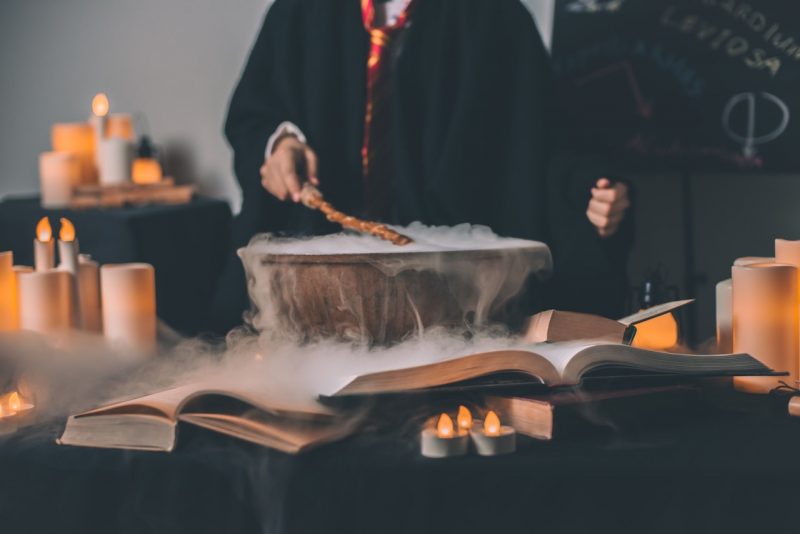 Heads up, Potterheads: If you've spent any time during this quarantine wondering how Hogwarts would deal with the pandemic (after all, the series epilogue was set in 2017, meaning that Albus Severus and Scorpius would be in their third year at the school now), have I got news for you. Hogwarts is online now, and it's taking in students. Well, at least, this fan-created website Hogwarts is Here is.
"Run solely by a diehard team of Potterheads, Hogwarts Is Here allows you to enroll in realistic online courses. It features course loads for everyone from first years to seventh years," writes Cosmopolitan. "The open course directory allows fans to explore the material at their own pace. If you want, you can even complete real assignments graded by the team's Hogwarts professors and earn house points in the process."
I've personally agonized over not receiving my Hogwarts letter when I turned 11, so this is great news for me.
Okay, okay—so it's not an official site affiliated with J.K. Rowling, Warner Bros. or any of the Harry Potter stakeholders. But in a way, that makes it all the more special. This is an online learning site created by fans for fans.
Choosing magical classes is pretty easy. All the courses are categorized by year level, and they all seem to be based on the classes shown in the Potter universe. For example, if you want to take fourth year courses, you have 14 options: Defense Against the Dark Arts, Potions, Charms, History of Magic, Muggle Studies, Divination, Herbology, Alchemy, Ancient Runes, Ancient Studies, Care of Magical Studies, Mythology, Astronomy and Transfiguration. You can even take extra-curricular classes like ghoul lessons (you don't have to come in as a witch student, you can be a ghoul here) and your O.W.L exams.
If you're feeling particularly bookish and Hermionie-like, you can "take real assignments graded by our Hogwarts professors." You can also join clubs, some of which are more heavily involved in roleplay like the Hogsmeade and Quidditch groups, while some are more free-form, like the common rooms and the queer society. (They have tags on them to let you know which is which, don't worry.)
"When you sign up, you choose your character (or use your own name) and pick your house. From there, you can join or make a dorm based on your house where you can socialize with your own private group of classmates. If you don't want to be a student, you can be a house ghost, auror, magical creature expert, or literally any other occupation you want while indulging in texts from the Hogwarts library," reports Cosmopolitan.
Looks like I might take a page from ancient Greek scholar Shakira's book and start taking online classes, too.
Featured photo by Artem Maltsev on Unsplash
Follow Preen on Facebook, Instagram, Twitter, YouTube, and Viber
Related stories:
Shakira, intellectual queen, thanks Plato and his predecessors
Make your Potterhead dreams come true by transforming your home into Hogwarts
Three reasons why the Harry Potter movies aren't as perfect as you thought
Where to take online classes while you're at home