Happy Star Wars Day, everyone!
For those who (still) aren't aware, fans celebrate the franchise every May 4th because of the pun "May the Fourth be with you." It actually first appeared in a newspaper ad when former UK Prime Minister Margaret Thatcher took office in 1979. "Star Wars" fans later adopted it and made their own unofficial holiday, which was later recognized by Lucasfilm.
Although many people are celebrating Star Wars Day in their homes this year, they are still paying homage to the iconic characters, including Princess Leia/Gen. Leia Organa played by the late Carrie Fisher. (Her final appearance was in "The Rise of Skywalker.") Others are filling our social media feeds with lightsaber and baby Yoda GIFs—and we're not complaining.
Here's our contribution to Star Wars Day: We want to give a shoutout to the underrated ladies in the series. You may think they're just side characters, but they are strong in their own ways. Here's a quick list of the heroes and villains you may or may not have forgotten about.
Sabé
Also known as Padmé Amidala's decoy in "The Phantom Menace," Sabé (played by Keira Knightley) is a handmaiden who is duty-bound to protect the queen. She dressed up and acted the part while meeting with important Jedi ambassadors and planet leaders. She continued wearing the disguise when Viceroy Nute Gunray pursued the throne room in an attempt to kidnap Amidala. Sabé is an utter badass for putting herself on the line like that. In the TV show "The Clone Wars," she changed her identity and started investigating Padmé's death.
Shmi Skywalker Lars
Shmi Skywalker Lars is Anakin Skywalker's mother, who was implied to have been a virgin when she became pregnant. Serious Mary and Jesus vibes, only Anakin became a deadly villain instead of the Messiah. But before that, she raised her son as a single mom and was willing to let him go to Jedi training because she saw potential in him.
Rose Tico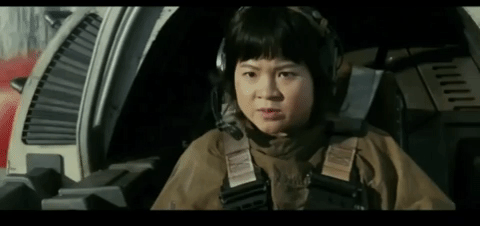 We know Rose Tico played a big role in "The Last Jedi," but we included her here because the actress who played her, Kelly Marie Tran, is underappreciated AF. It came to a point that she had to deactivate on social media because of the harassment she got from fans who hated her character. Rose wasn't "just" a maintenance worker—she was determined to do what's right and proved that she was strong enough to fight alongside Jedis and generals.
Lt. Kaydel Ko Connix
This is Billie Lourd's cameo role in the film. Lt. Connix is one of the human females who served as an operations controller under Gen. Leia Organa's command. She was also one of the many Resistance officers who backed Capt. Poe Dameron during his coup against Vice Admiral Amilyn Holdo. Lourd reprised her role in "The Rise of Skywalker" where she continued work in the The Resistance's strategic team. According to Den of Geek, her character's braided headband and camouflage poncho were subtle nods to her late mother Carrie Fisher's character.
Aurra Sing
Aurra Sing appeared in the "The Clone Wars" and was said to be Boba Fett's trainer after his father, Jango Fett, died in battle. She was well-known in the galaxy as one of the most ruthless bounty hunters, particularly for hunting down Jedi Master Mace Windu and trying to kill him, attempting to assassinate Queen Amidala and taking several senators hostage
Mon Mothma

According to StarWars.com, Mon Mothma is an architect and was one of the people who helped shape the Rebel Alliance where she was the civil leader. She is also a politician who served in the Galactic Senate and Imperial Senate, and is a staunch believer of democracy.
Beru Lars
Beru Lars is Luke Skywalker's aunt who raised him after Padmé's death and Anakin turned into Darth Vader. She was the only person who supported Luke's interest in becoming a Jedi, and was confident he wouldn't end up like his father. If not for her (and Obi-Wan Kenobi), Luke would've been stuck in Tatooine and wouldn't have become a hero.
Art by Dana Calvo
Follow Preen on Facebook, Instagram, Twitter, YouTube, and Viber
Related stories:
We'll be seeing Carrie Fisher as Princess Leia in "Star Wars: Episode IX"
I wanted to do my makeup like Emilia Clarke after watching "Solo: A Star Wars Story"
May the Fourth be with you: Gear up and celebrate Star Wars Day the right way
Women become a force to reckon with in "Star Wars: The Last Jedi"