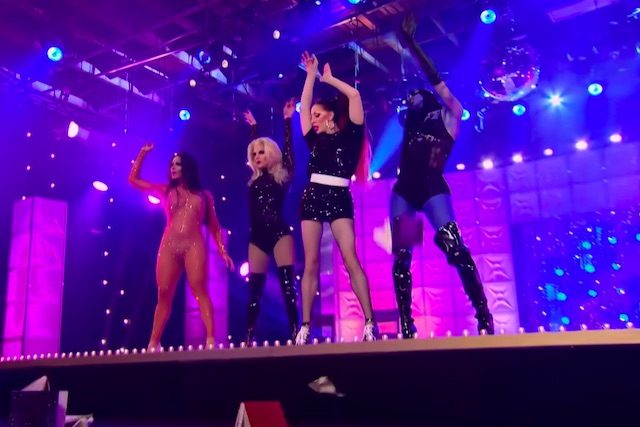 RuPaul's DragCon is an annual fan convention and expo first held in Los Angeles in 2015 and debuted in New York last 2017. It's been billed as "a convention that celebrates 'the art of drag, queer culture and self-expression for all." Last year's DragCon NYC was held over the duration of three days and had over 100,000 attendees. 
This year, in what Drag Race Alum Manila Luzon considers as the "biggest DragCon in the world," the whole event has gone digital—with performances, panels, booths and more. 
The planned Los Angeles leg of the convention was set to take place on May 1-3 but was canceled last Mar. 10 amid threats of the coronavirus pandemic. In a statement posted on their website, they emphasized that their priority was the health and safety of their talents, staff and attendees. 
However, fans all over the world rejoiced as DragCon was announced to go live last weekend for all the world to see. Streamed on WOWPresents' YouTube channel, the digital convention featured performances and appearances by many Drag Race favorites such as Manila Luzon, Miz Cracker, Acid Betty, Jujubee, Darienne Lake, Adore Delano, The Vivienne, Divina DeCampo and many more. Current Season 12 girls were also in attendance, like Nicky Doll and Heidi N Closet. 
Day one of Digital DragCon was opened by Drag Race first lady, Michelle Visage who teased celebrity appearances and super star-studded performances. Hosted by Provvidenza Catalona, who hilariously opened the show with a "Dear Diary" monologue, the first day of DragCon saw the return of The Frock Destroyers which consisted of "Drag Race UK" alums Blu Hydrangea, Baga Chipz and Divina DeCampo, who performed an isolation version of their hit "Break Up (Bye Bye)."
Miz Cracker's inspirational bit gave me everything, and by everything, I mean the motivation I needed to continue during this pandemic. Speaking about the uncertainty that the pandemic brings, she says,  "Remember that it's okay for this month and next month to be different than what you planned. It's okay to be knocked off-course by a world that is changing so fast."
Cheryl Hole, Cynthia Lee Fontaine, Mayhem Miller and Honey Davenport also gave an update on how the queens have spent their time in isolation, showing us that hey, drag queens! They're just like us: trying to work, figuring out quarandating and quaranflings, powering through the summer heat, and sitting around in lingerie just to regain a sense of normalcy. 
Day two of the convention showed many more queens and queer performers giving face through video calls and rocking the social distancing category. Jackie Cox's performance was an episode of Queer Drag Channel where she brought back her quirky and drunk Snatch Game character Lisa Rinna to review the merch of her Season 12 sisters. 
DiDa Ritz, who gave one of the best lip sync renditions of Natalie Cole's "This Will Be" during her time on the show, gave a riveting performance of RuPaul's song "Peanut Butter" that proved that, yes, twerking is still possible via video call—just make sure you have a steady connection. Scarlet Envy furthered her "no pants at home" agenda while wearing the fishiest makeup I've seen so far—honestly, I would love to wake up like that, eyebrow blocking included. Karen from Finance also gave viewers some tips on how to avoid meetings that could've just been emails as well as how to deal with working during the weekends. 
The highlight for many fans was the "All-Stars 2" top four recreating their iconic "Read U Wrote U" performance. In the video, Alaska dons her blue body paint, Detox slays animoji realness, Katya rips up a "Contact" book (which Trixie Mattel must've loved) and Roxxxy Andrews proves that her verse has only gotten better with age, especially when you add a bedazzled and bejeweled bodysuit to the mix.
Adore Delano closed day two and the first-ever RuPaul's Digital DragCon with a guitar performance in which she professed her love for her fans and the DragCon team and, of course, lets everyone know the importance of handwashing.
Screengrab from "RuPaul's Drag Race All Stars 2"
Follow Preen on Facebook, Instagram, Twitter, YouTube, and Viber
Related stories:
'RuPaul's Drag Race' S12 isn't safe from controversies
Sherry Pie is disqualified: What does this mean for 'Drag Race'?
We are OBSESSED with Eva Cado, Antoni Porowski's drag persona
Friendly reminder: Drag has always been political, #periodt