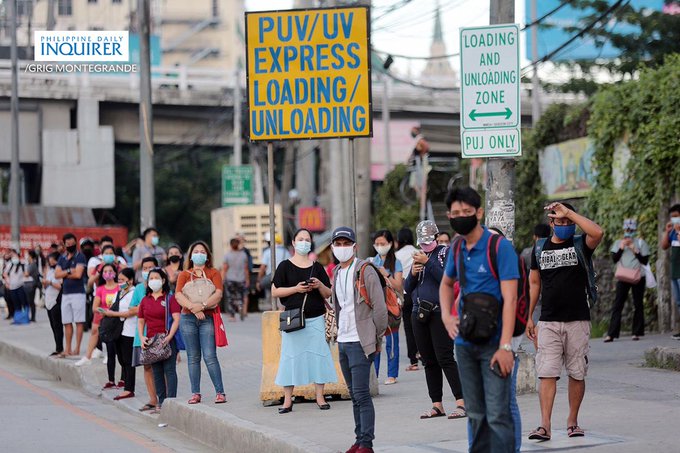 Metro Manila entered general community quarantine last Monday, June 1 after President Rodrigo Duterte approved the relaxation of quarantine measures based on the Inter-Agency Task Force (IATF) on the Management of Emerging Infectious Diseases' proposal last May 29. 
Under GCQ, Interior Secretary and IATF Vice Chair Eduardo Año recommended the resumption of mass transportation. The Department of Transportation (DOTr) also put up its own policies, detailing the two phases and regulations that come with it. 
A week into the GCQ, reports and complaints against the transportation measures have been voiced out by both citizens and concerned politicians. Commuters quickly noticed that adjusting to these set rules was difficult, as the limited operations left many workers braving long lines and waiting for hours to get a ride. 
Still, the response from concerned authorities hasn't been helpful. From putting the blame on commuters to saying that the crisis will just be temporary and even suggesting to walk instead of waiting for a ride, no concrete action has been taken to help the labor force gain access to more mass transportation options or for their employers to create a shuttle service. 
As we move on to the second week of GCQ, it might be helpful (especially to the government officials) to look back at what happened and what else can be improved. Let's just hope that this time, we get concrete solutions and not just salty answers. 
Public buses
Buses are allowed to operate at a 50 percent capacity. Aside from social distancing guidelines, bus terminal staff are also required to keep track of passenger information for contact tracing. In accordance with DOTr's phase 1, The Metro Manila Development Authority designated two lanes in EDSA for point-to-point buses with the rest of the lanes left for private vehicles. Strict timekeeping is kept at terminals; no matter how many passengers there are, buses have to leave for destinations after three minutes. On the first day of GCQ, 300 buses have been deployed for operation all around the National Capital Region (NCR). Yesterday, June 4, 200 more buses were allowed to operate within newly created routes in order to help more people reach their destinations. Still, people were forced to hitchhike and even squeeze into the PNP's vehicles under the Libreng Sakay Program. 
Railway systems

Prior to the announcement of GCQ, the Lightrail Transit Authority together with the Philippine National Police had a demonstration on the recommended movement of the public while on the LRT. Once commuters came in, we also saw a lot more precautions like plastic on seats that people can't sit on and markers for where people can stand while waiting for the train to come. Workers were also deployed to disinfect the train cars every 40 minutes. Some citizens complained about social distancing markers being confusing and counterintuitive as "x", which usually means "don't stay here," was used instead of footprints or circles. 
Bikes and motorcycles
Under GCQ, bikes and motorcycles are allowed with no back riding. But there is still no established lane in EDSA yet. MMDA General Manager Jojo Garcia clarified that biking in EDSA is prohibited, but bikers won't be apprehended—they will just be asked to change routes. On the first day of GCQ, Bikers United Marshalls (BUM) set up a bike lane in Commonwealth Avenue with used bottles painted bright orange in place for cones. 
WATCH: Bikers United Marshalls' third attempt today to establish a pop-up bike lane for commuter safety has been thwarted yet again by the @MMDA. Today is World Bicycle Day. pic.twitter.com/aGpPEvtvmb

— Cycling Matters ?‍♀️ ?‍♂️ ?? (@CyclingMatters_) June 3, 2020
However, MMDA quickly apprehended the group and fined some members, saying that creating bike lanes is not a priority. MMDA Spokesperson Celine Pialogo even questioned the safety of BUM's actions. But BUM quickly clapped back and said, "We believe we have done our bikers (mostly without protective gear) our humble service. If the MMDA sees otherwise, then we have to be ready for the consequences of the incompetence of our leaders."
Since the beginning of the enhanced community quarantine, many people have shifted to bicycles as their main mode of transportation, as it's a good way to practice social distancing even while traveling. Pasig City even classified bikes and bike shops as essential. 
Jeepneys
Jeepneys have been banned from operating under GCQ areas, as recommended by the IATF. According to Año, jeepneys can become an avenue for virus transmission, saying, "mahirap ipatupad ang physical distancing dito at kailangan mag-repurpose sila o magreconfigure ng upuan." 
DOTr's plans for phase 2 include a modern jeepney rollout on June 22 with only a few older jeepneys operating as assistance. Año even added that older jeepneys might just become delivery vehicles after all of this is over.
Because of this threat to their livelihood, jeepney drivers and operators have begun a series of protests that will hopefully allow them to resume operations and to finally generate income after months of no work. Several donation drives for displaced jeepney drivers have also been put into effect. 
Currently, six members of the nonprofit organization Pagkakaisa ng mga Samahan ng Tsuper at Operator Nationwide (Piston) are detained for violating social distancing measures while protesting for their living. According to the transport group, the protestors were clearly practicing social distancing and can even be seen with masks on. Piston national president George San Mateo said, "It is obvious that they were arrested for trumped-up charges. If it was done forcefully, then that could be considered illegal detention." 
Ikinalulungkot naming ianunsyo na HINDI NAKALAYA ang PISTON 6. Nawalan ng saysay ang lahat ng pagsisikap na sila ay mapalaya bago mag alas 5:00 ng hapon. Palpak ang electronic system ng korte na nagdulot ng pagkabalam na makumpleto ang proseso ng mga dokumento. #FreePiston6 pic.twitter.com/9UlbLKyFrl

— PISTON (@pistonph) June 5, 2020
The vision of the government for a city under GCQ was that of an orderly and disciplined one; people would be quick to adjust to new situations and will not have trouble resuming "normal" activities because there are already set rules, all anyone has to do is to follow. But if these rules weren't created and implemented with the interest of the general public in mind, how will they ever be effective? 
Photo by Grig Montegrande on Inquirer.net
Follow Preen on Facebook, Instagram, Twitter, YouTube, and Viber
Related stories:
Hypocrisy is real and these government officials are proof
Police arrested 7 protestors, not terrorists, in UP Cebu
Help out unemployed jeepney drivers with this donation drive
Salvador Panelo has a confusing suggestion to solve the traffic problem