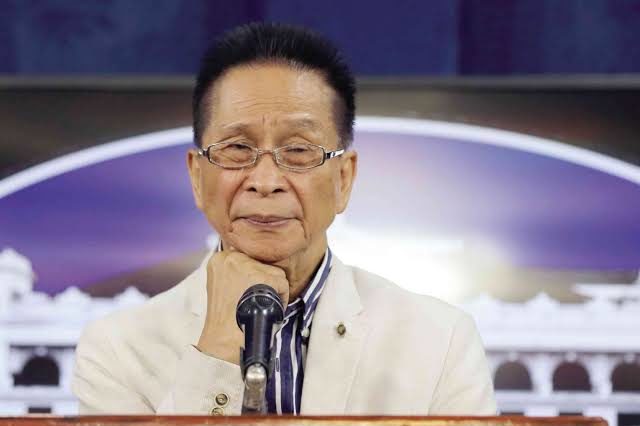 Let's be real here: The Philippines' traffic problem is really bad.
According to the Japan International Cooperation Agency (JICA), Metro Manila costs P3.5 billion in lost opportunities per day because of the heavy traffic jams and congestion in the city as of 2017. The agency noted that one way this could be remedied is through efficient public transportation, like the subway project that's being built during this administration.
But for some reason, presidential spokesperson Salvador Panelo thinks enforcing "24-hour work days" is the key to solving our growing traffic problem. He told Palace reporters that if people went to work in the day and another batch went in the evening, then it will cut the population of commuters and drivers in half during certain times of the day.
"For instance, eskuwelahan, bangko, kung merong night, kumbaga 24 hours ang activity natin. Meron bang ganoon sa buong mundo? Parang wala pa. Ano kaya subukan natin?" (For instance, schools and banks, if there are activities at night, it's like having a 24-hour activity. Is there an existing arrangement like that in the world? I don't think so. What if we try it?) he said.
Uhm, there are already schools and workplaces that have shifts, so what Panelo's saying isn't exactly groundbreaking. And if you're still trying to make sense of what he said, don't worry, it took us a while too.
Panelo later added that the Office of the President is open for suggestions on how the government can improve the current road situation.
In that case, how about we get proper public transportation—one that doesn't break once or twice every week—to reduce people's dependence on private vehicles? If you want to make the traffic situation better, give more plausible solutions and not make people's lives more difficult, Mr. Panelo.
[
Philippine Canadian Inquirer
]
Photo courtesy of Inquirer.net
For the latest in culture, fashion, beauty, and celebrities, subscribe to our weekly newsletter here  
Follow Preen on Facebook, Instagram, Twitter, YouTube, and Viber
Related stories:
The horror of Manila traffic as told from the passenger's seat
Atty. Panelo, don't make promises you can't keep
Excuse me, Mr. Panelo, Amal Clooney is more than "pretty" and "sexy"
Was the EDSA driver-only scheme effective?