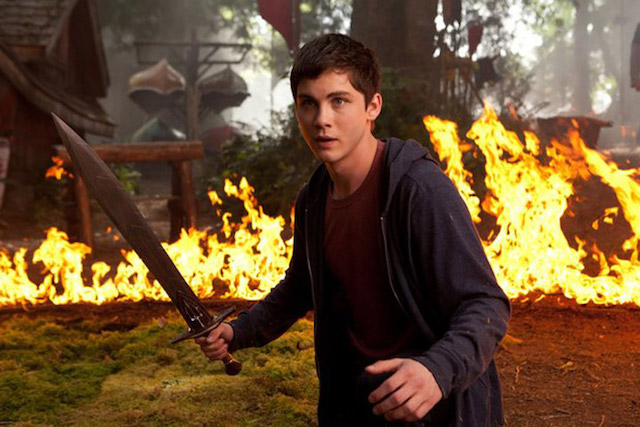 It's time you take your Camp Half-Blood shirt out of the closet and have a re-read of the "Percy Jackson and the Olympians" series because Rick Riordan spoke about freedom of interpretation that had the internet trending the words: Percy Jackson is bi. The inclusive author, who created dynamic LGBTQ+ and POC characters (unlike fellow young adult writer J.K. Rowling), posted a tweet today commenting on his protagonist's sexuality.
A fan tagged Riordan in a tweet requesting the author to settle a debate between friends. "Did Percy ever have a crush on Luke? Kinda like the way Nico did on Percy?" they asked. Riordan, much to the delight of the fandom, replied, "The only answer I can offer is: Read the books and decide for yourself. Personally I see no evidence of that, but I am looking at it through my life perspective. What I intended isn't relevant once the books are published. The only 'canon' is the text, which is for the readers."
https://twitter.com/rickriordan/status/1278680973513818112?s=20
This prompted fans to bring out photos of excerpts from the books as evidence that Percy isn't as straight as some people might have assumed. Looking back on the events that unfolded on "Percy Jackson and the Lightning Thief," some fans think that Percy could have felt admiration for Luke similar to Annabeth's. Of course, not all fans were eager to join in on the party. Others feel that it's a bit of a reach and that there isn't much context from the books to support this claim. 
In another tweet, Riordan addressed the concern that his response may be similar to J.K. Rowling's history of claiming but not depicting that Dumbledore is gay. He wrote, "Big difference between saying 'The only canon is the text' and saying 'Your personal opinion is canon regardless of the text.'" To the naysayers, yes, Percy Jackson could be straight too. It's completely up to you. 
https://twitter.com/rickriordan/status/1278713539050512384?s=20
I don't know about the rest of you but I feel like celebrating this little win with some blue sweets like I know Sally Jackson would.
Photo screengrabbed from the 'Percy Jackson: Sea of Monsters" trailer
Follow Preen on Facebook, Instagram, Twitter, YouTube, and Viber
Related Stories:
They're bringing sexy back with these YA re-adaptations
Daniel Radcliffe and other 'Harry Potter' stars respond to J.K. Rowling's anti-trans tweets
J.K. Rowling claims to love trans people yet her tweet says otherwise
My long-standing romance with the Young Adult genre