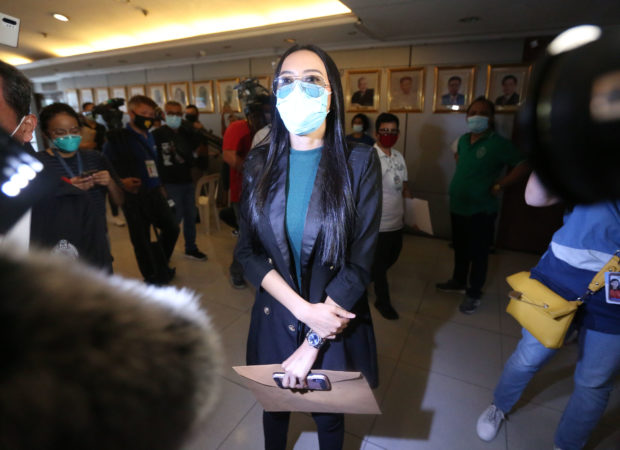 Overseas Workers Welfare Administration deputy administrator slash blogger Mocha Uson, also known to be an alleged purveyor of fake news, ironically lost her Twitter handle.
On July 21, Uson's Twitter handle was changed to @BanatByOfficial, which made the account lose its verified mark. Banat By is a political commentary blog similar to Mocha Uson Blog which some netizens speculated are run by the same admins. Whoever runs @BanatByOfficial now must have thought that taking Uson's Twitter handle would also gain its verification mark and follower count. According to Twitter's Help Center, you could lose your verified status if you "intentionally mislead" people by changing your display name or bio among other reasons. 
If Mocha and her crew were planning to take back her handle, bad news for them: Someone already got a hold of @MochaUson during the interim, and took advantage of the opportunity by turning it into a pseudo-parody fan account. The new Mocha now cares about science and is slightly (like, very slightly) more woke. She still shoots some nasty replies here and there though.
While @MochaUson remains to be in the hands of another, we've documented how the new Mocha has been responding to their mentions and social issues too.
Exhibit A: Introducing the new Mocha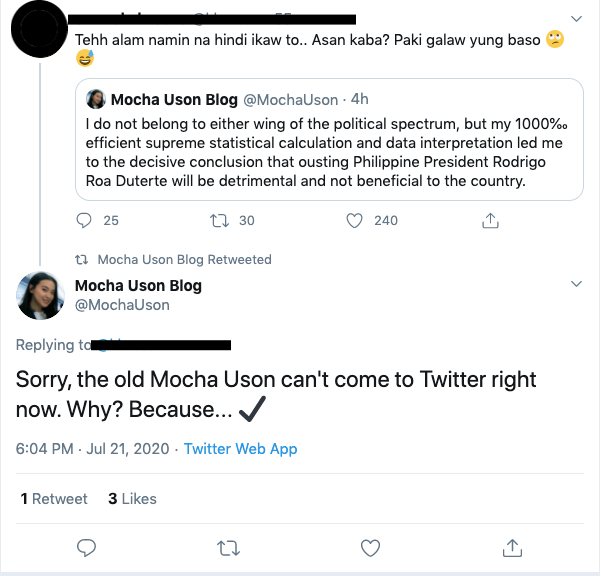 Exhibit B: Confirming the switch
Exhibit C: COVID-19 Response
 Exhibit D: Just stating the "facts"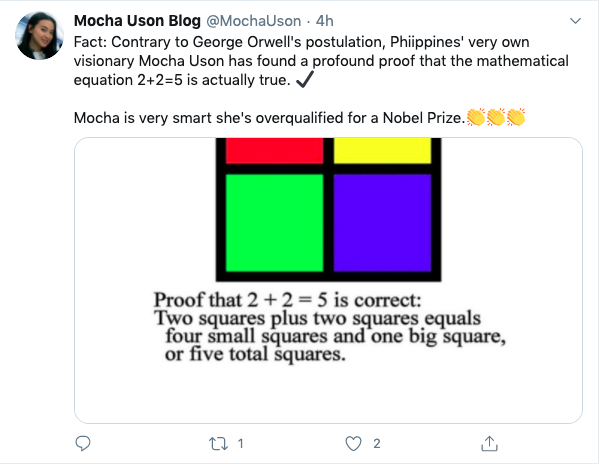 Exhibit E: She's not wasting her IQ on trolls

Lead photo courtesy of Inquirer.net
Follow Preen on Facebook, Instagram, Twitter, YouTube, and Viber
Related stories:
Here's how Mocha Uson's NBI summons over fake news went down
Report the truth even if the government scares you
A list of Mocha Uson's fake news posts
Mocha Uson Doesn't Know What Freedom of Speech Means