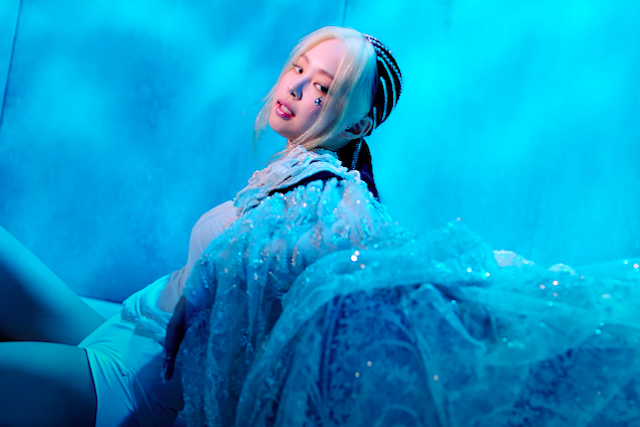 Ladies, gentlemen and genderqueers, it's time to place your bets on who will be joining Blackpink in their new single.
 On July 23, YG Entertainment released a teaser poster for an upcoming song that the girl group will be dropping in August. The four members are looking summerific on it but there's a big question mark in place of the featured artist's photo that has us all excited. No word yet on when the big reveal is happening and details about the single are still kept under wraps. That doesn't mean that fans haven't made guesses on who the mystery person is and we can't help but join the party.
#BLACKPINK NEW SINGLE (Feat. ?) TEASER POSTER#블랙핑크 #JISOO #JENNIE #ROSÉ #LISA #NewSingle #TeaserPoster #August #ComingSoon #YG pic.twitter.com/PqCeMfhdNe

— YG FAMILY (@ygent_official) July 23, 2020
First up on the roster is, Ariana Grande. It's still fresh on everybody's minds that both Ari and Blackpink collaborated with Lady Gaga on "Chromatica." It's likely that they'll be removing that degree of separation and having their own fun together.
A year ago, Ari replied to a fan asking whether she would ever do a collab with the girls with a big yes. Fans also noticed that she liked Jennie's Instagram repost of the poster. We've all learned by now that it's a classic collaborator move.
Ariana Grande tweeted that she would collaborate with BLACKPINK exactly one year ago today. pic.twitter.com/ShsQx1ISX8

— Pop Base (@PopBase) July 23, 2020
Another big possibility is BTS. ARMYBlinks have been begging for both K-pop groups to make a song together and that dream might finally come true. The same day the teaser poster dropped, RM posted on fan community platform Weverse a photo of himself with the caption, "I'm seriously looking forward to it…BTS' album….!!"
The boys aren't shy about updating their fans on how their upcoming album is doing and they're known for leaving clues about projects in their personal posts. Big Hit Entertainment has yet to give us a release date but if it ends up being August, they'll be sharing the backstage of Korean music shows so why not perform together as well?
Here's another Hollywood guess: Justin Beiber. Even though the pandemic is keeping most of us from making near future plans, Beiber posted his 2021 world tour dates yesterday. Record executive Scooter Braun, who also works with Ari, tweeted yesterday, "New tour.. maybe a new album @justinbieber ??" You know how the saying goes, with new music comes the possibility of a new collab. Or something like that.
New tour.. maybe a new album @justinbieber ?? 🧐🙂

— Scooter Braun (@scooterbraun) July 23, 2020
A fan favorite guess is Halsey. She recently posted a photo of herself sporting a black beret with her pink locks. Is that a sign? Since collaborating with BTS with "Boy with Luv," K-pop stans have had their eyes on her and for good reason. Besides lending her vocals to that track, she has become a close friend and a defender of the boys during American press interviews. She also featured BTS' Suga on her "Manic" track "SUGA's Interlude."
Bear with us for this one, but we think that Nils Sjöberg could also be the mystery artist. If you're unfamiliar with the name, it's Taylor Swift's writing alias. Since she's about to release country-folk album "Folklore," it seems highly unlikely that she's up for joining Blackpink for another one of their bangers. Or is it? If she uses her alias for the project, she won't be breaking away from her album's vibe and she'll be free to explore a different genre. It's definitely a win-win situation for her.
If we haven't hit the mark yet, we could always fall on our other guesses like Kylie Minogue (whose new album "Disco" will be out soon), Perfume Genius (who's currently promoting songs from "Set My Heart on Fire Immediately"), and maybe even a One Direction ex-member if one of them is feeling extra generous since it's their 10th year anniversary. What do you think?
Photo screengrab from the "How You Like That" music video
Follow Preen on Facebook, Instagram, Twitter, YouTube, and Viber
Related Stories: 
'How You Like That': BLACKPINK bumps 'Boy With Luv' off the Guinness World Records
Blinks and ARMYs unite—BTS and BLACKPINK are dropping music videos today
Taylor Swift is dropping a surprise album and I fully can't breathe
Lady Gaga and Ariana Grande are serving us a sci-fi latex moment in their latest teaser