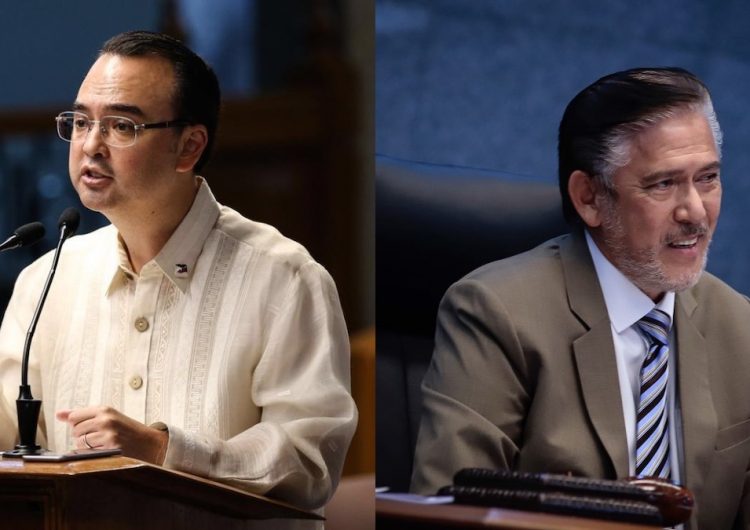 President Rodrigo Duterte's 2020 State of the Nation Address (SONA) on July 27 is fast approaching and most of us are having a hard time imagining how it's going to go, especially after the president said in a July 21 press briefing that, "Perhaps our number one problem today is COVID." If he's having doubts on whether improving our COVID-19 response and aid programs should be the administration's top priorities, then what else could he be considering?
Senate President Tito Sotto and House Speaker Alan Peter Cayetano shared a couple of insights in an interview with CNN Philippines today that could help us form our expectations for Pres. Duterte's fifth SONA.
According to Sen. Sotto, the Senate expects the president to focus on the country's health and economic recovery programs and that he's sure to tackle law and order in relation to "the issue of terrorism."
When asked about the second version of the Bayanihan to Heal as One Act which granted the administration a P162-billion standby fund, he replied, "We will be very cooperative as far as the economic recovery program of the government is concerned, the economic stimulus package, the accelerated recovery, and hopefully investments. That will be the priorities as far as the Senate is concerned." Included in the bill is an allocation plan, and hopefully we'll get to hear measures for transparency in budget reports after Vice President Leni Robredo shared her suggestions for ensuring this on July 20. 
In response to a question about whether he has seen lapses in the government's COVID-19 response and whether he expects to hear something new from the president, he stated, "Most of the countries were not ready. We were not ready. So we cannot just blatantly blame the government. January, February–we were not ready for this."
However, other countries that were similarly taken by surprise by the pandemic have far less casualties, such as Taiwan with a registered number seven casualties and Singapore with 25 by June, due to early implementations of aggressive contact-tracing, mass testing and sizable stimulus packages.
Other juicy soundbites from Sotto during the interview are his claim that "oligarchs is an 'abused term'" and him admitting that he has no future political plans even though he's not planning to retire yet. 
Speaker Cayetano for his part revealed that they're planning on resuming discussions on Charter Change (Cha-cha) next February "if ma-solve next month 'yung COVID" and that they're planning on reviewing "economic Federalism" as a parallel to Cha-cha. 
On the topic of Cha-cha, he was asked about the claim he made on July 20 about how term limits create political dynasties. "Ang problema sa argument sa Pilipinas, maraming hypocrisy. No one is innocent. That's why we have to change the system," he said. "If you look at history, there's always been some small dynasty somewhere. But ang mas importante, free ang lahat ng tao to choose." Are we really?
When asked for a candid answer on whether he wished that his term as House Speaker would get extended, he jokingly replied, "Marami akong wish eh. I can wish to be Speaker for nine years but that's not within my control."
Photo courtesy of Inquirer.net
Follow Preen on Facebook, Instagram, Twitter, YouTube, and Viber
Related Stories: 
How come VP Robredo's 'long-recommended' COVID-19 suggestions are still suggestions? 
How are our 57K COVID-19 cases 'successfully' flattening the curve, Mr. Duque?
Harry Roque thinks 70,764 COVID-19 cases isn't alarming but should concern us
Pres. Duterte's promises at this year's SONA