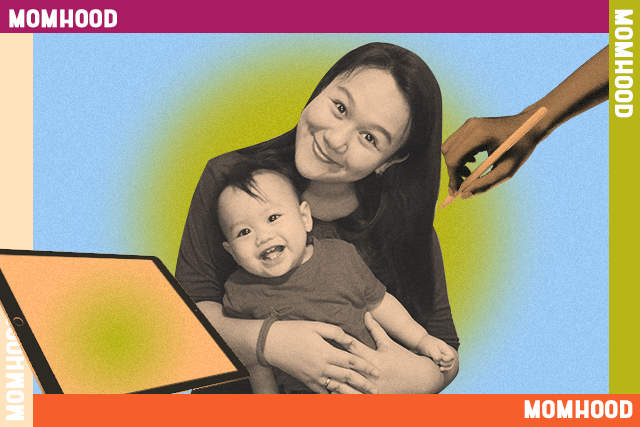 Working from home has been tough for a lot of us for many reasons. Among those are adjusting to a new routine and establishing boundaries between our spaces of work and play. If you're a working parent, another thing to consider is how to take care of your children while you're working. 
With your kids roaming around your home, parenting while juggling video conference meetings and meeting deadlines definitely would not be a breeze. If that didn't sound like a handful already, some have also ventured to starting businesses in quarantine because of a hobby or losing their jobs. 
It may sound impossible to start your own business in quarantine with a little troublemaker running around your house a.k.a. your home office, but one supermom is already doing it.
We spoke with Yvonne Sophia Cipriano, a 21-year-old college student and the founder of a new graphic design company Craft Your Jam which crafts logos, digital posters, business cards and other digital materials.
Being a young mom, she shared that motherhood is "an intense roller coaster ride" and she learned to make the most out of quarantine by starting her business while caring for her son at home.
"If it was not for the quarantine, I may not have been able to put up this business since I would be busy at school. I travel for four hours one way for just one class so I spend around 12 hours outside of the house. When I arrive back home, pump milk on one side and latch on one side. After that, I would be so drained and knocked out," she said.
Yvonne and Ivann's daily routine in quarantine
It's important to set up a routine that allows you to work while also making sure that you spend enough time with your child. Yvonne acknowledged that Ivann demands more attention now as a toddler compared to when he was an infant and said that she's been making use of his nap times as her working hours.
"When we wake up at 9 a.m., we first have breakfast, then wash and play before he takes his morning nap. During his naps and sleep is the only time when I can get to work since he already needs more attention now that he is already a toddler. The routine continues again as we eat, wash, play and nap in the afternoon. At night, it is his longest time awake meaning more play and teaching time. After he sleeps, I already feel drained. But if there is a project, I need to stay awake to finish it up at night so that it could not affect our next day as much as possible," she described.
Starting Craft Your Jam
Yvonne likes to call her business her "way of being productive during the quarantine while earning." As a young mom, she noted that one of her struggles was how to earn money both in quarantine and as a student. Although she's still studying for her undergraduate degree, she took a leap of faith and pursued her passion for design by starting Craft Your Jam during the latter part of May. 
"I guess it all started with my love for designing and layout since I also enjoy doing art-related activities in college. When I was on leave of absence, I helped my boyfriend with art-related activities as well. During the quarantine, I volunteered to make a page for my tita's food service. I also made her logo, cover photo and other materials. That's when I realized that I can earn from making graphic designs and that's when I started to look for clients online," she said.

Despite the difficulties of getting a client, Yvonne says she appreciates the flexibility she has with her time, allowing her to spend time with Ivann whenever she has no pending projects. Her line of work has also taught her to become more patient with herself when it comes to waiting for clients and coming up with ideas for content.
"At first, I got anxious when people turned me down, but then I realized to enjoy the process. I thank God because I can still take care of Ivann when there is no pending project. It is a tough competition in the graphic design world. Many offer lower commissions leading to fewer customers for middle-range commissions like ours. It needs a lot of patience to present your portfolio to every client. It also needs a lot of patience in squishing out the creative juices in my brain to create a unique output," she explained.
Tips and advice for young working moms
Motherhood wasn't a walk in the park for Yvonne. Like many young mothers, she struggled with balancing her studies and caring for her son on top of earning for her family. When it comes to looking for ideas, Yvonne recommends maximizing the use of the internet and exploring interest groups on social media. The creative industry requires you to frequently generate new concepts and expose yourself to what different people are interested in could help. 
Moreover, she noted that the hardest part about working from home with a toddler was balancing her energy throughout the day. 
"For me, the hardest part is balancing my energy for work and taking care of a toddler who is running, dancing and grabbing things around which can be dangerous," she said. "In order to be more productive, I try to eat well and hydrate myself to keep my energy high through the night."
From facing the fear of breaking the news of her pregnancy to her friends and family to celebrating new learnings and her baby's milestones, Yvonne experienced a "roller coaster ride" of emotions but this did not stop her from finding a way to make it work. 
Despite all the unpredictability of the current situation, Yvonne remains positive with her passion project and encourages other entrepreneurs: "Do not lose heart. It is okay to feel anxious because the pandemic is all new to us, but take courage to persevere!"
Art by Tricia Guevara
Follow Preen on Facebook, Instagram, Twitter, YouTube, and Viber
Related stories: 
Parents, take notes一here's how you can homeschool your kids in quarantine
So, can parents be friends with their children?
Pandemic parenting chronicles from 4 Filipino moms
Here's to the new generation of dads—wholesome, pure and lots of fun