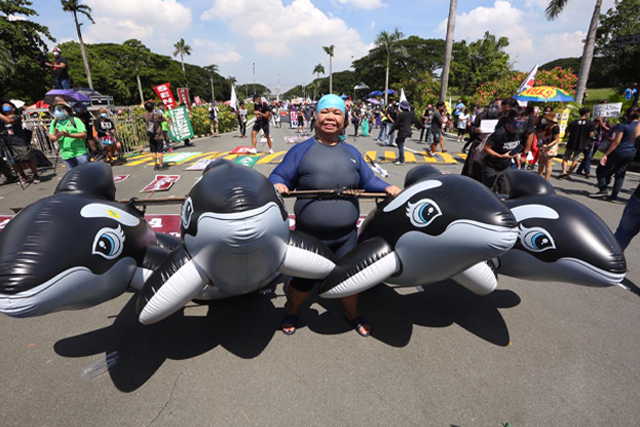 With a number of the 50 people slated to physically attend President Rodrigo Duterte's State of the Nation Address (SONA) today testing positive on their swab tests, the administration considered pushing through with their back-up plan to have the president deliver his speech at Malacañang Palace instead of Batasang Pambansa a while ago. This, however, did not change the plans of progressive groups who conducted an on-ground #SONAgkaisa protest at the University of the Philippines Diliman campus instead of the usual setting of the "People's SONA" on Commonwealth Avenue near Batasang Pambansa. 
Each year, demonstrators bring creative and sometimes hilarious placards to bring attention to their demands from the government on SONA rallies. Last month's Independence Day "grand mañanita" protest displayed how it was possible to conduct mass protests while observing social distancing and that Filipinos will not be silenced by pandemic woes.
Frustrations are high today with the public clamoring for accountability and transparency in COVID-19 policies. Still, protesters have it in themselves to inject a bit of humor in #SONAgKAISA with these funny placards and cosplays that can help keep that feeling of dread at bay (at least until 4 p.m.).
Juana Change's Harry Roque with dolphins cosplay
Artist-activist Mae "Juana Change" Paner is winning the Harry Roque snatch game with this cosplay of the presidential spokesperson inspired by a picture of him with dolphins. Last June, Paner also grabbed the attention of many with her Debold Sinas cosplay, complete with mañanita roses.
LOOK: Artist-activist Mae Paner, also known as Juana Change, dresses up as Presidential Spokesman Harry Roque in the #SONAgkaisa rally at UP Diliman, Quezon City.

Updates on #SONA2020 here: https://t.co/sDL7GR6kfx

(📷: Niño Jesus Orbeta/Philippine Daily Inquirer) pic.twitter.com/0VqdjILRzr

— Inquirer (@inquirerdotnet) July 27, 2020
Kilusang Mayo Uno's swab test results
Labor group Kilusang Mayo Uno (KMU) created this funny protest art of Pres. Duterte with enlarged nostrils and giant cotton swabs with his "swab test results" which came out as "Positive sa pagiging pabaya!" and "Positive sa pagiging pahirap!"
TIGNAN: Lumabas na ang resulta ng swab test ni Duterte: Positive sa pagiging pabaya! Positive sa pagiging pahirap! Positive sa pagiging pasista! #SONAgkaisa pic.twitter.com/5WN4ymDkVS

— Kilusang Mayo Uno #MAKIBAKA (@kilusangmayouno) July 27, 2020
Youth Resist's rotting garbage
Youth alliance Youth Resist attached their placard on garbage bins to signify that some government officials are "rotten" and that they want to junk policies that they believe to bring a "continued assault on public health, human rights and civil liberties."
Youth activists assembled trash bins in UP Diliman's University Avenue during the multisectoral SONAgkaisa protest to reject the Duterte administration's continued assault on public health, human rights and civil liberties.#SONA2020#WalangIwanan#SONAgkaisa pic.twitter.com/ZdsjE8uNTx

— YouthResist (@YouthResistPH) July 27, 2020
Panday Sining's Duterte roulette
Mong Palatino ay Bagong Alyansang Makabayan took this video of artist group Panday Sining's Duterte roulette which they claimed showed the different faces of the president. They painted a set of outfits for him and had him resembling an evil clown.
Roletalsik #SONAgKAISA #SONA2020 pic.twitter.com/T8JgX4GxzG

— Mong Palatino (@mongster) July 27, 2020
Sama-samang Artista para sa Kilusang Agraryo's miniature e-ffigy
An honorary mention on this list is the e-ffigy prepared by Sama-samang Artista para sa Kilusang Agraryo (SAKA). The burning of giant effigies is a staple in mass protests. This year, they created one on a much smaller scale and added small cutouts of protesters from different sectors. This tiny alternative was broadcasted through a projected screen on #SONAgKAISA in order to stick with health protocols. 
PIVOTAL — We are currently working with the virtual effigy or "e-ffigy" to be premiered through a projected screen during the #SONAgKAISA protest tomorrow.

The video of the "e-ffigy" burning will be circulated online.#JunkTerrorLaw #OustDuterteNow pic.twitter.com/xWZP3voI6I

— SAKA (@PilipinasSaka) July 26, 2020
What's your favorite SONA protest art piece? 
Photo courtesy of Niño Jesus Orbeta/Philippine Daily Inquirer
Follow Preen on Facebook, Instagram, Twitter, YouTube, and Viber
Related Stories: 
SONA 2020 takes from Sotto and Cayetano we wish we could unhear
Pres. Duterte's promises at this year's SONA
Pres. Duterte's WTF moments: SONA 2019 edition
Harry Roque thinks 70,764 COVID-19 cases isn't alarming but should concern us