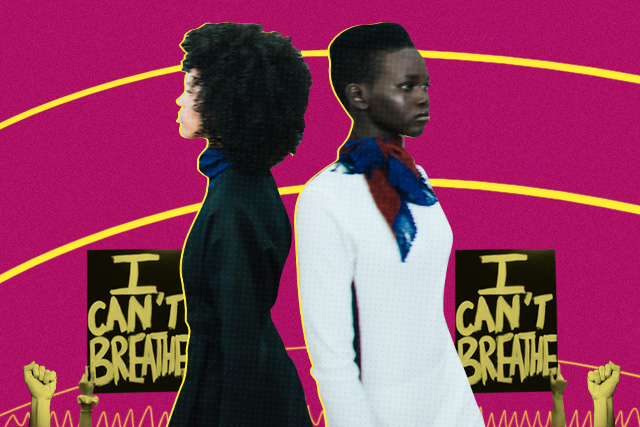 If there's a positive outcome from Philippine Fashion Week's (PhFW) #BlackLivesMatter (BLM) spread, it's how it refueled the discourse on brand activism and allyship as well as raising the question of selectivity in the decision to take a stance on police brutality outside of the country but failing to show solidarity with local victims and survivors. 
On Aug. 9, PhFW launched its #BlackLivesMatter campaign on Instagram and Facebook. At the helm of the project is executive producer Tina Herrera who was joined by creative directors-slash-photographers Miguel Alomajan and Chaddy Avila. The team wrote, "Philippine Fashion Week supports #BlackLivesMatter a movement in protest of police brutality, racial violence, racial injustice and economic inequality against African-American people." While well-intentioned, it has garnered criticism from netizens. A number of them have even sent messages to the page in the hopes of receiving an explanation for the execution of the project.
Some of the pieces included in the spread are a giant scarf with Eric Garner and George Floyd's last words "I can't breathe" emblazoned on it, oversized sunglasses with a BLM sign in place of a visor and a men's handbag with a BLM keychain. In one of the photos, we see the model with BLM painted just above his eyebrow. He also dons a faux leather snakeskin suit, a zebra print blazer and a faux leather bucket hat. 
Design elements present in the photos and the video include a list of the names of Black victims of police brutality, a mishmash of hard to make out audio clips from Black protestors as well as a news article and a graph on hate crimes used as a silhouette and backdrop. There's also the sound of a man gasping for air mixed in with the hip hop beat slapped on the stylized video. 
The fashion industry has proudly claimed that it's been taking strides to amplify voices for years but how exactly does the equality-themed, slogan-wear of fashion activism contribute to the fight for equality? 
Brands have long been capitalizing on the culture and labor of marginalized communities that remain underrepresented and underpaid in the industry. Frances Sola-Santiago wrote in "Mask On: How Fashion Erased the Politics of Streetwear in 2017" that while "hip-hop culture dominated the fashion zeitgeist in 2017…the politics of hip-hop and Black culture were left out of the conversation and the players behind-the-scenes remained a homogeneous mass of privileged white Westerners." Recently, BIPOC (Black, Indigenous and people of color) employees from media companies such as Buzzfeed have spoken up about how they are underpaid and experience microaggressions from companies that outwardly proclaimed progressiveness and diversity.
In 2020, creative industries have been experiencing an upheaval with the public demanding meaningful allyship. As in the case of PhFW's campaign, it seems that there are brands that are having trouble figuring out what this entails. Writer ShiShi Rose shared in an Instagram post that Black people's names and work are being exploited and memefied. "Right now, people are doing things to 'bring awareness' to the cause without any critical thought as to if the things they are doing could possibly harm or just not help actual Black people who are still alive," she said.
If PhFW's objective was to spread awareness for issues related to race and inequality, it was a hollow effort. What did the video and shots add to the BLM conversation and what type of support does it offer to the protestors who have been on the streets since the peak of the demonstrations on June 6? Instead of bringing attention to the demands of the movement, the campaign failed to grasp rage against injustice and oppression. When they decided to add the sound of someone gasping for air to the video, did they simply think that it would garner empathy or fit the aesthetic?
A similar case is Jian Lasala's Holiday 2015 collection called "Sparrow" that was "humbly dedicated to women who have triumphed over struggles and abuse, as it sends a positive message of loving, and nurturing oneself in order to spread the right kind of love to others." When it came out on the runway, the collection was composed of strappy, sequined frocks in hourglass silhouettes. The disconnect makes it seem like the message was just a throwaway comment.
It is not enough to state your intention, especially in protest art. If your work cannot speak for itself, you have failed your audience. In PhFW's campaign, the clothes were at the center of the narrative and so it seemed that BLM was merely there to gain social capital. Considering how celebrities and brands have already shared their platforms with and donated to the movement months before, PhFW's message of solidarity is noticeably lacking and, to many, even offensive. Instead of underscoring the voices of and the points being made by Black people, it seemed to glamorize their pain. 
What the recent resurgence of BLM has shown is that Black people are tired of everyone else telling their stories, even non-BIPOC. A shoot like this that reproduces a Black man's dying words—presumably without consent from their families—can only be done by a Black person, a Black team. It's not our right to do it and we must acknowledge that if we want to move forward.
Another thing it highlighted is the lack of attention being paid to local issues. Has there been initiatives to use themes close to home such as the Duterte administration's war on drugs? (This has been done by clothing technology students from the University of the Philippines in a show called "Protesta de Mayo.") With sustainability being the fashion industry's favorite buzzword, shouldn't we at least expect active participation in ecological preservation and support for environmentalists and indigenous communities as well as low-income industry workers from its opinion leaders?
On Aug. 13, PhFW published several posts on its Instagram. The team called the campaign "a simple shoot, with a DIY statement prop #BlackLivesMatter." On one of the posts they wrote, "This is not a fashion campaign. This is a cultural statement campaign. This is not a political agenda. This is a human agenda. We are not selling anything so we are not capitalizing on any item or merchandise."
Herrera shared in another post on the page, "I have hired black creatives, featured a countless number of black musicians, rappers, artists on Status Magazine covers over the last 12 years."
Preen.PH has reached out to PhFW and Herrera. PhFW has redirected us to Herrera upon receiving our request. As of writing, she has yet to send her response.
We have high hopes for the future of fashion. May we all learn from this and may this not discourage but challenge others to step up.
Art by Dana Calvo
Follow Preen on Facebook, Instagram, Twitter, YouTube, and Viber
Related Stories: 
The internet is speaking up about PHFW's BLM campaign
3 not-so-easy steps to make sure your involvement is not just performative
An open letter to the hypocrites on my feed
This Fil-Am BLM supporter is our new fave tito for exposing a Karen