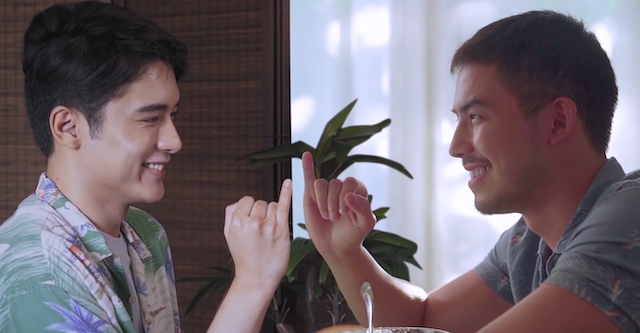 Digital Boys' Love (BL) series "Hello Stranger" will be premiering its much-awaited finale tomorrow Aug. 19, but things aren't finished yet for Xavier and Mico, played by the charming and charismatic leads, Tony Labrusca and JC Alcantara. 
In an online fan meet last Sunday, Aug. 16, "Hello Stranger's" production company, Black Sheep, confirmed that Xavier, Mico and the rest of the gang will be debuting on the big screen—and yes, it's not just through Zoom, it's going to be an actual movie where the two leads can finally get together physically.
NOT A ZOOM MOVIE GUYS, BUT AN ACTUAL LIVE MOVIE #HelloStrangerFancon #HelloStrangerMovie

— Black Sheep (@Black_SheepPH) August 16, 2020
It's not just the gang that's on board, though. Series director Petersen Vargas has confirmed the movie sequel as well, so we're assured of his amazing directorial touch and insight for the sequel. 
HELLO STRANGER WILL HAVE A MOVIE SEQUEL❕❕❕❕❕❕❕❕❕❕#HelloStrangerFancon

Dahil ito sa inyong lahat. MAHAL KO KAYO❕ https://t.co/MbtSft1lYp

— Petersen 4-ever (@petersenvargas) August 16, 2020
And because "Hello Stranger" is a series that keeps on giving, they also released Tony Labrusca and JC Alcantara's duet cover of the series' theme song originally sung by Seth Fedelin, "Kahit Na Anong Sabihin Ng Iba." 
BL stories have steadily been rising as a popular media trend here in the Philippines, with more and more production companies opting for a BL storyline for their releases. While this greatly helps LGBTQ+ representation, especially in a country that's not so accepting of the gay agenda, viewers also hope that these kinds of series will push queer actors, storylines, film and TV producers into the spotlight and eventually into the mainstream with real-life acceptance following along, too. It also wouldn't hurt to maybe brief actors and production crew on just a little bit about the community they're hoping to represent.
Header photo from "Hello Stranger" episode six 
Follow Preen on Facebook, Instagram, Twitter, YouTube, and Viber
Related stories: 
The new poster for 'Pearl Next Door' is satiating my GL fix
So, according to this'MyDay the series' actor, BL isn't gay?
Juan Miguel Severo's BL just unveiled their leads—we can't wait to watch it
Juan Miguel Severo pins down systemic homophobia as the enemy in casting queer actors