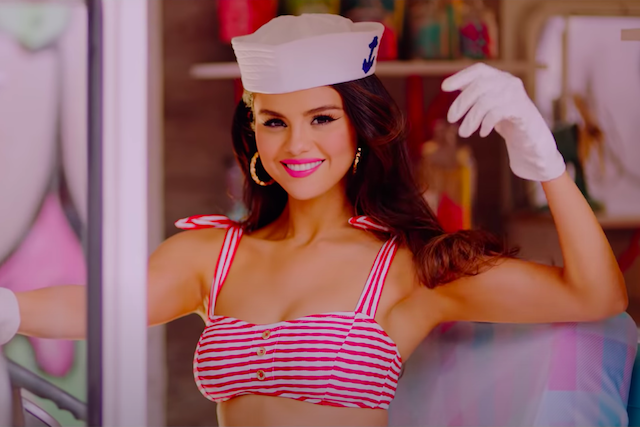 A day before the music video drop for the Blackpink and Selena Gomez collab "Ice Cream," we're treated to a short but super fun video teaser. Selena is trending right now on Twitter as she surprised many with how stunning she looked in it. For this comeback, it's very possible that she will be a lot of Blinks' bias wrecker. (For the Selenators new to K-pop, this is what stans call the person pulling their attention from their fave group member.)
In the teaser uploaded today, the Blackpink members all have big smiles behind cardboard cutout stand-ins of ice cream swirls. They're looking cute and cheeky for this, a step away from the baddie concepts of "How You Like That" and "Kill This Love." It's refreshing and we can't wait to screencap the heck out of the video. 
It's rare for us to see a Western artist join a music video shoot for a collab with a K-pop artist. There's Halsey for "Boy With Luv" but we're drawing a blank after that. So, imagine our surprise when Gomez's poster came out on Aug. 26. For the video teaser, she's wearing the same striped two-piece outfit paired with a sailor hat. And you might think, "I've seen her in 'Spring Breakers.' What's so special this time?" It's the million-watt smile that really sold us. No, really, you have to see it for yourself.
Not much has been revealed about the song. We only had a sneak peek of the bouncy tune and a coy delivery of the word ice cream. What little we got was enough to get us super excited for the release, though. Are you ready for the Selpink sweet delight? 
Photo screengrab from the "Ice Cream" video teaser
Follow Preen on Facebook, Instagram, Twitter, YouTube, and Viber
Related Stories:
Are you ready for the Selena Gomez and BLACKPINK collab?
Who is Blackpink's mystery featured artist? Here are our guesses
Blinks and ARMYs unite—BTS and BLACKPINK are dropping music videos today
Blinks, we got a name for Blackpink's first full album