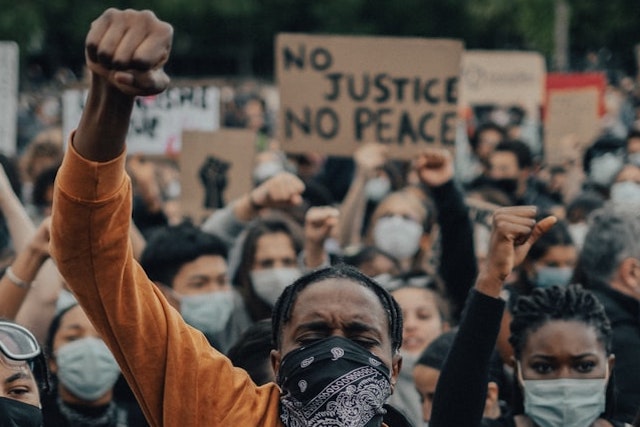 Four months after the height of the #BlackLivesMatter protests in June, George Floyd's murderer left police custody early today. Former Minneapolis police officer Derek Chauvin, charged with second-degree murder, third-degree murder and second-degree manslaughter, was released after posting a bond on a $1 million bail.
The Hennepin County Jail roster indicates that Chauvin was released from Oak Park Heights Correctional Facility in Minneapolis shortly before 11:30 a.m. (12:30 a.m. PHT). Minnesota Department of Corrections spokeswoman Sarah Fitzgerald told CNN, "I can confirm he is no longer in our custody."
CNN reports that although the specifics of his release were "not immediately available," records state that it was conditional. It remains unclear who paid the bail bond company or how much of it was paid. A spokesman from the Minnesota Police and Peace Officers Association, which maintains a legal defense fund, has stated that they "did not put up the money" while The Police Officers Federation of Minneapolis has yet to respond to CNN's request for comment.
The Associated Press reports that upon news of the release, Minnesota governor Tim Walz activated the National Guard. He claims they are mobilizing 100 state troopers and 75 Department of Natural Resources conservation officers as well as providing equipment and facilities for the personnel "out of an abundance of caution" amid public safety concerns. 
Floyd family attorney Ben Crump declared in a statement that Chauvin's release is "a painful reminder to George Floyd's family that we are still far from achieving justice for George." It further read, "The system of due process worked for Chauvin and afforded him his freedom while he awaits trial. In contrast, George Floyd was denied due process, when his life was ended over a $20 bill. There was no charge, no arrest, no hearing, no bail. Just execution."
In an interview with Fox 9, George Floyd's aunt Angela Harrelson shares that she was frustrated by the system allowing the officers involved in his death case to walk free for now. "He has supporters. I guess he was able to raise enough money for him to post it for him. It's something I am not happy with, I am not pleased with it, but I know I have to accept it," she said. The three former Minneapolis police officers who were charged with aiding and abetting in the case have also posted bond. 
In August, Chauvin asked a judge to dismiss murder charges against him. His attorney claimed that there isn't probable cause to support the charges despite investigations stating that Floyd died on May 25 after Chauvin knelt on Floyd's neck for almost eight minutes.
Prosecutors noted that Mr. Floyd was treated with particular cruelty. They wrote, "Despite Mr. Floyd's pleas that he could not breathe and was going to die, as well as the pleas of eyewitnesses to get off Mr. Floyd and help him, (the) defendant and his co-defendants continued to restrain Mr. Floyd. According to a notice of appearance, Chauvin's next court date is set for March 8. 
Today, we affirm our support for the fight against racial inequality and police brutality. We condemn the system that has allowed George Floyd's murderers to walk free despite the mass protests demanding justice. We stand with the #BlackLivesMatter movement.
Photo courtesy of Thomas de LUZE on Unsplash
Follow Preen on Facebook, Instagram, Twitter, YouTube and Viber
Related Stories:
The death of a black activist prompts #JusticeforToyin
Three Black trans women just got assaulted but nobody batted an eye
Here's what PH Fashion Week's #BlackLivesMatter campaign got wrong
Did she stutter? Beyoncé calls to jail the officers who murdered Breonna Taylor