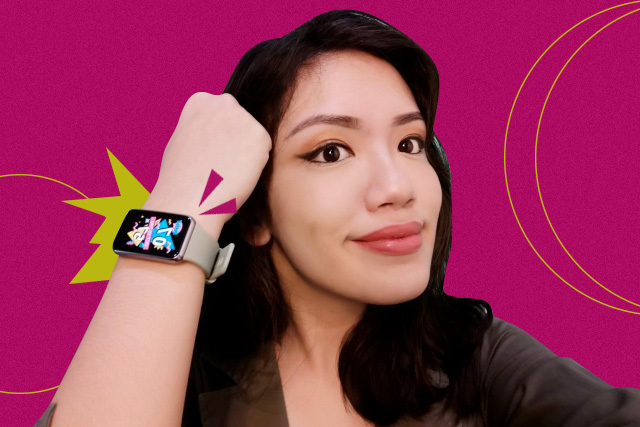 These days, it's inevitable to reminisce about "normal" days off. Pre-quarantine, I could be out karaoking with friends on a Saturday or eating lunch in Tagaytay with family on a Sunday, but now  I've restricted myself from doing the activities I love that take all my stress away. I don't even know how to spend a weekend anymore.
So on my last day off, I had Preen readers decide for me how I should spend it. Here's how it went down.
Starting the day right with a K-workout
I usually wake up around 6 a.m. and work out with the help of YouTube fitness tutorials. But today, our readers picked K-pop dancing as my WOD. Knowing I'm not the most flexible person on Earth, I knew I needed to warm up first—so I started up my new Huawei Watch Fit and let their 12 quick workout animations guide me through it. This feature demonstrates how you perform stretches on its 1.64 inch AMOLED display screen so you don't have to keep searching on the net. (For those who aren't really athletic like me, you can thank me later.)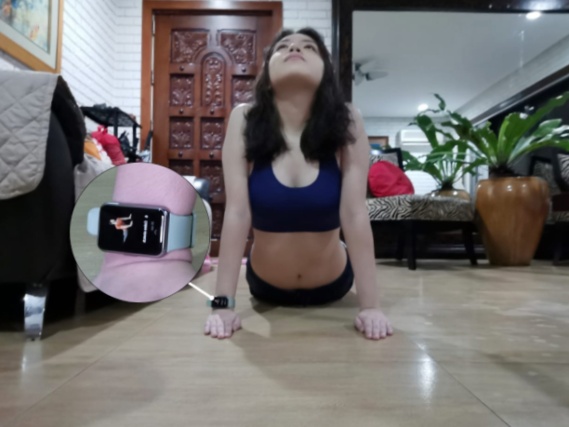 While I was learning the moves of MAMAMOO's "Egotistic," I realized how much work goes into performing. I was already out of breath just five minutes in, a far cry from K-pop idols who sing, rap, dance, act and…well, you know the drill. They're superhumans, I tell ya.
Compared to doing YouTube workouts, this was more enjoyable since (no surprise) I'm also a huge K-pop fan. It doesn't hurt that MAMAMOO is my current obsession. (Solar-unnie, please notice me.)
As my dad would say, "Chow, Philippines!"
I asked the readers whether I should cook or order food today. Thankfully,  they read my mind and voted for me to cook my meals. My wallet would have cried if I had to get takeout for the entire day.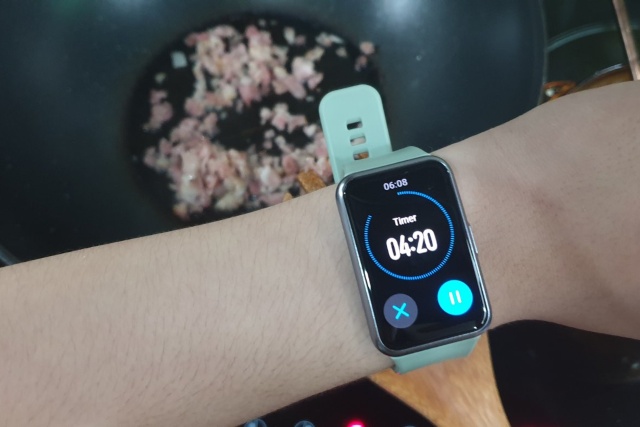 So what did I end up having? For breakfast, I had my go-to oatmeal. Nothing like some oats to start the day and get those digestive enzymes going, right? Lunch and dinner were a bit more challenging since I don't normally cook, but following Mano Lotho and Daryl Chang's penne carbonara recipe for lunch and Kitty Bunag's berry immunity smoothie bowl recipe for dinner was a breeze.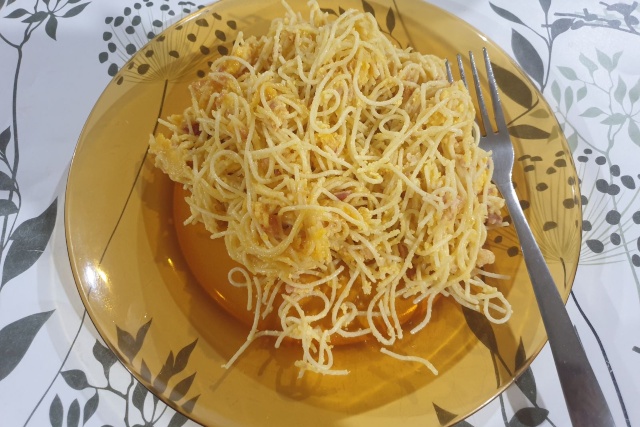 We all need some down time
An hour after lunch, I took an energizing afternoon siesta. (Thanks for picking that time, our lovely readers.) I was out for nearly 40 minutes, which, according to my smartwatch, is a decent amount to recharge myself for the rest of the day. What I love about my Huawei Watch Fit is that it provides insights on my sleeping habits, tracking the kind of sleep whether deep, light or REM sleep, and how long I was conked out. It's like a mom that tells you you've been staying up for too long or sleeping too much sans screaming.
After my nap, I also noticed how my watch keeps track of my heart rate throughout the day—even while sleeping. Does it give away the fact that I've been dreaming of my crush? Maybe. 
Dressed up like InternetGirl and just wow
Honestly, I didn't expect that y'all would vote for an edgy outfit, especially since I'm not even an e-girl by a mile. So I enlisted the help of the Preen team who suggested I look through InternetGirl's IG feed. I was kinda intimidated at first because she looked amazing in all her outfits. I did however manage to pull off a similar look and let's just say it made me feel like a total badass.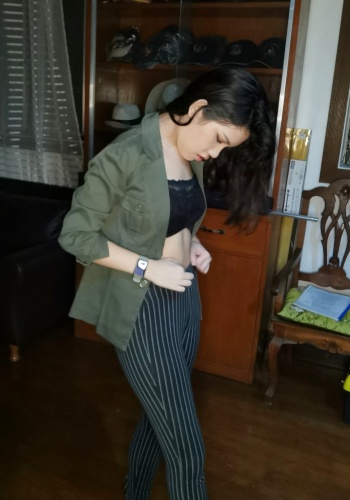 To make things more fun, I tried timing how long it would take to get ready since I'm used to just putting on whatever I see first in my closet. An hour and a half later, with most of the time spent trying to pull off a perfect winged liner look, I was finally ready to put myself in InternetGirl's shoes for a day.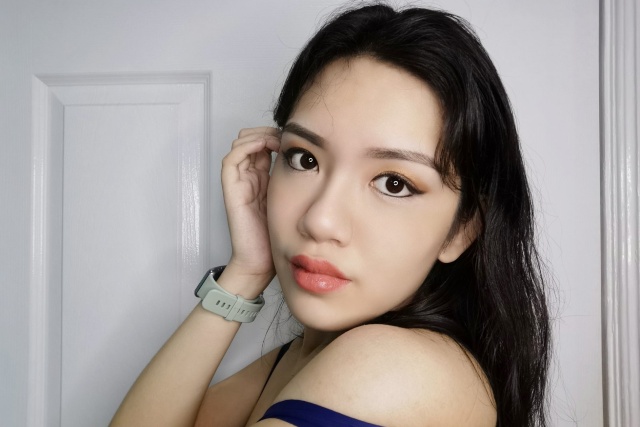 Capping the night off with Edward Cullen
I would've preferred to wind down playing Genshin Impact on my phone (and gush about the fact that my childhood crush plays it too), but I'm glad the readers wanted me to read a book instead. It gave me time to finish "Midnight Sun." It was long overdue since my friend gave me a copy of the "Twilight" spin-off almost a month ago. (Sorry, Liz.)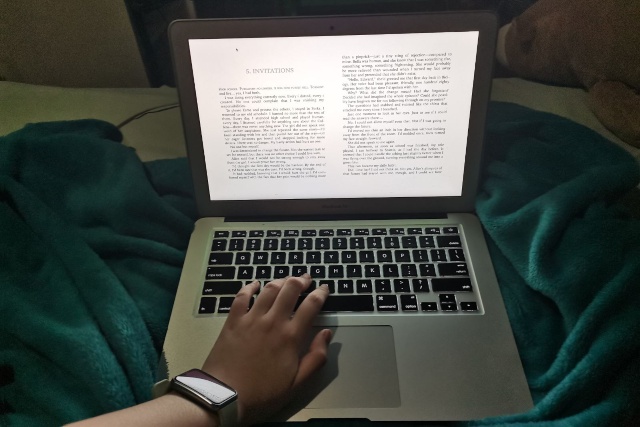 Normally, I would've just sprawled on the couch until I finished the book, but my smartwatch wasn't having it. About 30 minutes into the book, I heard a beep. "You've been sitting for too long," the watch read. (Jokes on it, I was in a bad lying position.) It then asked if I was ready for some stretching. If it weren't for the fact that I needed it, I would've been hella mad.
And just when I thought I was about to get some peace and quiet, my watch alerted me that someone texted. It was my mom telling me to go down since she bought frozen pizza. (Okay, mom, you win.) The Huawei Watch Fit also alerts you when someone emails you, which is perfect for those urgent matters that need to be dealt with ASAP. 
The verdict
My day off was pleasantly unusual since I rarely dedicate time for myself. It was a great experience to have other people decide for me (just this time!) because I'm not one to plan my days off. And with a little help from my Huawei Watch Fit, my day wasn't as unorganized and lazy as it usually is (as my mom would always say). I was able to squeeze in all of your suggestions in a day!
If you're looking for a smartwatch that can help you manage your lifestyle better, you're in for a treat. The Huawei Watch Fit retails for P4,999 (check out the Huawei store!). Not bad for a momager, fitness guru and alert system in one.
And to the lazy girls out there, don't worry—its 10-day battery life makes all the difference. Why? Imagine being able to do so much with just your watch but have it last longer than your phone. Even if your phone dies and you don't get call, text and email notifications, the Huawei Watch Fit can still be used to monitor your vitals or set alarms.
But it's not just for people with active lifestyles, you can even give it to your fashionista friend, too. (The strap comes in different colors to match your style.) It's almost the holidays anyway. Just remember that it's not a bad idea to treat yourself every now and then, too. *wink*
Photos by Lia delos Reyes and Dana Calvo
Follow Preen on Facebook, Instagram, Twitter, YouTube, and Viber
Related Stories:
My mom got into K-pop 'cause I won't shut up about it
Adidas launches its first plus-size fitness collection
Ready-to-cook meals are now available on GrabFood
Is MAMAMOO's Solar going bald for her solo album?