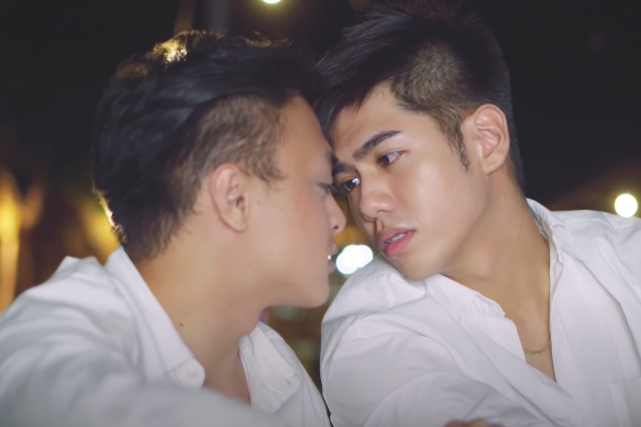 In 2020, influencers have come to mean more than just agents in a marketing scheme. These days their audience demands that they use their platforms to raise awareness. When I met the cast and crew of upcoming local BL "#Influencers The Series," the biggest question I had in mind was: Will they be brave enough to deliver a show fit for the times?
In a virtual press conference on Nov. 7 held before the trailer drop of production company Camp Avenue Studios' first BL series, I got acquainted with its ensemble of newcomers. The eight-episode show is an enemies-to-friends-to-lovers rom-com that aims to showcase what's behind the "Insta-glam images of social media influencers." Chollo Sotiangco plays lifestyle vlogger Ram Agoncillo, while Leon Eustaquio stars as Migo Valle, a YouTube political reactor who we see on the trailer sharing his thoughts on fair pay.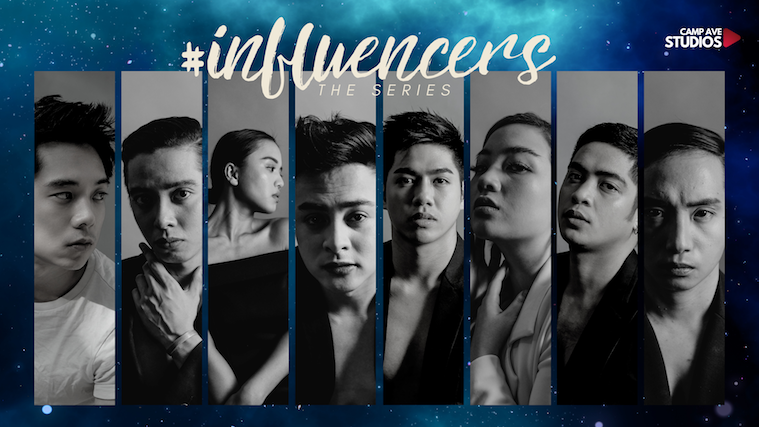 Joining them are Romeo Malijan, Kevin Alejandro, Denjo Jose, Kevin Martinez, Em Meneses and Maz Esquivel, who are all happy to divulge that we'd also get to see their characters' (also influencers, as you might have guessed) struggles on the show. Judging from the trailer, fans can look forward to scenes of the gang on a barkada road trip and going on video calls (which has become a bit of a staple in Filipino BL series). But it's not all fun and flirting; the trailer also teased tears. 
Fan favorites from the trailer include a classic let-me-pour-water-on-my-top move from Sotiangco, abs action from Martinez and a clue to a possible GL romance on the show.
Esquivel spills: "We have our own story. Hindi kami yung parang, alam mo yun, just the best friend tapos wala na. And for the rest of the cast, ganun din naman talaga. So technically, parang wala rin naman talagang support[ing character] dito kasi lahat naman talaga kami may stories dito. Kailangan nyong abangan kung ano yung stories namin. For sure, tatatak yung character namin ni Em sa inyo."
What else should we look forward to? Director Renz-Bhil Tugelida and writer Stephanie-Rose Quiros, the duo who helmed GL series "Chasing Sunsets" that tackled mental health and HIV, seem to be on a mission to create LGBTQIA+ narratives with depth. Aware of how wary the more discerning BL fans are of queer-baiting, Tugelida says the cast attended talks from BL creators to prepare for their roles and that the intention behind the project is for the team to speak their truth.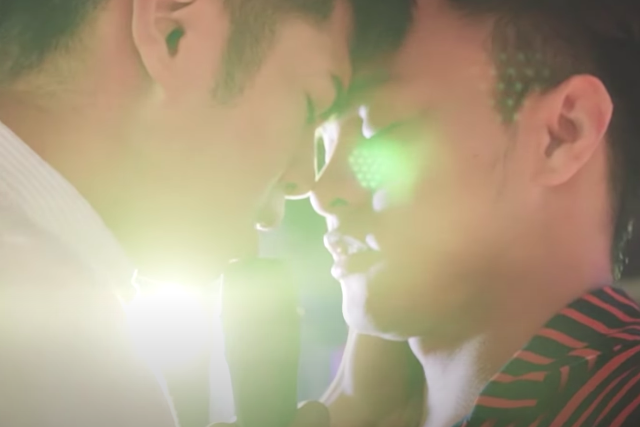 Tugelida says that Camp Avenue Studios was established to talk about socio-political matters. "Dito sa '#Influencers The Series,' ita-tackle namin ang different social issues such as cancel culture, cyberbullying, bottom shaming, name it all. You guys are going to see it, but in the context of BL. That was very challenging and exciting kasi medyo mahirap siya tagpiin at first, when I consulted with Steph. Nung na-put up nya yung script, it was so good. You should really watch the pilot episode." 
He also spilled that while some of the characters and scenarios on the show may remind viewers of IRL events, it's coincidental. We're keeping our eyes peeled, nonetheless.
With the cast members being real-life influencers, save for theater actress Meneses, several of the questions they've had to answer dealt with the relevance of influencers and internet culture. 
Asked on his thoughts about the expectation for influencers to speak up about social issues, Eustaquio seemed to veer from his character. "Kung yung tao man na yun ay ayaw talagang magbigay ng statement, let's understand and respect na lang. As long as wala silang ginagawang masama, wala silang inaapakang tao. I think okay lang na hindi magsalita," he says. 
One interviewer asked the cast's thoughts on whether or not influencers with alter accounts and (sex) scandals should still have a platform. Says Meneses: "I heard that it (having an alter account) has a lot to do with expression. As you know, Camp Avenue is also very sex-positive. I'm also for that, people expressing their sexuality. But when it comes to people sharing videos or photos of other people, [I think] it all goes down to consent. [Without it,] that's actually a crime that could be covered by the cybercrime law. I really think we should protect people who can be victims of [that]."
Hyped up for the show? You can now purchase tickets for advance ad-free screenings, exclusive behind-the-scenes content and director's cuts on the TicketNet website. The advance screening for the pilot episode is on Nov. 18.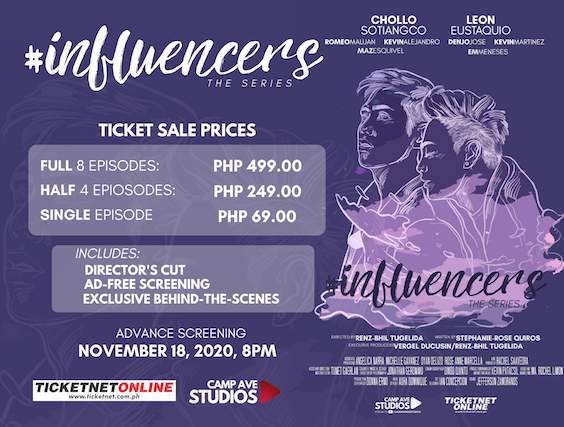 Can't splurge on tickets right now? No worries. The first episode premieres on YouTube on Nov. 21 at 8 p.m. See you there!
Photos courtesy of Camp Avenue Studios
Follow Preen on Facebook, Instagram, Twitter, YouTube and Viber
Related Stories:
I'm ready to yearn with BL series 'Gaya sa Pelikula'
The new poster for 'Pearl Next Door' is satiating my GL fix
BL but make it a movie—'Hello Stranger' sets its sights on the silver screen
Watch the queer slaysians of radical dance party Bubble_T