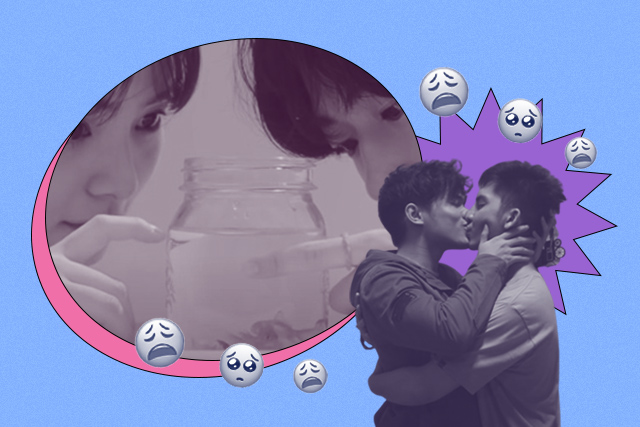 Hello, singles and LDR-havers of the world. It's nearly Valentine's Day. You know what that means: It's time to succumb to the agony of being touch starved and/or longing for the thrill of being looked upon by someone who's head over heels for you.
Forgive me for being oddly specific. I can hardly remember the last time I harbored intense feelings for someone. For years, I've only felt the joy of being in the throes of love by living vicariously through fictional couples. In 2021, it's no different.
Join me in another round of bingeing videos made for folk who are absolutely horny for feelings.
The AO3 AU that is Standing Egg's "Friend to Lover" 
South Korean band "Standing Egg" is an indie gem whose music videos double as short romantic films. The one for "Friend to Lover," in particular, is deliciously AO3-worthy. Actors-slash-models Baek Sung-chul and the late Song Yoo-jung play BFFs whose hangouts look suspiciously like dates. Sung-chul, it turns out, is in love with Yoo-jung and is trying to figure out whether his feelings are requited. In one scene, we see him practice delivering his cute confession.
The lyrics are so full of yearning that it seems like the two won't be getting together in the end. Not to spoil it for you, but the part where they film a TikTok will have you giggling in delight. What can I say? I'm a sucker for sweet things.
What to do when your SO has a tooth problem—as explained in "The Handmaiden"
If you're sapphic and you know this film, clap your hands. Park Chan-wook's "The Handmaiden" is a visually stunning erotic thriller where two women subvert male fantasies and "find their own way of exploring their desires." Or so says Sarah Waters, the author of the novel it's based on. Kim Tae-ri ("Space Sweepers") stars as Sook-hee, a pickpocket who gets a job as a maid to help a con man steal the inheritance of Japanese heiress Lady Hideko played by Kim Min-hee ("On the Beach at Night Alone").
In one of the film's most charged scenes, Hideko's tooth is bothering her while Sook-hee is helping her bathe. Dutiful Sook-hee takes a bit of ointment and applies it by sticking her finger into Hideko's mouth. It's surprisingly intimate and always has me looking like the ??? emoji when I see the clip. 
CL and DPR Ian falling in love in "5 Star"
I too have Googled "Are CL and DPR Ian dating?" after watching the music video for "5 Stars." The two artists play a couple in it and we're treated to picturesque shots of them being madly in love. CL singing lines such as "I'm your ocean you ma star" and "What else can I say? / With you, I feel perfect" has me melting into a puddle.
Among my favorite clips are that of the forehead kiss at a racetrack, and CL and Ian playing with bubble toy guns at a carwash. I want that spontaneity in a relationship too. 
This adorable dance sequence on "Gaya Sa Pelikula"
Juan Miguel Severo really gives gays what they want with BL series "Gaya Sa Pelikula." Being forced to live with your cute but cocky neighbor is prime Wattpad material. Severo adds nuance to the trope by exploring Vlad and Karl's individual self-love journeys.
In the sixth episode of the show, the two boys confront their feelings for each other. What better way to do that than by dancing around in the living room of your shared apartment and ending it with a kiss? Yes, just like in the movies.
Kathniel as soulmates in "Sa Susunod Na Habang Buhay"
I've raved about this Kathniel x Ben&Ben collab before. The music video for "Sa Susunod Na Habang Buhay" is an angsty short film with a screenplay that's also written by Severo. It has a non-linear, fragmented storytelling similar to "Eternal Sunshine of the Spotless Mind" and "Comet." Fans of both flicks will get a kick out of this.
In the video, IRL couple Kathryn Bernardo and Daniel Padilla play soulmates who are stuck in a time loop (and living in a seaside home!) and drifting apart. Padilla's line at the beginning, "Palagi akong nananaginip. At pag gising ko, para akong nagluluksa para sa pagmamahal na di ko pa naman nahanap," prepares you for heartache.
The "I burn for you" scene on "Bridgerton" 
What is "Bridgerton" most known for? The steamy scenes and the gut-wrenching "I burn for you" line in Daphne and the Duke's mutual confession. After seeing the two skirting around their feelings for each other, watching them unfold feels like a release.
When Simon says, "I am yours, Daphne. I have always been yours," we are all goners. Follow that up with a line like, "When one burns for someone who does not feel the same!" and it's a definite whammy. I long to burn for someone too. Any takers?
Let me know if these gave you heart boners too.
Art by Jan Cardasto
Follow Preen on Facebook, Instagram, Twitter, YouTube, and Viber
Related Stories:
Videos to watch when you're horny for feelings
Time to get your free and responsible COVID-themed erotica, hon 
Bizarre fancams that have us asking, "Is the internet okay?"
These erotic stories are perfect for your ménage à moi