A lot of us have gone through impulsive purchases—be it clothes, food or random appliances we didn't think we'd need. For others, these could also be completely changing your hairstyle or getting body modifications. Getting a piercing is a subtle way to switch up your look and we may or may not have gotten some spontaneously as well. Whether it's because of peer pressure (everybody else is doing it) or the influence of your favorite celebrities, you still need to remember a couple of safety measures before heading to your nearest piercing studio. 
Since we're in the middle of the pandemic, we understand that not everyone may think that this is the safest idea. We asked two piercing artists, Rayna Dane of Needle House and Audey Tamayo of Arte Tattoo, about safety measures that both customers and piercers need to follow, and what to expect when getting a piercing for the first time. 
View this post on Instagram
First off, how are you doing? What's the piercing business looking like lately?
Rayna: Well, during the first few months of lockdown, we had to refrain from doing services since [that was] what [we were] all told to do. I decided to open for business again around June or July, mid-GCQ time, following mandatory safety protocols, of course. Kailangan kumita eh; also I think [doing piercing sessions is the passion of most] body modification artists too, they need to do work and satisfy their flames. Surprisingly, it's doing good! I figured that people made piercings and tattoos an outlet since the lockdown made us all cray-cray deep inside. Even myself, I've had a few new piercings and tattoos while on lockdown.
Audey: I am doing good. I really did not expect that we will receive a significant number of appointments for piercings, but since it is now a trend, many clients are [inspired by] some celebrities [to get pierced], simply to reward themselves. [Another trend is that] since [some clients] cannot get tattoos, they get piercings instead. One of the reasons I [heard that I] can't forget is that people [want to get] pierced to lessen the anxiety they're having due to our current situation.
How has your shop/service changed since the pandemic began?
Rayna: I just started last December 2019, juggling school with doing music and tattooing/piercing. OK naman siya, but as soon as the pandemic began, I was saddened by businesses closing down due to the pandemic. Of course, I got scared because I thought I really had to give this up. But I was wrong. Thanks to all the people/clients/friends, especially my family, who supported me and kept availing my services. My family helped me build a home studio and made it people/customer-friendly. But it's not always consistent, kumbaga "no work, no pay" kaming artists. There are some days when we are fully booked, while some days we aren't. But that's OK, so far, I am super happy with the progress of my business.
Audey: Services [at Artetattoo] offered are still the same, we just limit the number of clients who want to visit the shop. We highly suggest to those who want to [get] tattoos/piercings to set an appointment, and [not to bring] companions. Also, we limit the acceptance of cash payments, as much as possible, [because] we want cashless transactions. The main change [in our shop] that we all noticed and missed is the number of clients, most especially during peak seasons.
View this post on Instagram
Is there a specific process that your customers need to follow before getting pierced?
Rayna: For future clients or people who just want to have a piercing or tattoos, just condition yourself, get some adequate sleep, please do eat up! An empty stomach can make you feel light-headed which can lead to dizziness and fainting. Also, as much as possible, don't drink painkillers or alcohol at least 12 to 24 hours before your session. Alcohol and painkillers thin out your blood, as [the piercing process] can be bloody sometimes, but [don't worry too much about it].
Audey: Before the procedure, I [ask] the client if they [got] enough sleep, have eaten, and were able to drink water or any drink (except alcoholic beverages), because it is important that our clients are hydrated. Since this is also a procedure [associated with] pain, we need to know if the client is physically prepared.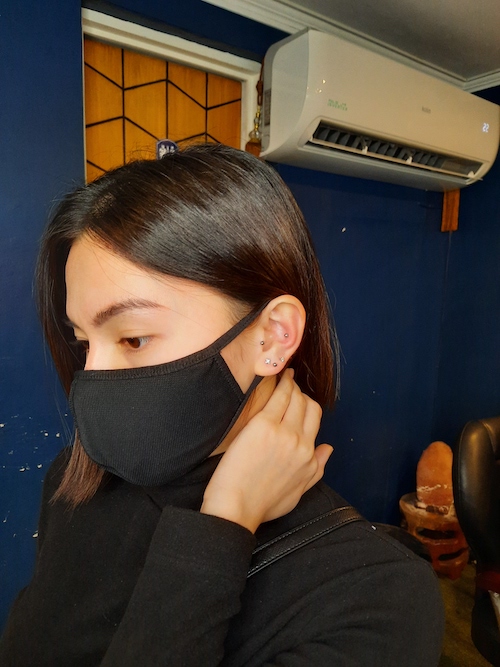 Since we need to be more careful during this pandemic, what are safety measures that clients should look out for before booking an appointment? What questions should they ask their piercer before getting pierced? 
Rayna: We can never be "too safe" nowadays. They should be extra careful. Please, please, wear your mask and sanitize. It is a given that we have to have close contact with the clients because we, artists, do the job that way. Piercing-wise, you can get infected when you don't take care of your piercings. Good hygiene is key! [From] a customer's perspective, you have to ask the piercer if he/she is using single-use sterile needles to pierce. Say no to piercing guns please because it uses blunt force which can cause serious damage to your ear. It shatters your ear cartilage or skin which can lead to unnatural swelling and infections. Piercing guns can't be fully sterilized either; it also uses a non-sharp earring and forces it to enter your skin.
Also check [your piercer's] background first—how they do the procedure and if their tools are disposable and sterilized at all times. Cross contamination can happen and HIV/AIDS can be transferred by unclean tools because, of course, blood may be present in every session tsaka it is a wound eh.
Audey: We always send our terms and conditions to our clients before booking their appointments. This includes safety reminders such as no companions and kids allowed in the studio since we are observing social distancing. If they are not feeling well or have traveled for the past few weeks, they need to be socially responsible to not book their appointments yet. [We constantly remind] them to wear face masks, face shields, and sanitize before going inside the studio and not to wear gloves. As part of this, we limit the acceptance of cash payments. 
The main question we usually get is, "Is it painful?" [Then, I describe it as someone pinching your body part because that's really what it is]. Another question is, "I am a pregnant or lactating mom, can I set an appointment?" Sorry but no, you need to be patient before you can have it done, since it may cause you stress. And also, some ask if a closed piercing can be re-pierced. It depends. We need to check it first, before we can say yes. 
What are basic aftercare tips that every newly pierced client should know?
Rayna: Never clean with alcohol, that's number one. It's strong and an astringent [which] can irritate your fresh piercing. It can be used to clean the premises of the piercings but never [apply it] directly to the piercing. Only clean with 0.9% Sodium Chloride or make your own saline mixture using non-iodized sea salt and distilled water. Just remember to take care of it, avoid tugging, touching, twisting and playing with your [fresh] piercings (especially with dirty hands), and keep your hair away from it since hair can be a carrier of bacteria and microbes that can be transferred to your piercing.
Audey: First, always clean the newly pierced area with a salt water or saline solution that can be made at home by just mixing at least 200ml of warm water plus 1/4 tablespoon of non-iodized salt. Some opt to purchase piercing aftercare sprays. They may soak the area directly with this solution for at least five minutes, two to three times a day. This is the best aftercare for a new piercing. I always [tell clients that during] the healing period for each part, [don't remove or change] the accessory as this will also affect the healing process. Do not go to the beach or the pool yet and never use alcohol, betadine, or hydrogen peroxide when cleaning the pierced area.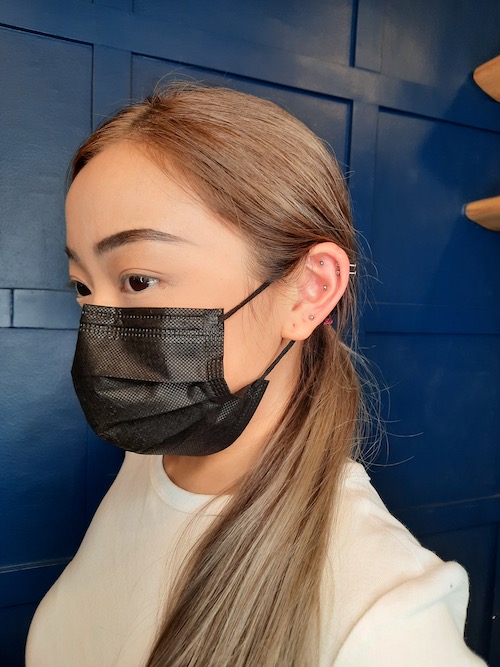 What type of materials should they look for if they want to change the accessory?
Rayna: Mostly, the basic jewelries that are used are surgical steel, titanium grade or stainless steel. But the safest jewelry [are] the titanium-grade [accessories]. Never use alloy or aluminum metals as it can rust and cause infections.
Audey: They may use any kind of accessories, as long as they are not allergic to it. They may ask us, their piercers, before changing the accessory, as we also want to make sure that the area is ready to be changed and if they healed well.
What's your advice to clients who are scared to get pierced but have always wanted to? 
Rayna: Think of a piercing as a reward. The procedure won't last more than a minute. Trust me on this, it won't be the end of the world: Get pierced especially if you really want it! The pain is not as bad as you think it would be. Just try to stay calm and take deep breaths.
Audey: If you want it, get it because you won't regret having it. The pain is temporary and we, your piercers, will still take care of you even after the session.
Art by Jan Cardasto
Follow Preen on Facebook, Instagram, Twitter, YouTube, and Viber
Related stories:
Piercing aftercare 101: Steps to take for every new stud and earring
A Valentine's gift guide for your SO that aren't the usual chocolates and flowers
Siningtinta's tattoo studio is now an art space for other women artists
This is how you take care of your tattoos