Note: This article contains spoilers.
Hwang Sun-oh is the archetypal K-drama rom-com lead: spoiled, ill-mannered, charming-when-they-want-to-be and head over heels for a nice, unassuming girl with a tragic backstory. If you're wondering what "Love Alarm's" second season brings to the table, it's how the show turned this stereotype on its head.
When I first heard about "Love Alarm's" return, I wondered whether its story was something that still fit our 2021 sensibilities and whether it would be able to compete with South Korean shows. Last year's top K-dramas were a mixed bag with narratives that had us on the edge of our seats. I'm a Song Kang fan but Sun-oh, an affluent model who seems hell-bent on stealing his (former?) best friend's girlfriend, made questionable decisions that made it hard to root for him.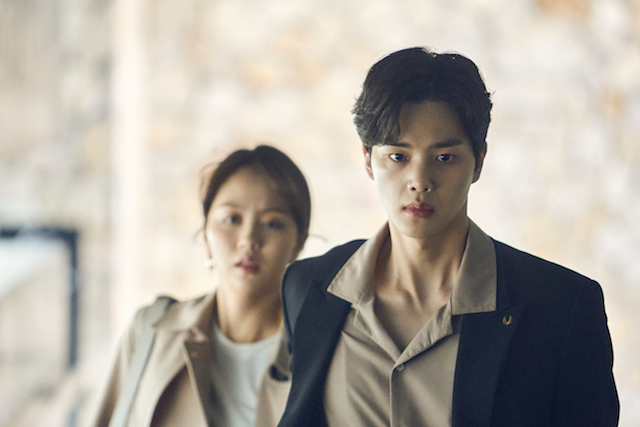 I thought that the not-so-macho jerk archetype Kang played was a dying breed (perhaps due in part to its poster boy Lee Min-ho semi-retiring from this type of role), but maybe it's too early to call it considering there's a "Princess Hours" reboot in the works. As long as there are leading men still dragging their love interests by the wrist and kissing them without (even implied) consent, the trope still lives.  
In the first season of the show, it seemed that "Love Alarm's" checked all the boxes of a trope-riddled narrative. Kim Jojo (Kim So-hyun) is a shy, orphaned girl who works part-time and is loathed by her relatives who take her in. Things seemingly start looking up for her when neglected, back-from-the-US rich boy Sun-oh (aggressively) pursues her. But it's a little complicated because his kind-hearted martyr (like a lot of second leads) childhood bestie Lee Hye-yeong (Jung Ga-ram) had a crush on her first. Joining the trio are stalker-ish genius Cheon Duk-gu (Lee Jae-eung) and self-absorbed and clueless mean girl Park Gul-mi (Go Min-si). The season ended on a cliff-hanger and I fully expected Jojo and Sun-oh to get back together but (major spoiler alert!) they didn't. And thank god for that.
View this post on Instagram
In season two, Jojo and Hye-yeong are officially dating. He keeps ringing her Love Alarm even though she doesn't ring his back. Jojo still has Shield on and since she hasn't told him about it, he believes his feelings are unrequited. Sun-oh finds out they're together and feels betrayed—which is rich considering he has a doting girlfriend and he didn't feel remorse over hurting Hye-yeong's feelings in the past. He crosses another line when he kisses Jojo and keeps forcing her to admit that she still had feelings for him. We're definitely in toxic ex territory.
"Love Alarm" doesn't really paint his woe-is-me act as something that justifies how he's actively trying to drive the couple apart. To me, it didn't sugarcoat how his motivations are selfish and how he is unwilling to put himself in someone else's shoes. Although he isn't an "evil" villain, he was set up to be an antagonist whose negative actions furthered the plot. His insistence pushed Jojo to realize her own feelings for Hye-yeong and what steps she needs to take to overcome her trauma.
Other aspects about him that are typically relegated to a villain are the disregard for his partner Yook-jo (Kim Si-eun) and how he mistreats his manager (Yoon Na-moo). By the end, we get to see the beginnings of his redemption arc when he promises to "learn how to love" Yook-ju and starts taking his job seriously. I'm still on the fence about him but a possible third season might change my mind. After all, I loved Zuko of "Avatar: The Last Airbender." People can change and a show that portrays how this change is a process is always a breath of fresh air. 
Here's my verdict for "Love Alarm" season two: It's surprisingly realistic. 
Art by Pammy Orlina
Follow Preen on Facebook, Instagram, Twitter, YouTube and Viber
Related Stories:
The 'Love Alarm' cast promises better chemistry in season two
Cure your 'Sweet Home' hangover with K-dramas featuring our faves
K-dramas are doing second leads so dirty
Which K-dramas reigned supreme in 2020? We've ranked them