You could definitely say that the Philippines' beauty community just keeps growing; more and more people are becoming makeup enthusiasts. Just as makeup enthusiasts are increasing, so are local beauty companies. But way before all these is a brand that generations of Filipinos grew up using. A household name, an OG, some would say, in the Filipino cosmetics industry, is Ever Bilena Cosmetics.
This year we celebrate Ever Bilena, the country's leading cosmetic brand's 38th anniversary. A company founded by Dioceldo Sy, who created the brand to cater to every hardworking Filipina from different walks of life, no matter their lifestyle. It doesn't matter if you work a nine to five job, if you're a student or a stay-at-home mom; you work hard, and you deserve to express yourselves through makeup.
The notion of dropping a paycheck for high-quality makeup is false and impractical; you don't need to go broke trying to look and feel confident. This is exactly what Ever Bilena stands for: accessibility, affordability, and inclusivity without sacrificing quality.
As we celebrate its 38th-year milestone, we want to look back at products that have been inside every Ever Bilena champion's kikay kit. Each product allows you to express your individuality and enhance your natural beauty.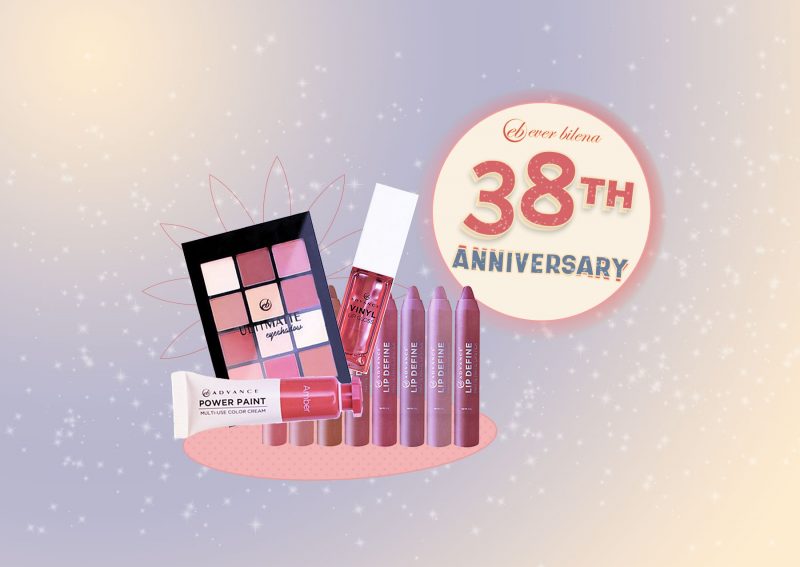 A true classic, Ever Bilena's best-selling combo to help you achieve the gandang pulbo at lip tint look is the Ever Bilena Advance Lip and Cheek Stain and Face Powder. These products are a must-have, especially for beginners, to help you make more subtle and casual makeup looks. Take it a bit further and get more coverage and a full face of makeup with Ever Bilena's All Day Liquid Foundation. Keep your kilay on fleek using their Original Pencil, and they also have powerfully pigmented matte and liquid lipsticks.
As the Philippines' biggest makeup brand, Ever Bilena's current success won't stop them from reaching further heights. They believe that there's nowhere else to go but up and forwards. They have come a long, long way from selling nail polish to becoming an up-and-coming international brand and expanding their sub-brands even further. Ever Bilena continues to make waves with these sub-brands that offer products for men, professionals, skincare junkies, and so much more!
Now, taking your first few steps in the world of makeup might seem a bit daunting, but not with Ever Bilena's extensive range of products that go well with a lot of skin tones and are great for no make-up makeup looks for laid back days or full glam looks if you're feeling a bit extra.
Every Filipina starts building their makeup collection with Ever Bilena products, but once you find a favorite, you'll always come back to it. This is why, thirty-three years later, you can still find these products in your mom's, tita's, or best friend's makeup kit. Let us celebrate 38 years of success with Ever Bilena on March 26 with an exciting virtual event! If you're interested, you can visit their event page and message them to know more about it.
INQUIRER.net BrandRoom/JM
Art by Pammy Orlina
Related Stories:
We want these '80s and '90s makeup trends to make a comeback
These Filipino Instagram MUAs are your guides to 2020 makeup trends
"Looking ugly" and makeup-shaming should never be a selling strategy
'Clean color': The bold yet minimalist makeup trend you should try